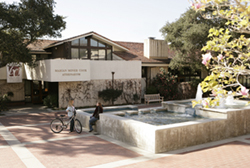 This fall semester 2012 schedule of events at the Athenaeum truly reflects the creative energy found within the CMC communitystudents, faculty, and the administration. Understandably, there will be a focus on critical issues of the November election. However, true to Athenaeum tradition, these discussions are sure move beyond political rhetoric.
"You will also have the rare and wonderful opportunity to experience beautiful music, meet and converse with distinguished historians, journalists, economists, authors, human rights activists, entrepreneursjust for starters," says Athenaeum Director Bonnie Snortum. "Everyone at the Athenaeum looks forward to welcoming you as we begin the new season."
Some of the names you will see on the schedule include Hedrick Smith, Tom Daschle, Robert Massie III, Chris Hughes, Anita Hill, Jon Huntsman, Jr., and Joseph Lelyveld.
The Ath has also recently upgraded it's video equipment for the new season. Speakers who agree will now be available for viewing shortly after their appearance in HD on a new custom web channel athenaeumvideos.cmc.edu.
Members of the CMC community have priority in signing up for meal reservations, which can be made online. Or, if you prefer, simply stop by at 6:45 p.m. for the programno reservations necessary.