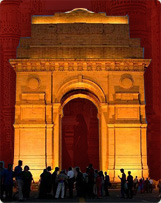 Much to the pleasure of the average college student, immersive experiences come in all shapes and sizeslike piling into a car for a spring break road trip, or flying across the country during Thanksgiving recess to build homes in a struggling community. For number crunchers and future economists, there are networking jaunts to New York City when classes go dormant in winter, and for the aspiring Steve Jobs types and future technology pioneers, a shiny new Silicon Valley Program to text home about in spring. (The latter being based on the success of the week-long networking trips to the Bay Area, where students haveand will continueto rub shoulders with alumni working at the industry's high-tech giants, including Apple, Google, Microsoft, and Youtube.)
This winter will see yet another immersive opportunity for laser-focused-but-adventurously-gifted CMCers: an intensive three-week seminar course in India offered by the Department of Religious Studies called, Contemporary Religious Leadership in India. Professor of religious studies Cynthia Humes will teach the half-credit course, which will be based in the capital city of Delhi, and offer field trips to the Taj Mahal in Agra, the Golden Temple in Amritsar, and the Pakistan-India border, plus local excursions to important temple, ashram, and mosque sites. (Seriously, just imagine the cool photos you'll be able to Instagram and Facebook from the second-most populous country in the world.)
Come spring, students will have a chance to earn another half-credit (for a total of a full credit) when Humes teaches the accompanying part "B" of the seminar course, thus enabling students to fulfill their GE in religious studies.
The India intensive is open to all students of The Claremont Colleges, but students need to act fast, as applications are due in about two weeks, by Monday, Sept. 24. The program is scheduled during winter break, from Dec. 28, 2012 to Jan. 19, 2013.
The Religious Studies course, program concept, and field trips will focus on religion and leadership in India. IES, a study abroad program provider in Delhi, is handling housing, health and safety, field trips, and logistics for the program. Students will be housed in double-rooms at a business hotel located adjacent to the Delhi Center Classroom. Faculty leaders will be in the same hotel.
The tuition fee and program cost is $1950, which includes bed and breakfast, most meals, pre-departure and on-site orientation, and field trips. Roundtrip travel to Delhi is not included in the program fee.
For more information, please contact Aleta Wenger at the Center for Global Education, awenger@cmc.edu, in Heggblade Center, or professor Humes, chumes@cmc.edu.