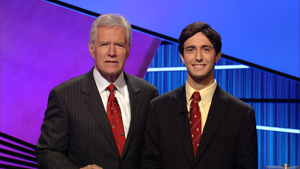 As a boy growing up in Ojai, Calif., a young John-Clark Levin '12 loved to watch Jeopardy! on special occasions with his family. He recalls one evening in particular as he was sitting with his dad, watching a mustached Alex Trebek announce the answers as families would race to blurt out the correct questions. "What is Moby Dick!" he shouted at the screen as his proud father glanced over. They had been recently listening to the Herman Melville classic on audio book together.
In February of 2011, it was his junior year at CMC and he decided to take the online test for America's favorite quiz show. Levin recalls: "About a month later, I got an email from the contestant coordinators telling me that I had passed, and inviting me to an in-person audition on April 14. I was devastated! I was going to be out of the country that day, and I was worried they would just pick one of the other applicants in my place. They were very gracious, though, and rescheduled me for an audition on August 11, 2011."
The Jeopardy! audition consists of a written test, mock game play, and an interview. Although he felt good about his performance, the recent CMC grad admits, "The room was intimidatingly full of brilliant, telegenic people. I knew it would be a real roll of the dice." He was told by the contestant coordinators that if he passed and they liked him, they would call sometime in the next 18 months. If he didn't pass, and/or they didn't like him, they wouldn't call. They advised him to just forget about it, and that's exactly what he tried to do.
However, he spent the first semester of his senior year on pins and needles, anticipating the big call. In January of 2012, the phone finally rang from Hollywood, inviting him to a taping on Feb. 21 as an alternate. Five shows a day are taped, and he had a 50/50 chance of being called up as a challenger for the fifth show. "As it happened," Levin tells us, "the other alternate's name was drawn, so I got to go home, and play the waiting game again."
Then, this past summer, after graduating from CMC, Levin was called in on short notice to tape on Aug. 21, his birthday. While he is strictly forbidden to reveal the results or anything about the answers that appeared while he was on the show, he does say that "CMC's strong grounding in government was a big help.
"Jeopardy! loves to ask about presidents, the Constitution, and the Supreme Court, so you'd better be sharp on those!" he said.
Guess we'll just have to tune to ABC on October 29 at 7 P.M. to find out.