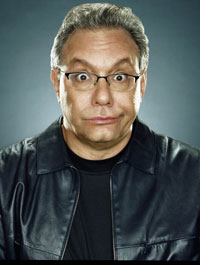 Tickets for the Thursday, Feb. 8, 2007 performance of actor, playwright, and stand-up comedian Lewis Black at Bridges Auditorium will go on sale to students of The Claremont Colleges at 10 a.m. on Wednesday, Dec. 6 in the Frazee Community Room, Emett Student Center. Students may purchase up to two tickets per I.D. Tickets for the general public will go on sale Saturday, Dec. 9, and may be purchased through Bridges Auditorium or through Ticketmaster. Prices are $20 for students of CMC and Pomona College, $22 for Claremont Colleges students, and $25 for staff, faculty, and the greater public.
In conjunction with the visit by Black, the Inland Empire Chapter of the Claremont McKenna College Alumni Association will host a reception preceding the show at The Press Restaurant, 129 Harvard Ave., in Claremont. The reception, from 6:30 to 7:45 p.m., will feature a presentation by CMC visiting instructor of government Zach Courser '99. Tickets are $25 and include hors d'oeuvres and admission to the Black event at Bridges, immediately after. To make reservations for the alumni event, visit: http://online.cmc.edu/NetCommunity/Page.aspx?&pid=311&srcid=243.
Born and raised in Silver Spring, Md., Black is a weekly political commentator on Comedy Central's The Daily Show with Jon Stewart and has starred in comedy specials for the network. His caustic and cranky social and political comedy performances have been witnessed throughout Europe, Australia, New Zealand, Canada, and The United States to critical acclaim. As a stand-up comedian, he has performed at the U.S. Comedy Arts Festival in Aspen, the Montreal International Comedy Festival, The Irish Comedy Festival in Kilkenny, Ireland, and Carnegie Hall in New York City.
Black is a graduate of the Yale School of Drama and has written more than 40 plays that have been produced in theatres across the country, including Czar of Rock and Roll and Crossing the Crab Nebula, which was later produced in New York at the Ensemble Theatre. In addition, Black co wrote and performed, The Laundry Hour with Mark Linn Baker. His theatre credits include Indians, Self-Defense, Our Father, Dead End and Johnny on the Spot.
Black's credentials also include summers acting and teaching stand-up as an artist-in-residence at the Williamstown Theatre Festival. He lends his teaching and playwriting talents to the Tampa University Arts Festival, and is developing a comedy festival at his alma mater, North Carolina University at Chapel Hill. In 2005 Garry Marshall's Falcon Theatre in Los Angeles produced Lewis's play, One Slight Hitch. As an actor, Black has appeared in such films as Jacob's Ladder, The Hard Way, The Night We Never Met, Woody Allen's Hannah and Her Sisters, Accepted, Barry Levinson's Man of the Year (with Robin Williams and Christopher Walken), and co-stars with Wilmer Valderrama (That 70's Show) in Unaccompanied Minors (Warner Brothers, Christmas 2006). He also stars in Farce of the Penguins with Samuel L. Jackson (Thinkfilm, 2007).
Black's television apperances include, The Days and Nights of Molly Dodd, Homicide, Mad About You, and Law and Order. He also has been featured on CBS Sports NFL Today and the Final Four coverage, and is a regular guest on Late Night with Conan O'Brien.
Black received the award for "Best Male Stand Up" by The American Comedy Awards in 2001 and in 2004 was recognized by The Pollstar Awards for his blockbuster comedy tour, Rules of Enragement. He received a Grammy nomination this year for his comedy CD of the same name. His newest CD, Lewis Black The Carnegie Hall Performance, was released last April. His first book, Nothing's Sacred (April 2005, Simon & Schuster) debuted on the New York Times Bestseller List.
Black works as a professional mentor with the 52nd Street project teaching inner city youth. He also raises money for several scholarship programs including The William Foeller Scholarship at Williamstown Theatre Festival where he also teaches. He also is active in the Cystic Fibrosis Foundation.
Black's appearance is co-sponsored by Claremont McKenna and Pomona colleges, and by the Associated Students of Claremont McKenna College.