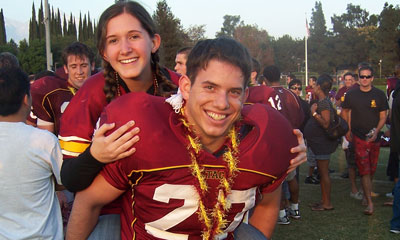 CMC's homecoming win against Pomona Pitzer on November 12 wasn't the only big event that day. CMC alumnus Andy Sinclair '08 chose that day to propose to alumna Elissa Gysi '08.
Gysi and Sinclair began dating during their freshman year at CMC, after meeting through a mutual friend. Gysi was a PPE major at CMC, and graduated from Stanford Law School in June 2011. She is starting as a litigation associate at Jeffer, Mangels, Butler & Mitchell (in Century City) in January.
Sinclair majored in Government and Math and is now a fourth year PhD student at Caltech, studying political science. They live in Santa Monica.
Gysi and Sinclair drove to CMC on homecoming day so Sinclair could play in the alumni flag football game before the CMC game. Then, as the teams were warming up, Gysi said, they went to the top of the bleachers to sit alone.
"We sat there reminiscing about our college memories on that field, and then he took out the ring," Gysi said. "Andy and I started dating on the football field seven years ago, and I went to watch all his football games there, so the place itself has a lot of meaning for us."
The couple celebrated their engagement at the homecoming game with Sinclair's parents and their CMC alumni friends. "Luckily CMS beat Pomona to really round out the great day!" Gysi said.
The couple is planning to marry on August 5, 2012 in Park City, Utah. They plan to travel to the Grand Tetons with Sinclair's family for a few days afterwards, and plan on a longer honeymoon the following winter.