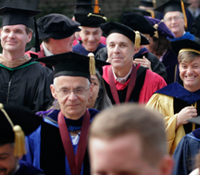 New and returning students are invited to Opening Convocation at 11 a.m. on Tuesday, Sept. 4, in McKenna Auditorium. This annual event calls together the CMC community for a modest kickoff of the fall semester, which will feature a faculty procession and a keynote address this year by President Pamela Gann: A Journey Through Life with the Liberal Arts.
In honor of this campus-wide tradition, classes scheduled at 11 a.m. and noon will be postponed so that students may attend.
The morning gathering will also be used as a time to recognize faculty and staff who have worked for the College for 25, 30, 35, or 40 years.
Those attending Tuesday's Convocation ceremony will receive a parting keepsake (and we hear it's pretty cool).
McKenna Auditorium is located in the central part of campus, east of the glass Living Room, and across from the Athenaeum.