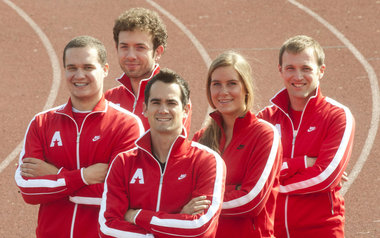 For CMCer Whitney Dawson '12, job satisfaction is the ultimate bottom lineand she loves her job.
Dawson works as Community Manager for a Portland-based Internet startup called Athletepath that delivers race results and statistics from athletic events to participants via text or email practically before the smoke from the starter's pistol has cleared the field.
But more than that, according to Dawson, Athletepath's long-term goal is to create an online community that allows athletes to track and sign up for oncoming events, see which of their friends are committing to races, etc., and support one another online.
Formed just last year, Athletepath has a staff of eight (six full-time and two part-time) and revenues for the company have doubled month after month for the last three months proving that it might just be the next big thing in sports-related information services.
We talked recently with Dawson about Athletepath, Swimming for the Athenas at CMC and her own path which in a roundabout way has led her back to where she grew up in Portland.
***
CMC: What is your role with Athletepath?
Whitney: As Community Manager, I manage and put events on our calendar, work with race directors to get start lists, send out emails to race participants and answer feedback emails. We occasionally also are physically present at races, talking to people and explaining our tool. This past weekend was Hood to Coast, which was a huge deal for us in expanding our users, and we built a special feature just for the relay. We met at 3am Friday to see the first wave off up at Timberline lodge, worked until night, then met at 6am Saturday to head to the coast and greet finishers. As tiring as this sounds, it was one of the more gratifying weekends I have had, getting people excited about our product and passing out 2000 glow-in-the-dark Athletepath megaphones.
CMC: Do you see a lot of room for improvement in how athletes interact with race results?
Whitney: I initially was drawn to Athletepath because through the many past running and triathlon races I have competed in, I have experienced the huge hole in how athletes interact with both their own race results, but also with their teammates', friends' and family's. David Embree (founder and CEO of Athletepath) jumped on this opportunity, not letting the idea go after a few years, and has successfully convinced all the right people of the site's utility. It's ridiculous to not have access to your race result until many hours later or even up to a day, when the race directors post pages and pages of results online. If you train to race, and race to see results, why is it that there is really no great way to receive and measure them?
CMC: What else makes Athletepath a great product?
Whitney: Athletepath is a great product because it's not aimed at those super-serious athletes who already have a lot of motivation to train and race well. Its target audience is the everyday person, who may have raced a few times with friends, and enjoys being fit. Athletepath is a social tool, and motivating people to get involved with racing is something we talk about all the time. This is accomplished through a variety of actions: whether it is sharing your result or a friend's result on Facebook, tweeting that you just signed up for a race, or receiving emails from us letting you know who else may be interested in racing with you. Our hope is that when you join Athletepath, you end up with your own racing community, which both supports you and is out there racing with you. This community both stimulates your desire to complete more races and instills a certain amount of pride in your finishes.
CMC: How has it been working with PIE?
Whitney: We currently are still located in Wieden and Kennedy's space for PIE with about 8 other startup companies. This looks like a large room with each startup hovered around their computers at their own table, a central table where lunches often come in and speakers present, and a kitchen complete with a kegerator. Being in PIE almost feels like school sometimes. A few times a week right after lunch is catered in, a speaker from the tech or startup world, or even Google, comes in to deliver a talk, followed by a questions portion almost identical to our Athenaeum. The very cool thing about PIE is the collaborative environment. Rick Turoczy, PIE's manager and Portland's said-to-be startup guru, constantly emails the PIE Google group with articles, blog posts and relevant opportunities in the community. There are always interesting conversations to be heard around the room and online in our Google group.
CMC: How has your CMC experience prepared you for working with a startup?
Whitney: Working in a tiny startup requires a lot of thinking on your feet, using your creativity, and a lot of quick problem solving. Our working process in very collaborative, which is something I have always experienced the CMC work culture to be. Much different than competing to be top of the class, CMC students work together on projects, help each other out when in need and always have each other's back. This is how you must act when working with 5 other people on a company and everyone needs to be involved. On another note, I took the class "leading social entrepreneurial ventures" in my final spring with Sara Smith Orr, which was heavily focused on leading your own social venture. We devised, pitched and wrote our own business plans, and also worked with real social ventures in the LA area, as consultants. Although this was all a lot of fun and I loved the creative process, what really struck me was the confidence that Sara Smith Orr had in us as entrepreneurial leaders. CMC is so unique in that the student body is so motivated to go out and lead the change in the world that they envision.
CMC: What sports and activities are you passionate about or do you participate in at CMC?
Whitney: I swam for Coach Charlie and Coach Tom for all four years at CMC, and never lost a woman's meet. Before college I swam competitively since I was 8 years old with a pretty intense 25 hour/week schedule from about the age of 12. The transition into life without swimming 25 hours a week has been interesting, but will really come to full realization in the next couple of weeks when I don't begin fall season.
That said, triathlon has already filled the hole that swimming once occupied. With a mom who is generally ranked top 8 in the world for her age group in triathlon, I was "forced" into trying out the sport at the young age of 9. And no, not the kids' splash and dash races, but a full sprint course, which is the shortest triathlon competition (1/2 mile swim, 20k bike, 5k run). I spent all last summer focusing on the Olympic distance, qualified for the USA nationals in Burlington, VT. In Burlington I qualified for the triathlon Worlds in Auckland, New Zealand, which take place this October. After a lot of debate, I ended up last minute deciding to sign myself up and will head to New Zealand mid-October to race.
CMC: How's Portland treating you?
Whitney: Portland is awesome. I was born and raised in this city and have come very much to fulfill many of its stereotypes. As a cyclist, environmentalist, vegetarian-locavore, and homebrewer, I also enjoy the outdoors and foodie culture that Portland screams at the moment.