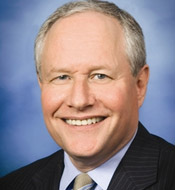 Political analyst and commentator William Kristol has been named Chairman of the Board of the Salvatori Center for the Study of Individual Freedom. Kristol will assume his new role at the Board's next meeting in late June. He succeeds social and political scientist James Q. Wilson, who died in March.
In 1995 Kristol co-founded the Washington, D.C.-based neo-conservative opinion magazine, The Weekly Standard, and serves as its editor.
No stranger to CMC, Kristol has been a longtime Salvatori Board member, a guest speaker at the Marian Miner Cook Athenaeum, and has participated in several conferences on campus.
Says Mark Blitz, the Fletcher Jones Professor of Political Philosophy and director of the Salvatori Center: "The Center will benefit from Bill's unique combination of interest and experience in public policy, and extensive understanding of political philosophy. It is a combination that we value at Salvatori."
A magna cum laude graduate of Harvard, Kristol taught political philosophy and American politics at the University of Pennsylvania and Harvard's Kennedy School of Government. In 1985, during the Reagan administration, he served as chief of staff to Secretary of Education William Bennett and then as chief of staff to Vice President Dan Quayle in the George H.W. Bush administration.
In addition to editing The Weekly Standard, which has been dubbed the "neo-con bible," Kristol is a regular commentator on Fox News Sunday and the Fox News Channel. He was a columnist for TIME magazine and The New York Times and now writes an occasional column for The Washington Post. He is the co-author of The New York Times best seller, The War Over Iraq: America's Mission and Saddam's Tyranny (2003). He also edited the anthology, The Weekly Standard, A Reader: 1995-2005 (2006) among other books. The Salvatori Center, CMC's oldest research institute and the first of its kind in the world, strives to develop close relationships between students and scholars and to engage in the study of political philosophy and freedom as it relates to American Constitutionalism and the American Founding. The Center seeks to understand, and, if possible, to hearten, the moral, political and intellectual underpinnings of democracy in America.