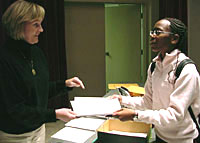 For those few students toiling over the holiday on senior theses, Thanksgiving's thankful connotations certainly carry a double meaning. By noon on Monday, Nov. 29, some 70 CMC seniors had stopped by Pickford Auditorium to drop off what is arguably the biggest paper of their academic experience (read: no thesis, no diploma), avoiding the long lines for thesis turn-in that follow in spring.
Seniors participating in Monday's turn-in are those who opted either for a single-semester project (fall only) or a two-semester thesis (spring '04 to fall '04), says Assistant Registrar Kelly Hogencamp. The morning's drop-off, although executed on a smaller scale, works essentially the same as the spring turn-in: theses, bundled with their working papers, are checked in and stacked in plastic bins to await grading and delivery to the Roy P. Crocker Reading Room in Bauer Center.
Boxes of manila envelopes, provided by the Registrar's Office, have proven a great investment for protecting and organizing students' work. In years past, "students were turning in their working papers in everything imaginable, from laundry baskets to backpacks," Registrar Elizabeth Morgan says.
Morgan says CMC is unusual in that the College designates senior thesis as a general education requirement required for all students except those in dual-degree programs.
"Other colleges may require a thesis for some programs or specific majors, but few require it of all students," Morgan says.
Economics major Garrett Myklak '04, who performed valuations using various valuation methods for different companiesthen comparing the resultssays thesis is a welcome opportunity to apply what you've learned to both personal and professional interests. "It is also a challenging project that gives you a real sense of accomplishment at the end of your academic experience," he said.
Erin Bennett '05, a history major, opted to write a feminist analysis of singer Pat Benatar's career, tracking the singer's early commercial successand subsequent ridicule by criticsto her survival of the industry's sex-symbol packaging.
"I knew if I was writing a 40-50 page paper," Bennett says, "I would want to stay interested in the subject. I think thesis is whatever you want it to be. It can be your whole life, or a project toward graduation. But regardless, it's really a good feeling to look at the amount of work you've done."
Although sizable, Monday's turn-in represents less than half of the theses that will be submitted in spring, prior to commencement.