Career Services for Industry Partners
Career Services for Employers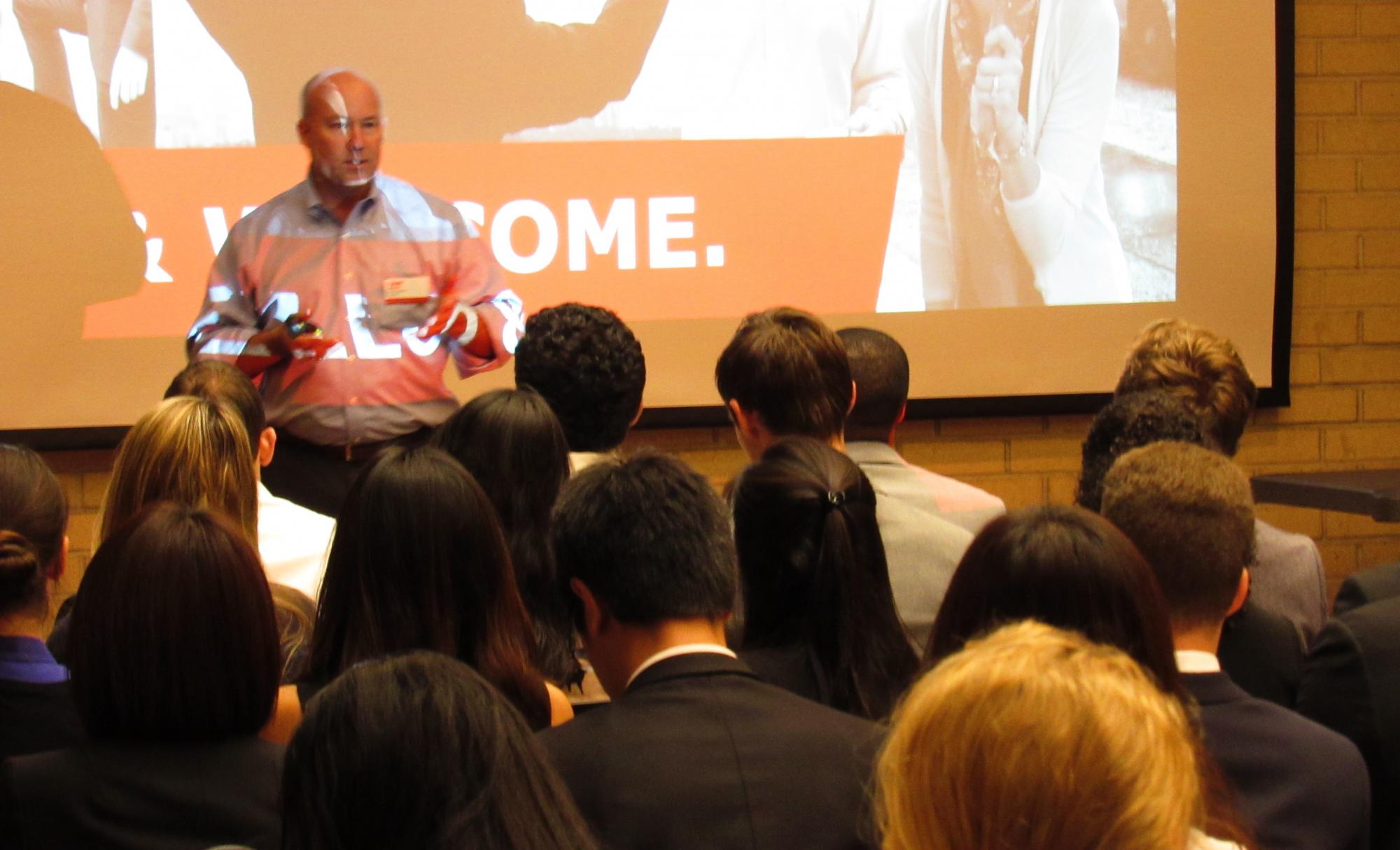 Thank you for your interest in our outstanding students and alumni. Career Services offers an array of employer services designed to facilitate your access to CMC's top quality students and academic programs. Our office offers the same full range of services provided by some of the largest universities with the personal touches that enable you to recruit efficiently and easily. We invite you to explore this website for more information about our comprehensive and convenient employer services. We also encourage you to contact the career coach assigned to your "interest cluster" to discuss your recruiting needs in more detail. You may also contact our Employer Relations Coordinator, Charlene Kile. We look forward to partnering with you in your recruiting efforts at CMC.
A World-Class Institution
Established in 1946, Claremont McKenna College is one of the nation's most prestigious, selective liberal arts colleges with a curricular emphasis on economics, international relations and government. In recent years CMC has gained national recognition as one of the top liberal arts colleges in America and is currently ranked 9th by U.S. News and World Report. This recognition can be attributed, in part, to CMC's mission which acknowledges its obligations for service to the larger scholarly community through faculty contact with business and with government, a process that enriches both the outside world and the campus itself.
Leaders in the Making
CMC's mission is to educate students for responsible leadership roles in business, government and the professions, a unique and important position in American higher education. CMC provides a strong grounding in the liberal arts with an emphasis on economics, government and international relations. These outward-looking fields attract students who are pragmatic in the way they approach their education and who seek to make a difference in today's world. With enrollment around 1200, CMC students are a geographically, socio-economically and ethnically diverse group and tend to be ambitious, practical, aware and leadership-oriented.
One of the Claremont Colleges
The Claremont Colleges are a unique concept in American higher education. The Claremont Colleges feature a cluster of autonomous colleges, each of which excels in a particular academic niche. This educational consortium includes Claremont McKenna College, Harvey Mudd College, Pitzer College, Pomona College, Scripps College, Claremont Graduate University and Keck Graduate Institute. Each has its own student body - ranging from approximately 600 to 1,900. Each has its own faculty, trustees, campus, curricular emphasis, distinctive style and mission, yet the campuses are across the street from each other, cooperating to provide the services and facilities of a 6,000-student university.
A full description of CMC and The Claremont Colleges Consortium can be found here.
Connect With Our Students
If you are looking to recruit CMC or Claremont College students to work for your organization or attend your institution, you have come to the correct place. We are part of the 7-C College Recruiting Program, meaning that you can post a position across all of the Claremont University Consortium schools. You can post a position in Handshake as an employer. Here are some additional programs we offer:
On-Campus Interviews: You can set up times to interview Claremont College students in Career Services, which is housed in the Soll Center for Student Opportunity.
Information Sessions: We offer employers the opportunity to come to campus and speak with students about you and your organization. You can help students discover new career options and build a professional relationship.
Coffee Chat: Get to know students in small groups! Meet with 3 students at a time and discuss your company, role and recruiting process.
Attend a Career Fair: Our annual Career Expo is a fabulous way to build a brand on campus and meet our talented students! The Career Expo will be held in early September 2018 from 11:00 am to 2:00 pm in the spectacular Roberts Pavilion. It is an ideal opportunity to increase your visibility on campus, collect student resumes, build a candidate pipeline, and make valuable connections with our talented and diverse students from all majors and classes. The fair is open to all students of The Claremont Colleges and has specific "neighborhoods" representing certain industries. This year, we are focusing on five "neighborhoods", accounting/financial services, consulting, non-profit/government, healthcare/sciences and technology. All employers will be able to select the neighborhood that best suits their organization or targeted positions.
For additional information on any of these programs and dates, please check out our Posting page.
Please click the following links for additional employer information: