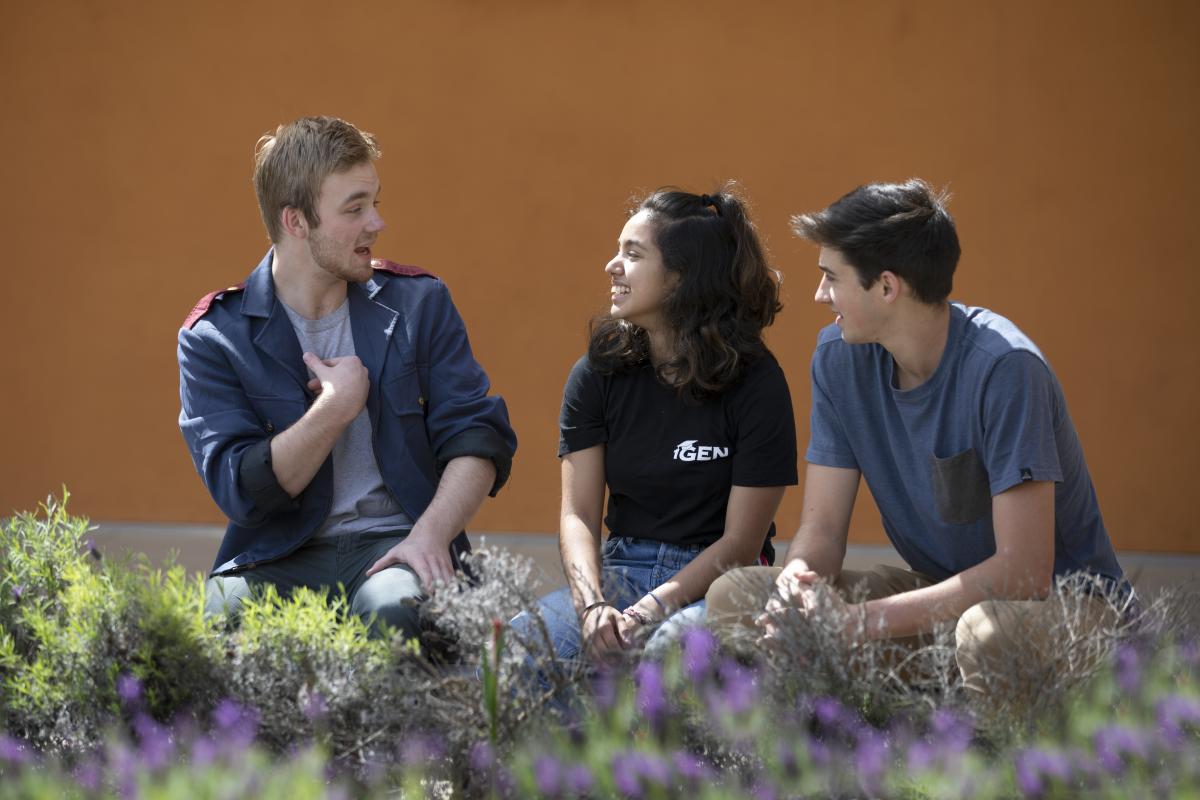 In response to the COVID-19 (coronavirus) pandemic, Admissions and Financial Aid staff will be working remotely for the foreseeable future. However, our commitment to communicating with you and sharing as much as we are able to about the CMC experience remains steadfast. While we are not on campus, our main phone lines and email will remain operative during our normal business hours of Monday through Friday (8 a.m. – 5 p.m. PDT). ​
_______________________
WAYS TO ENGAGE ONLINE
For prospective first-year and transfer students
We are hosting virtual information sessions, which will include an overview of the CMC mission and community while providing an ideal opportunity to have questions answered by admission representatives.
Tuesdays at 3:00 p.m. PDT
Wednesdays at 6:00 p.m. PDT
Thursdays at 5:00 a.m. PDT and 3:00 p.m. PDT
All online information session times are in Pacific Daylight Time (PDT). Please plan accordingly based on your time zone.
Please know that we do not use demonstrated interest in our application review. Whether or not you are able to visit campus will not be a factor in our admission review.
Register for online information sessions
For admitted students
Admitted students, congratulations! We will be hosting virtual programming opportunities for you to learn more about all of aspects of the CMC experience and unique components that make us who we are. For the most updated information, check the link below. Also, keep an eye out for emails from your regional admission officer.
Register for admitted student virtual events
Explore the Claremont Colleges
Though you physically can't be on campus, you can still "see" what we're all about by exploring a virtual tour of the Claremont Colleges. The tour is dedicated to the broader community in Claremont, but offers specific glimpses of CMC life.
Transfer applicants
The fall 2020 transfer application deadline has been extended to April 15. We will continue to accept the Common Application, Coalition Application, and supporting documents through this date. Please check the Transfer Application Instructions webpage for the most updated information.

And, don't forget to follow CMC students on Instagram and Facebook!
Please use the links below to plan your campus visit. We have also included information about off-campus interviews with CMC alumni in the event that you are unable to make it to campus. We look forward to meeting you!
| | |
| --- | --- |
| Events (Temporarily Suspended) | General Information |
| | |
Information Sessions
Given by a member of the admission staff, information sessions provide a solid overview of Claremont McKenna College and its academic programs and social structure. Admission requirements, financial aid and scholarships are also covered in this presentation. For the most up-to-date schedule, please see our online registration system.
Available Monday - Friday at 9:00 a.m. and 1:30 p.m.
Available Some Saturdays at 9:00 a.m. during the Fall Semester
Available All Saturdays at 9:00 a.m. during the month of April
From January - March we do not offer information sessions on Wednesdays
Information Sessions last 1 hour.
Schedule an Information Session
Campus Tours
Given by a student volunteer, tours generally include residence halls, classrooms, computer labs, dining room facilities, athletic fields and social venues. Students also share their honest perspective on life at the College. The tour includes Claremont McKenna College facilities only. For the most up-to-date schedule, please see our online registration system.
Available Monday - Friday at 10:00 a.m. and 2:30 p.m.
Available Some Saturdays during the Fall Semester and the month of April.
Campus Tours last one hour
Organized Group Tours
Organized group tours are designed for and cater to all high school groups (charter, public, and private) and community-based organizations (i.e. those working closely with first-generation college going students). These group tours are intended for groups of 10 or more students. If the size of your group is below this number, please have your students register for our regularly scheduled campus tours at connect.cmc.edu/visit. Led by an undergraduate tour guide, visiting students will walk away with a firsthand look at the academic, pre-professional and extracurricular opportunities available to them at CMC.
Learn more information about scheduling a group tour at the other Claremont undergraduate colleges.
Freshman On-Campus Interviews
Interviews are available to freshman applicants from May of the junior year through mid-December of the senior year. Interviews are not required for admission to Claremont McKenna College. If you live outside of the Southern California area you may schedule an interview with one of our alumni interviewers in your area. In addition, you can check online at connect.cmc.edu/oci to see if an admission officer will be conducting interviews in your area. Check back often as these interview appointments are added throughout the fall.
Schedule a Freshman On-Campus Interview
International Freshman Off-Campus Interviews
Claremont McKenna College has partnered with several companies to offer international applicants the opportunity to submit an unscripted, unbiased, and taped interview as a part of the application process. We encourage all international students to participate in an interview. Please visit our application instructions for international students for more information.
​
Transfer On-Campus Interviews
Students who plan to enter CMC as a transfer applicant may interview until November 1 for January admission or by March 13 for fall admission.
Schedule a Transfer On-Campus Interview
Admitted Student Overnight Program
Admitted first-year students are welcome to spend the night on campus. This is a terrific opportunity to visit classes, meet students and faculty, and to see if CMC is a good college option for you. Overnights are only scheduled online. Overnight visits are available Monday thru Wednesday night when the College is in session. Students are expected to arrive at the admission office by 4:00 pm unless extraordinary circumstances require otherwise.
Overnight accommodations are only available to admitted first-year students.
Overnight visits are only scheduled online and must be reserved at least 5 days in advance.
Overnight visitors are expected to arrive on campus at 4:00 p.m. to meet their hosts at the Office of Admission.
You may only spend one night on campus.
Class Visits
Prospective students, who are in their final year of high school, are invited to sit in on one class during their visit to CMC. Students should alert the admission office of their intention to visit the class when they arrive. When you arrive at the Office of Admission you will be able to select a class from the approved list. You should plan to arrive five to ten minutes prior to the class in order to quickly identify yourself to the professor. If an examination or class trip is planned for the intended visit period, prospective students will be asked to leave and choose another class. No online class listings are available to the public.