The Robert Day School of Economics and Finance
The Robert Day Scholars Program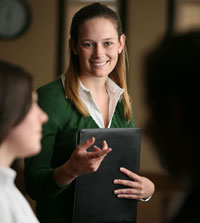 The Robert Day Scholars Program prepares highly motivated students for leadership roles in business, finance, government, and not-for-profit organizations. By completing coursework that provides students with the fundamental skills necessary to navigate complex organizations, Robert Day Scholars graduate with the opportunity to excel at the start of their careers.
The Robert Day Scholars Program also includes the BAMA in Finance option that is available only to CMC students (who must choose between the BA and BAMA program options at application time). More information on this degree program can be found at: http://www.cmc.edu/rdschool/academic/dual/ba_ma_programs.php.
Robert Day Scholars are also provided with - and actively participate in - a rich program of leadership development activities. These activities - including guest speakers, networking trips, and workshops - are designed to provide students with an understanding of the importance of a strong ethical foundation in decision-making settings and to broaden their skill sets in areas such as leadership and communications.
Please use the links below to see the list of recently announced Robert Day Scholars.
Class of 2017 Robert Day Scholars
Class of 2016 Robert Day Scholars
Class of 2015 Robert Day Scholars
Class of 2014 Robert Day Scholars