Robert Day Scholars Program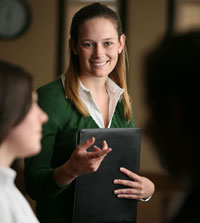 The Robert Day Scholars Program prepares highly motivated students for leadership roles in a variety of industries, including financial services, consulting, and not-for-profit organizations. By completing coursework that provides students with the fundamental skills necessary to navigate complex organizations, Robert Day Scholars graduate with the opportunity to excel at the start of their careers.
Since the first class of graduates in 2009, the Robert Day Scholars Program has provided selected Claremont College students with academic and professional development programming designed to support future success in leadership positions across disciplines and industries. Extensive co-curricular programming reinforces program academic requirements and a merit-based scholarship has accompanied selection.
Curriculum: This highly respected Program is actually a set of programs offering varying levels of curricular depth in finance, accounting and organizational behavior/leadership. Curricular options are as follows:
BA Scholars: This program requires one year each of finance, accounting and organizational behavior/leadership complementing Claremont College undergraduate degree programs;
BA/MA Scholars: This accelerated option enables completion of the Master's Program in Finance (MA) concurrently with earning one's undergraduate degree at CMC. This program requires a total of 36 credits and completion of an approved summer internship; and
MA Scholars: This stand-alone program allows Claremont College and other college graduates to complete a Master's degree in finance in one year.
Scholars are expected to maintain academic excellence after selection. The CMC catalog details the academic standards required for success in each program.
Robert Day Scholars are also provided with, and actively participate in, a rich program of leadership development activities. These activities - including guest speakers, networking trips, and workshops - are designed to provide students with an understanding of the importance of a strong ethical foundation in decision-making settings and to broaden their skill sets in areas such as leadership and communications.
Selection: Selection to each of the Robert Day Scholars Programs is highly competitive and is based on demonstrated academic excellence and leadership potential. The application deadlines and number of students selected in each class have varied slightly, as have requirements for assessment exercises and/or interviews as part of the selection process.
Claremont Colleges students in the Class of 2019 are invited to information sessions at 4:30 in the Bauer Forum on September 20 & 21, 2016. The application deadline is October 12, 2016 and the application can be accessed here. CMC students must indicate whether they are applying to the BA or BAMA program, while non-CMC students may apply only to the BA program. Additional information can be found here at that time. The application will include requirements for a cover letter, resume, and identification of three references (in-class, on-campus and off-campus). While references should be asked for their support, no letters of recommendation are to be requested or submitted with the application. Selection should be complete and announced after fall grades are final but before spring classes begin.
Selection is weighted equally between academic performance and leadership potential. The application process includes two phases starting with review of application materials and feedback from the three references. Students selected to advance to the second phase of selection will be invited to complete an on-line interview using Interview Stream.
Please use the links below to see the list of recently announced Robert Day Scholars.
Class of 2017 Robert Day Scholars
Class of 2016 Robert Day Scholars
Class of 2015 Robert Day Scholars
Class of 2014 Robert Day Scholars
Class of 2013 Robert Day Scholars