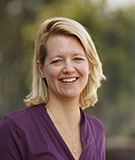 Wendy Lower, Director
Professor Wendy Lower is the John K. Roth Professor of History and George R. Roberts Fellow at Claremont McKenna College. She is the author of Hitler's Furies: German Women in the Nazi Killing Fields, a 2013 finalist for the National Book Award. A few of her other books are The Diary of Samuel Golfard and the Holocaust in Eastern Galicia, Lanham MD: Altamira/Rowman and Littlefield and USHMM, 2011, The Shoah in Ukraine: History, Testimony, Memorialization, Bloomington: Indiana University Press, 2008 (co-edited with Ray Brandon) and Nazi Empire-Building and the Holocaust in Ukraine, Chapel Hill: University of North Carolina Press and USHMM, 2005 (paperback, 2007, audio version 2010).
Professor Lower brings her energy and experience as a program administrator, government advisor, scholar, and teacher in the fields of Holocaust, genocide, and human rights history and activism to the role of Center director.
---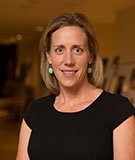 Kirsti Zitar, Assistant Director
Kirsti graduated from CMC in 1997 with a degree in Human Biology-Anthropology. Following graduation, Kirsti worked in the biotech industry in Seattle before returning to Claremont in 2000 to join the inaugural class at Keck Graduate Institute. She finished her M.B.S. degree in 2002 and joined a local start-up biotech company where she worked in business development, marketing, product development, and human relations. In 2009, Kirsti returned to her alma mater to work with the Berger Institute for Work, Family, and Children and transitioned to the Mgrublian Center for Human Rights in 2011.
---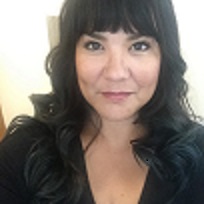 Desirée Gibson, Administrative Assistant
Desirée Gibson joins us from eight years with the Keck Center for International and Strategic Studies as Administrative Assistant at Claremont McKenna College. Prior to joining CMC, she worked in Finance at Morgan Stanley and Smith Barney. She attended Mt. San Antonio College with a major in Communications and as an avid reader, has a passion for writing poetry, recently venturing into the world of writing Fantasy YA fiction. With her creativity and analytical skills, she is looking forward to contributing to the growth and support of the center.
---
Student Program Assistants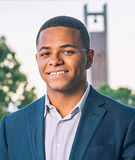 Jeremy Anderson '19
Jeremy Anderson is a freshman from Yonkers, NY planning to major in Government. His interest in human rights and social justice has taken him to regional and national conferences in New York and Texas, as well as trips to Rwanda and Morocco. As a Student Assistant, Jeremy is annotating and editing a memoir written by a survivor of the Armenian Genocide. He is also helping the center plan an academic trip to Armenia/Turkey. When he's not working you can find him reading, listening to music, or watching television. Jeremy spent last summer as an intern at the New York Attorney General's Westchester Regional Office in White Plains.
---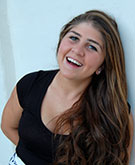 Anoush Baghdassarian '17
Anoush is dual-majoring in Psychology and Spanish with a Human Rights Sequence. Anoush is from Great Neck, New York, and is the author of the play, "FOUND" about the Armenian Genocide which she both directed and produced in New York, as well as the CMC Athenaeum, and at Pomona College. Anoush's desire to raise awareness about the Armenian Genocide has led to her interest in human rights. She is connected to the Center as a task force member, a 2014 summer intern, and a student assistant. In the future, Anoush hopes to pursue a career as a human rights lawyer.
---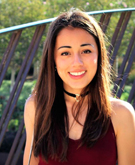 Brianna Munoz '18
Brianna is a sophomore at CMC majoring in international relations with a human rights sequence. She was born and raised in Orange County, and has been passionate about human rights ever since she can recall. She is particularly interested in combating human rights violations that stem from religious conflict. Inspired by filmmakers and documentarists, Bri hopes to join the activist community, harnessing change through the storytelling power of movies. Her passions include film, painting, design, and oceanic exploration.
---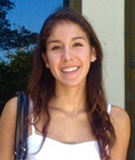 Helen Seligman '17
Helen is a sophomore and CMC, dual majoring in Government and Psychology. She comes from a family of immigrants and is interested in immigrant rights and voting patterns among different demographics and societies.
---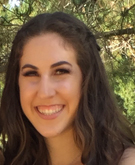 Rebecca Shane '19
Becky is a freshman from Orange County, California. Although her major is still undeclared, she is interested in government and history, particularly with a human rights sequence. Becky has interviewed genocide survivors from Armenia, Cambodia, and, Darfur, in addition to Holocaust survivors whom she interviewed for her Girl Scouts Gold Award Project. She compiled these interviews into a booklet that she shared with youth and adult cultural groups. From these experiences, Becky has become passionate for human rights issues and understands the importance of human rights education.
---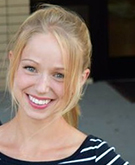 Nicole Southard '17
Nicole is a junior at CMC dual majoring in International Relations and Spanish. Growing up her family was always very involved in various human rights and social justice organizations and has a great passion for her work. Nicole has lived in both Scotland and Spain, but currently resides in the Bay Area. Besides her academic pursuits, she also enjoys baking, running and yoga.
---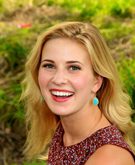 Caroline Sunshine '18
Caroline is a sophomore from Tustin, CA. Her interest in human rights began in 7th grade when she entered an essay contest about Holocaust survivor testimonies. She had the privilege of spending time with the survivor she wrote about, Ilse Diament, and it forever changed her perspective on life. Through the Mgrublian Center for Human Rights, Caroline hopes to honor Ilse's memory. A self-described old soul, Caroline owns all twelve seasons of "Murder She Wrote" on DVD and loves the rhythmic sound of typewriter keys. Other interests include taking risks, fighting the good fight, and making the world a better place.
---