Historian and Author Niall Ferguson To Give the Featured Address for the Friday, October 21, Kravis Center Dedication Convocation
British historian, award-winning documentarian, and author Niall Ferguson will be the featured speaker at a special Convocation on Friday, October 21, celebrating the dedication of the new Kravis Center at Claremont McKenna College. Designed to a LEED-gold standard, the Center is the first building on campus to make a significant architectural statement about the importance that CMC places on the educational efforts of its teacher-scholars and outstanding students.

The building provides a new gateway to the western entrance of the campus, including a new welcome center for the Office of Admission, and houses state-of-the-art classrooms, five of the College's 10 research institutes, faculty offices for four academic departments, the Office of Financial Aid, the Center for Writing and Public Discourse, and a new data center. It was completed over the summer and named the Kravis Center in recognition of a $75 million gift from the Marie-Josée and Henry R. Kravis Foundation in 2008.

"This building establishes a new standard for architectural excellence at CMC," says President Pamela Gann. "The dedication on October 21 will give our CMC community an opportunity to visit the new building and observe first-hand how our students and faculty are utilizing their outstanding new spaces.

Dedication activities will highlight student-faculty research and include a special Convocation at 3 p.m., a ribbon-cutting ceremony, and celebratory reception. Click here for a full schedule of events.

About Niall Ferguson

Ferguson, MA, D.Phil, is the Laurence A. Tisch Professor of History at Harvard University and William Ziegler Professor of Business Administration at Harvard Business School. He is also a senior research Fellow at Jesus College, Oxford University, and a senior Fellow at the Hoover Institution, Stanford University.

(Ferguson spoke at a TED (Technology, Entertainment, Design) conference in July on "The 6 Killer Apps of Prosperity," proposing his ideas on why Western cultures have been so good at creating general prosperity for themselves. Watch his 20-minute talk.)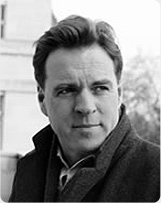 Born in Glasgow in 1964, he was a Demy at Magdalen College and graduated with First Class Honours in 1985. After two years as a Hanseatic Scholar in Hamburg and Berlin, he took up a Research Fellowship at Christ's College, Cambridge, in 1989, subsequently moving to a Lectureship at Peterhouse. He returned to Oxford in 1992 to become Fellow and Tutor in Modern History at Jesus College, a post he held until 2000, when he was appointed Professor of Political and Financial History at Oxford. Two years later he left for the United States to take up the Herzog Chair in Financial History at the Stern Business School, New York University, before moving to Harvard in 2004. Until this year he had a joint appointment at Harvard and was concurrently Tisch Professor of History and William Ziegler Professor of Business Administration at Harvard Business School.

His first book, Paper and Iron: Hamburg Business and German Politics in the Era of Inflation 1897-1927 (Cambridge University Press, 1995), was short-listed for the History Today Book of the Year award, while the collection of essays he edited, Virtual History: Alternatives and Counterfactuals (Macmillan, 1997), was a UK bestseller and subsequently published in the United States, Germany, Spain and elsewhere.

In 1998 he published to international critical acclaim The Pity of War: Explaining World War One (Basic Books) and The World's Banker: The History of the House of Rothschild (Penguin). The latter won the Wadsworth Prize for Business History and was also short-listed for the Jewish Quarterly/Wingate Literary Award and the American National Jewish Book Award. In 2001 he published The Cash Nexus: Money and Power in the Modern World, 1700-2000 (Basic), following a year as Houblon-Norman Fellow at the Bank of England.

His most recent book, Civilization: The West and the Rest, will be published by Penguin in November (2011). The London Sunday Times called the book "a masterpiece ... a pulsing energy suffuses his account and fascinating facts burst like fireworks on every page."

Ferguson is also an award-winning documentary maker. In 2003 he wrote and presented a six-part history of the British Empire for Channel 4, the UK terrestrial broadcaster. A year later came the sequel, Colossus: The Rise and Fall of the American Empire. The War of the World was his first series to air on PBS and was followed in 2009 by The Ascent of Money, which won the International Emmy award for Best Documentary. He is currently working on a life of Henry Kissinger. The film, based on his interviews with Kissinger, won the 2011 New York Film Festival prize for Best Documentary.

A weekly columnist for Newsweek and a contributing editor for Bloomberg TV, as well as an adviser to leading financial institutions, he divides his time between the United States and the United Kingdom.

In 2004, Time magazine named him one of the world's hundred most influential people. He was one in a handful of writers on economics to accurately predict the financial crisis that began in 2007.