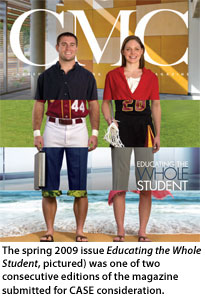 CMC magazine has won a silver CASE Award of Excellence in the category of General Interest Magazine, under 29,999 circulation.
Winners were notified in October, and awards of Gold, Silver, and Bronze were announced at the CASE District Conference in San Francisco on Nov. 16, 2009. District VII represents Arizona, California, Guam, Hawaii, Nevada, and Utah.
Submitted for CASE consideration were the Spring 2009 and Summer 2009 issues of CMC.
In the same General Interest Magazine category, with a circulation under 29,999, Claremont Graduate University received a Gold award for The Flame, and Chapman University was awarded a Bronze for Chapman Magazine.