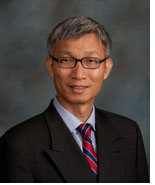 Specialist on China and U.S.-China relations Minxin Pei, the Tom and Margot Pritzker '72 Professor of Government and Roberts Fellow, and director of the Keck Center for International and Strategic Studies at CMC, was a guest on CNN's GPS on Sunday, Nov. 15.
Hosted by recent Res Publica and Athenaeum guest Fareed Zakaria, the show's lineup also featured ex-CIA officer Reuel Gerecht, Harvard professor Roderick MacFarquhar, and author Joshua Cooper Ramo. Watch the podcast.
Pei also was a guest on the Monday, Nov. 16 broadcast of The NewsHour hosted by Jim Lehrer, on the topic of "Evolving U.S.-China Relationship Holds Promise, Pitfalls." Pei's response can be seen on segment 3 of 7; watch the video. A transcript of the interview is also available.