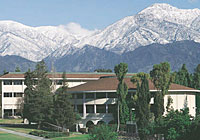 The Robert Day School Undergraduate Programs
At the undergraduate level, the Robert Day School offers a broad array of coursework in economics, finance, and accounting. The curriculum embodies the academic rigor and practical understanding of economics that has made CMC a leader in liberal arts education.
The Robert Day School Master's Program in Finance
The innovative Master's Program in Finance has an ambitious yet simple objective: to identify well-rounded students with strong leadership potential and prepare them for their careers through an intensive curriculum in finance and economics. This combination of leadership-focused selectivity and academic rigor, as well as the rich co-curricular program in communications, represents a new way of thinking about postgraduate finance education.
Dual Degree Programs
The Robert Day School provides its undergraduate students with an opportunity to complete accelerated dual degree programs which result in advanced degrees in Economics, Engineering, and Business Administration. These programs create an environment in which CMC students gain expertise through advanced coursework while preparing themselves to progress rapidly early in their careers.