Master's Program in Finance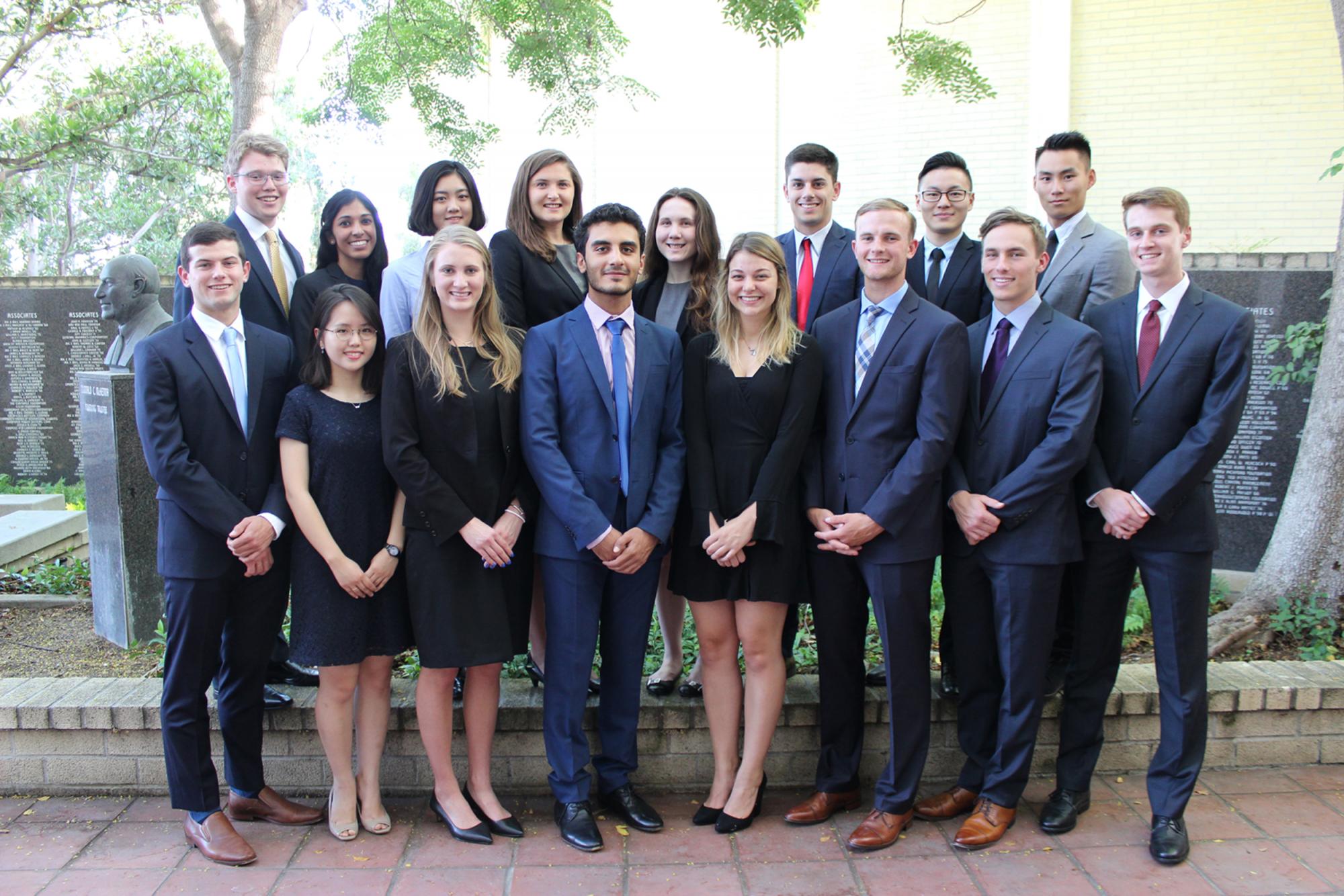 MA '18 and BAMA classmates in FIN 300 course August, 2017
Background. The Master's Program in Finance at Claremont McKenna College (CMC) was established in 2007 as part of the Robert Day Scholars Program by a landmark gift of $200 Million from Robert Day '65. The CMC Economics Department was subsequently named the 'Robert Day School'. The inaugural class of the Master's program in Finance (MA) graduated in 2010. Between 2010 and 2021 an average of twenty students graduated each year with an immediate placement rate of 95%. In 2011, the CMC faculty approved an accelerated degree program (BA/MA) which enables CMC students to earn both their undergraduate and graduate degrees in four years.
During the 2015-2016 academic year, a series of internal reviews initiated major changes to the structure and scope of the MA program, resulting in a smaller program uniquely designed for liberal arts college students. In addition to the students attending the Claremont Colleges (Claremont McKenna, Pomona, Harvey Mudd, Scripps and Pitzer Colleges), enrollment is now limited to students introduced through nominating relationships. Previous prerequisite coursework in accounting and corporate finance is now integrated into the curriculum, better meeting the needs of typical liberal arts college graduates. MA students complete a two-week Seminar in Applied Finance prior to the start of the two-semester program which requires four courses each semester as well as seminars in personal and professional development.
Curriculum. Courses offered in the 2022-2023 academic year include (* required):
Fall '22 Spring '23 (anticipated)
Accounting* Advanced Accounting Analysis*
Corporate Finance* Corporate Financial Management*
Investments* Entrepreneurial Finance & Venture Capital
Corporate Governance and Ethics Asset Pricing & Derivatives
Mergers & Acquisitions Portfolio Management
Student experience. The student seeking the 'big graduate/business school' experience will be disappointed enrolling at CMC. In most respects, the student participating in the MA program will find the academic program to be a continuation of her/his undergraduate liberal arts experience. Classes will be rigorous, requiring significant study and group work. Classmates will be a combination of MA and BA/MA (undergraduate) students, though the passion for finance will be shared. Living very near campus (there are ample rental choices adjacent to campus) will provide a degree of separation from the otherwise residential life of undergraduate classmates. MA students remain welcome to participate in intramurals and other campus events as desired.
Scholar support. The Robert Day Scholars program continues to support MA students with:
Substantial scholarship support accompanying an offer of admission
Dedicated academic advising (Graduate Programs Director; currently Professor Eric Hughson)
Dedicated career service support, to include facilitation of networking trips, interview preparation, and professional development (Director of External Relations; currently Amy Flanagan), as well as continued support as an alum.
*admitted students nominated by partner institutions receive offers of full-tuition scholarships
Admission. The graduate admission committee consists of faculty and staff committed to ensuring that the qualifications, interests and goals of prospective students align with the program offered. The Director of Scholar Communities Amy Flanagan (aflanagan@cmc.edu) oversees a streamlined admission process for nominated students that requires submission of the following:
Cover letter
Resume
Transcript (unofficial copy)
GMAT/GRE results (unofficial copy); can be waived by admission committee
Two letters of recommendation, at least one of which must be from a faculty member.
An interview will be scheduled upon successful completion of an initial committee review. The successful applicant should receive an offer of admission very soon thereafter, along with a request for commitment within the following 30 days. Coordination with the Assistant Director of External Relations Brooke Bernal (bbernal@cmc.edu) will begin as soon as possible.
Official documentation and additional biographical information will be required subsequent to an offer of admission.
Nominating relationships. In addition to select faculty and alumni, the nomination of current seniors or very recent graduates is limited to the Claremont Colleges and following partner institutions*:
Davidson College, North Carolina
Hamilton College, New York
Haverford College, Pennsylvania
Oberlin College, Ohio
Yonsei University, Seoul, South Korea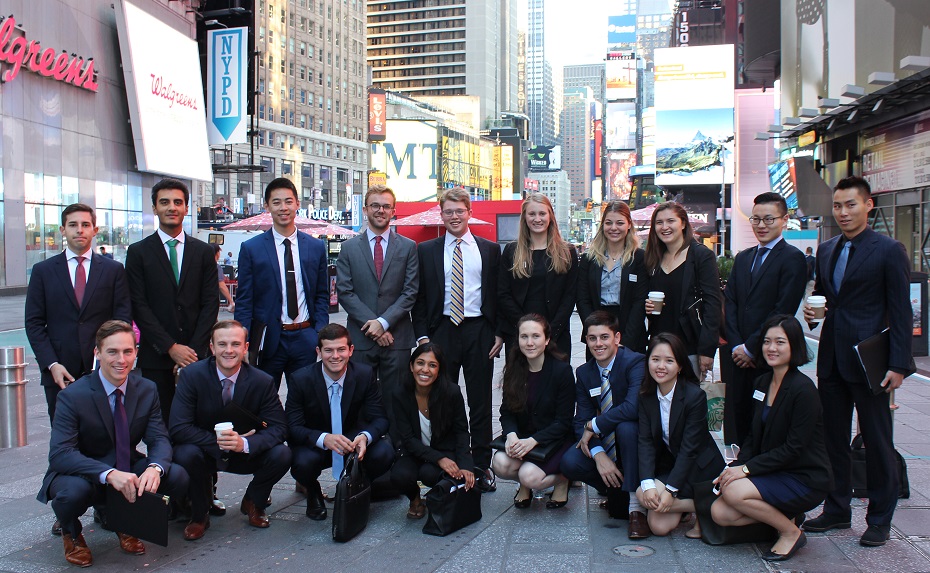 MA '18 and BAMA classmates in New York City during networking trip in August 2017
Career expectations. Similar to the great majority of the graduate finance programs offered in the United States, this program is designed to assist students in successfully acquiring entry-level positions in the financial services industry. Unlike most programs, the Master's Program in Finance at CMC includes personal and professional development programming, substantial financial support, and dedicated staff and faculty committed to preparation for long-term success as well.
For more information: Amy Flanagan aflanagan@cmc.edu; 909-607-2463