The official dedication and ribbon-cutting ceremony for Roberts Pavilion, Claremont McKenna College's new center for athletics, events, and recreation, is set to take place on Friday, Sept. 30.
Good things come to those who wait. Now the wait is over for the CMC community; Roberts Pavilion has opened for recreational use.
And it's only the beginning. As CMC President Hiram Chodosh said a few months ago during a "Senior Preview Day" at the Pavilion, "to be sure, the Pavilion is the home of CMS Athletics, but it's a facility intended for use by all students. It's an events center not just for athletics. The whole campus will be utilizing it."
Even though students are off on summer break for several more weeks, campus is still a frenzy of activity with the continued construction of Roberts Pavilion. Currently, workers are in the process of erecting the curtain wall of the 130,000-plus square-foot Roberts Pavilion. The curtain wall is the exterior framing of the building. There are several phases involved in erecting the curtain wall, including medal stud framing, insulation, water proofing and terra-cotta paneling.
See the slideshow below with photos taken in early August, showing progress on the Mid-Quad Dorm renovations currently underway on Claremont McKenna's campus.
[rev_slider midquad]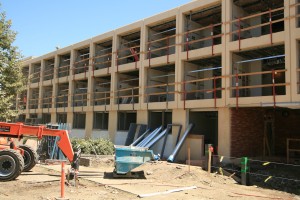 Marks Hall
Now in the second phase of the three-year, three-phase project, Mid Quad dormitory renovations are well underway. The $42 million construction is renovating Phillips, Beckett, Berger, Marks and Benson Halls.
Chelina Odbert '99 co-founded Kounkuey Design Initiative to build badly needed public spaces for impoverished areas around the globe.
See the June 15 New York Times article on one of her efforts in the Coachella Valley titled: "Out of the Desert, A Miracle on a Shoestring."
On the evening of the final regular season men's basketball game of the 57-year history of Ducey Gymnasium, the night began with a pregame celebration of Ducey Gym, and also ended in celebration as the CMS men's basketball team defeated the University of Redlands to win the regular season Southern California Intercollegiate Athletic Conference (SCIAC) championship.
A 240-ton hydraulic crane delivered a 30-ton chiller to CMC on September 9. 'What is a chiller?' you may ask. It is a state-of-the-art, super-cool(ing) unit to service both the Mid-Quad dorms and Roberts Pavilion. And with late summer heat upon us, the timing couldn't be any better.
September 3, 2013
Dear CMC Community:
Welcome back to school!
It is a wonderful feeling for me to welcome you, as you have been so welcoming to my family over the past several months.
After all of the student internships, faculty research projects, and staff planning and campus renovations, it is exciting to start the fresh cycle of a new school year.
Pages