The Robert Day School of Economics and Finance
About Robert A. Day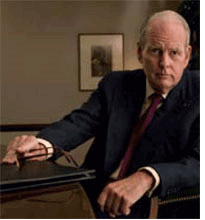 Robert A. Day is the Founder and Chairman of The TCW Group, Inc., a Los Angeles-based investment management firm with more than $150 billion in assets under management. He is also Chairman, President and Chief Executive Officer of the W.M. Keck Foundation, one of the nation's largest philanthropic organizations, with assets of more than $1.5 billion.
Day graduated from Claremont McKenna College in 1965 and started his career with the investment banking firm White, Weld and Company in New York. In 1971 he founded Trust Company of the West with just $2 million in client assets under management.
Among Day's many other affiliations, he is a member of the Board of Directors of Freeport-McMoRan Copper and Gold; a director of Société Générale; and a member of The Business Council, The Brookings Institution, and The Center for Strategic & International Studies. Day is also a Member and former Chairman of the Board of Trustees at Claremont McKenna College.
In September 2007, Day pledged a $200 million personal gift to Claremont McKenna to create the Robert Day Scholars Program. This was the largest recorded gift to a liberal arts institution, the largest gift in the field of finance and economics, and among the top 20 largest gifts ever given to a college or university.