Writing & Research Series Fall 2014
9/19 - Senior Thesis: The Starting Line, 2-3pm, KRV 165
You've got your topic and your research question, the deadline is still far away but starting off strong will put you in a great position to write a superb thesis. This session will get you off to a running start by covering how and where to find and select the resources you need to support your argument. NOTE: Session is capped at 10. RSVP with your thesis topic/area by Thursday 9/18 to reserve a spot.
---
9/26 - Slam Poetry – a Directed Session with poet Matt Sedillo
Poet Matt Sedillo will lead a slam poetry workshop introducing attendees to the art of slam poetry, an increasingly popular form of public discourse. Join us to learn more about telling your story using this compelling medium. NOTE: Session will be capped at 15; RSVP by the deadline in order to secure a spot.
---
10/3 - CWPD Open House
Join the staff of the CWPD at our annual Open House. This is a great time to learn more about what we do at the CWPD by: meeting the consultants, learning about International Student Language Support, finding out about CWPD programming, and visiting with fellow writers. Come prepared to play board games! Refreshments and snacks will be served.
---
10/24 – Jennifer Mattson, Athenaeum Lunch Talk + Small Group session, "Writing and Publishing the 800-word essay."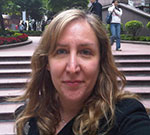 Jennifer Mattson is a former radio producer for "The Connection" and worked as an editor for National Public Radio. She spent over six years as a producer for CNN, where she was responsible for CNN's daily live newscasts and producing CNN's international coverage. Jennifer came to CNN to work in the Washington bureau's political unit during the 1996 U.S. presidential election. She later moved to Atlanta, where she worked first as a writer and then as a newscast producer at CNN International. Prior to joining CNN, Jennifer worked as a reporter based in Budapest, Hungary covering Eastern Europe, where she reported on a number of regional stories for USA TODAY including a piece on George Soros and the Clinton-Yeltsin CSCE Summit. She has also reported, most recently, from Asia.
Her work has appeared in TheAtlantic.com, USA TODAY, The Boston Globe, The Women's Review of Books, AsianCorrespondent.com, Tablettalk.com and CNN.com. She is the former Managing Editor of AsiaSociety.org. Follow her on Twitter at @jennifermattson.
NOTE: The small group session will be capped at 15.
---
11/14 - Senior Thesis: Bringing it Home, 2-3pm, KRV 165
Where did the semester go? That thesis deadline is starting to loom larger. You've found some sources; now make sure you wow your faculty advisor with them! This session will cover finding and evaluating sources and integrating them skillfully into your writing. NOTE: Session is capped at 10. RSVP with your thesis topic/area by Wednesday 11/12 to reserve a spot.