The Robert Day School of Economics and Finance Career Management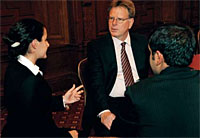 The students of The Robert Day School of Economics and Finance (RDS) receive excellent career management support, which enables them to not just find a job, but a great job that leads to a fulfilling career.
The Robert Day School of Economics and Finance is home to all Economics and Economics-Accounting majors, along with the undergraduate Robert Day Scholars, an elite group of students representing all five Claremont Colleges, who pursue advanced coursework in finance, accounting, and organizational psychology during their senior year.
In conjunction with the Claremont McKenna College Career Services Office, RDS helps these students to formulate their career goals and assists them in developing effective plans to achieve those goals. Students are provided with a wide array of career management resources and individualized assistance, specialized employment search tools, on-campus recruiting via our Claremont Connect online database system, access to sponsored internship opportunities, resume and cover letter drafting, mock interviews, assistance with offer and salary negotiations, as well as graduate and professional school advising.