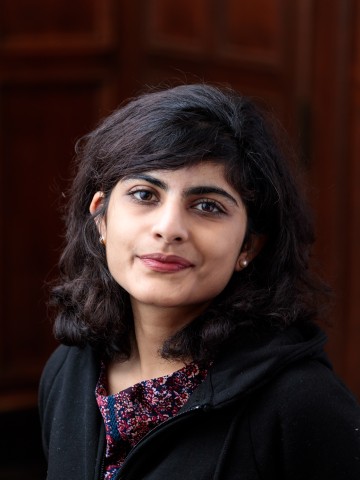 Ahona Panda, PhD
Assistant Professor in History
CV
Office Hours
By appointment
Monday, 3-4:30
Biography
Ahona Panda is Assistant Professor of History at Claremont McKenna College. Her research and teaching interests span modern South Asia and decolonization, the British empire; religious and linguistic nationalism; caste and race; print and book history, the history of political movements and the organised left, working-class histories, gender and sexuality studies, world literatures, and critical theory.
She is currently working on a book manuscript Bengal Undivided: The Politics of Language and the Limits of Nationalism based on her dissertation that won the 2020 Sardar Patel Award, awarded by Center for India and South Asia at UCLA, for the best doctoral dissertation on any aspect of modern India.The book aims to provide a new account of the Hindu-Muslim relationship in South Asia through a renewed attention to the politics of language. Traditional accounts of this relationship frame it in terms of enmity and competing religious nationalisms culminating in the Partition of 1947. By focusing on Bengali as a shared language on which a shared sense of community could be forged, she uncovers a hidden history of friendship and collaboration that helped to generate new possibilities across three nation-states (India, Pakistan, and Bangladesh) over the course of the twentieth century.
Her teaching interests include South Asian civilizational history as well as empire, colonialism and decolonisation. She is especially invested in teaching the intertwined histories of race, labour, migration, and capitalism–an interest she has developed into the freshman humanities seminar 'Caste, Race and Equality'. Other courses include survey classes on premodern India, the political and social histories of empire and nationalism in the colonial and postcolonial periods, and an advanced seminar on censorship. She also teaches introductory courses on gender and sexuality, labor, and performance.

Courses offered:
Makers of Modern India and Pakistan (Seminar)
Sex and Censorship in South Asia (Special Topics/Research Seminar)
Caste, Race and Equality (First-year Humanities Seminar)
Gender and History in South Asia (Seminar)
Education
PhD in South Asian Languages and Civilizations, University of Chicago, 2019
BA and MA in English literature (with Film Studies and History), Jadavpur University, 2011
Awards and Affiliations
2022-2023 Selected as one of six "Emerging scholars in Political Theology", Political Theology Network and Center for Political Theology, Villanova University
2022 2020 Sardar Patel Award for best dissertation on modern India in the humanities, education, fine arts, or social sciences, UCLA Center for India and South Asia.