The CARE Center (Civility, Access, Resources, and Expression) is an innovative undertaking that seeks to proactively engage and educate the community. The Center seeks to build capacity in communicating across difference with respect and civility. We are challenging ourselves to achieve the dual goal of providing space for dialogue and expression in a civil manner while also providing resources to support inclusion and remove barriers to student success.
A guiding set of objectives and principles ensures that the CARE Center is a space for expression, study, dialogue, and exploration of our intersecting social identities and how they inform the ways in which we live within, learn from, and engage with the world.
Hours and location
Monday through Friday, 9 a.m. to 10 p.m., and weekends, 9 a.m. to 6 p.m.
Heggblade Center, Second Floor
Meet our director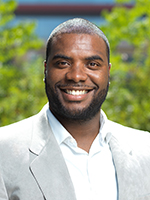 As a member of the Dean of Students staff and inaugural director of CMC's campus resource center to support diversity and inclusion, Vince works with the CMC community to build capacities across the institution to ensure students of broadly diverse backgrounds, identities, experiences, perspectives, and ideas are able to thrive. He has worked at Simmons College, DePauw University, Northeastern University, and Brown University totaling nearly a decade in the field of higher education. He earned a master's degree in higher education administration from Northeastern University and a bachelor's degree in English writing from DePauw University.
Vince has a major passion for fostering personal and holistic relationships with students from various identities and backgrounds. He is also a major advocate for students who are from historically underrepresented communities and is passionate about helping to contribute to the retention of all students, providing intentional/ developmental mentoring relationships, and helping directly impact their college experience and success.
When he is not trying his best to foster community across difference, he enjoys traveling, spending time with his family, DJing, reading, watching sports and playing them especially basketball and wallyball.
CARE Center Fellows
The CARE Center Fellows are student leaders from various backgrounds who are passionate about building community across difference. They are committed to fostering a supportive campus environment that values multiple identities and perspectives while being ambassadors for the CARE Center and the campus at large.
Services
CARE Center services provide emotional and academic support for students. The goal is to give students a bridge to Claremont Colleges services and address barriers to student success. The Queer Resource Center, Office of Black Student Affairs, Student Disability Resource Center, Chicano/ Latino Resource Center, and the Chaplains Office each rotate office hours within the Center so students can connect with the external resources that each office provides.
Additional services include academic advising, mental health counseling, and mentorship activities. Students have opportunities to connect with faculty through programming and regular office hours and receive daily support and mentorship from the CARE Center staff.
Student groups and organizations are welcome to reserve CARE Center spaces for meetings.
Diversity Resources
Fall Dialogue Initiative Resources
Programs
CARE Center programs are intended to bring together groups from across campus that may not usually engage with one another. The programs are intentionally designed to bring in a wide range of perspectives and provide space for diverse opinions. Some of the programs include:
Community-Wide Dialogue: You. Me. Together CMC.
The CARE Center launched the year with a community-wide dialogue event that provided an opportunity to converse thoughtfully across difference; to exchange ideas, narratives, and counter-narratives; to engage difficult topics; and to evolve our thinking about personal and socially constructed identities. The event was held on September 9 at Roberts Pavilion and was well attended by over 400 students, staff, and faculty.
Values, Identity, Scholarship, and the Arts (VISA)
In association with the Dean of the Faculty's Office, the VISA program provides an opportunity for faculty and staff to gather with students and share how their careers choices have been shaped by their identities and life experiences.
Real Talk series
Each month, the Assistant Dean for Diversity and Inclusion, leads discussions about topical issues arising from current events. The program provides an opportunity for students, staff, and faculty to consider questions of identity and expression in contemporary society.
Educational workshops
The CARE center hosts monthly trainings and interactive workshops to enhance the understanding of, and appreciation for, the diversity that makes up our campus community. Through guided self-reflection, academic exercises, and practice, participants develop behavioral skills that contribute to a more inclusive environment.
Partnerships
The CARE Center partners with departments and administrative offices, not limited to the President's Office, the Dean of the Faculty, research institutes, and the Athenaeum. Intentional partnerships across the campus reinforce shared ownership of diversity and inclusion work and engage a broader range of stakeholders.
Cultural excursions
The CARE Center partners with student groups to foster cross-cultural appreciation and meaningful cultural exchange through off-campus trips and film screenings. Recently, the CARE Center co-sponsored a trip to Washington DC to visit the National African American History Museum. It also hosted a viewing of the movie, The Birth of a Nation. Students participated in a discussion before the film.