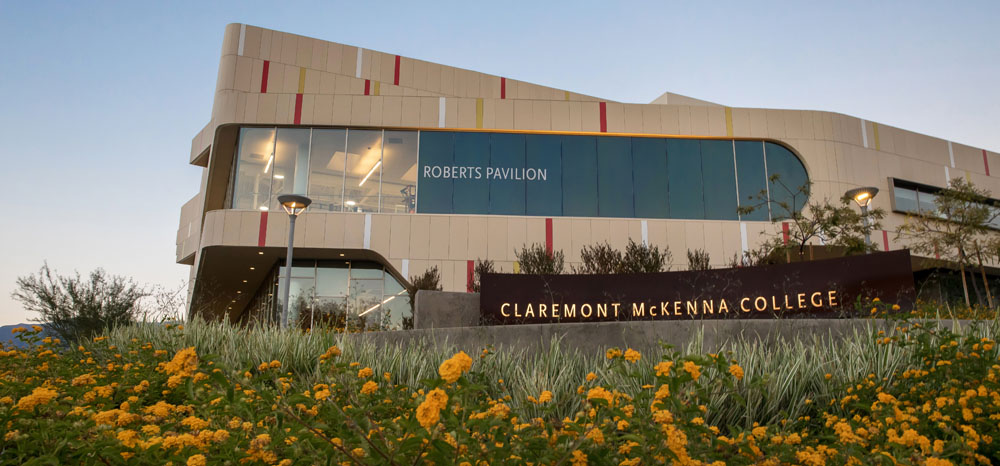 Claremont McKenna College is a highly selective, independent, coeducational, residential, undergraduate liberal arts college. Its mission, within the mutually supportive framework of The Claremont Colleges, is to educate its students for thoughtful and productive lives and responsible leadership in business, government, and the professions, and to support faculty and student scholarship that contribute to intellectual vitality and the understanding of public policy issues. Admission to the College is need-blind and emphasizes the demonstration of leadership accomplishments. The College attracts a student body that is broadly diverse and accomplished beyond the classroom.
Located on a scenic, tree-lined residential campus 30 miles east of Los Angeles, Claremont McKenna is a member of The Claremont Colleges, a seven-college consortium modeled after Oxford University. CMC students choose from more than 2,000 classes and participate in co-curricular activities with about 8,000 other students at Harvey Mudd College, Pitzer College, Pomona College, and Scripps College, as well as the Claremont Graduate University and Keck Graduate Institute. Students have the best of both worlds: the intimacy of a small residential college with small classes and a student-faculty ratio of nine to one, and the shared resources of a larger research university.
Overview of CMC
Printable 2023-2024 Fact Sheet (PDF)
Location
Claremont, CA (35 miles east of Los Angeles)
The Claremont Colleges
1 square mile. About 8,000 students. 3,000 total faculty and staff.
Percent of CMC students who cross-register at another Claremont College: 99%
Based on the Oxford/Cambridge style of shared university resources, including: Varsity Athletics, Health Center, Campus Safety, Science Programs, Dining Halls, Libraries, Clubs, Concerts, Speakers, & Classes.
Claremont McKenna College
Harvey Mudd College
Pitzer College
Pomona College
Scripps College
Claremont Graduate University
Keck Graduate Institute
Campus & Features
69 Acres. Short walking distance from shops and restaurants in downtown Claremont Village.
11 Research Institutes and centers for student-faculty research.
The Marian Miner Cook Athenaeum: Speakers 4 nights a week.
Academic Year
Two Semesters.
Degrees Awarded
Bachelor of Arts
Master of Arts in Finance
Accreditation
Western Association of Schools and Colleges Senior College and University Commission (WSCUC)
Areas of Study
33 majors and 11 sequences. 
Top Majors Class of 2023*
• Economics
• Psychology
• Government
• International Relations
• Philosophy
• Philosophy, Politics, & Economics (PPE)
• Data Science
• Biology
• History
• Media Studies
Undergraduate Admission Figures
| | |
| --- | --- |
| Applicants | 5,799 |
| Admitted | 643 |
| Enrolled | 321 |
| SAT Median (EBRW + Math) | 1500 |
| ACT Composite Median | 34 |
Student Enrollment and Diversity
| | |
| --- | --- |
| Degree-seeking Undergraduates | 1,379 |
| Percentage of first-generation students | 17% |
| States and Territories Represented | 46 |
| Foreign Countries Represented | 48 |
| Women | 50% |
| Men | 50% |
| White | 37% |
| Nonresident Alien | 14% |
| Hispanic | 15% |
| Asian | 16% |
| Two or more races | 8% |
| Unknown | 5% |
| Black | 5% |
| American Indian or Alaskan Native, and Native Hawaiian or Pacific Islander | both <1% |
| Percentage of students of color (includes American Indian/Native American, Asian, Hispanic/Latino, Black and African American, Pacific Islander, and two or more races) | 44% |
Faculty and Classes
| | |
| --- | --- |
| Full time faculty** | 164 |
| PhD or other terminal degree | 99% |
| Average class size | 16 |
| Percent of classes with less than 20 students | 82% |
| Student to faculty ratio | 8 to 1 |
Student Life & Involvement
| | |
| --- | --- |
| Full-time, First-time Freshmen Retention Rate | 96% |
| Students who live on campus | 86% |
| Students who participate in internship programs | 88% |
| Students who conduct research with faculty | 60% |
| Students who participate in off-campus study*** | 23% |
Graduates
| | |
| --- | --- |
| Six-Year Graduation Rate | 95% |
| Class of 2022 graduates employed full-time or in graduate school 6 months after graduation | 97% |
|   |   |
Financial Information
Comprehensive Fees 2022-2023
| | |
| --- | --- |
| Tuition & Fees | $64,150 |
| Room & Board | $19,650 |
| Total Cost | $86,500 |
Finances
| | |
| --- | --- |
| Core Operating Budget FY 2022-23 | $134,000,000 |
| Endowment Market Value (as of 6/30/2023) | $1,123,418,000 |
Financial Aid
| | |
| --- | --- |
| Students receiving aid | 48% |
| Average need-based scholarship and grant award | $58,735 |
| Average need-based financial aid package | $67,295 |
| Average debt from borrowers at graduation | $20,978 |
*Including dual and double majors
**Including all Keck Science Faculty
***Includes Silicon Valley; Washington, DC; domestic exchange