Washington Program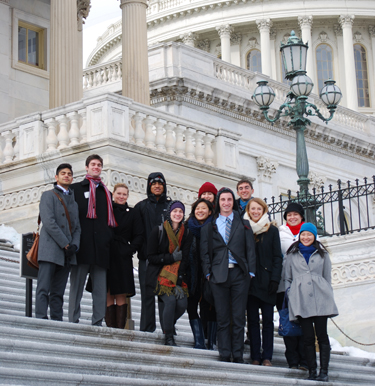 CMC has a special relationship to Washington. As a college with a strong emphasis on public affairs and service, it is only fitting that for over four decades CMC has been sending its best and brightest to the nation's capital.

Recent News (Click to read): CMC Washington Program Students Win Awards
The Washington Program is rooted in a full-time internship, two seminar courses, and a directed research paper. Students discuss contemporary political issues and how they relate to and affect the public and private sector, various branches of government, Capitol Hill, non-profits, and mass media.
DC offers exciting internship opportunities in a diverse array of organizations, such as the Sierra Club, Environmental Protection Agency, The White House, The Kennedy Center for the Performing Arts, CNN, Smithsonian, Senate Budget Committee, and Amnesty International.
The CMC Washington Program is located in the heart of Washington, between Dupont Circle and the White House. It is administered by Dr. Elizabeth Spalding, who serves as faculty along with Dr. John Haskell and Dr. Adam Wolfson.
All students should refer to Professor Pitney's web page for information about internships and housing: http://www.cmc.edu/pages/faculty/JPitney/intern.html
Student Experiences
Click on the intern's name below to read the blog.

Victor Lopez
Key 5C Contacts
Click here to contact relevant offices at each college.
Washington Program Alumni