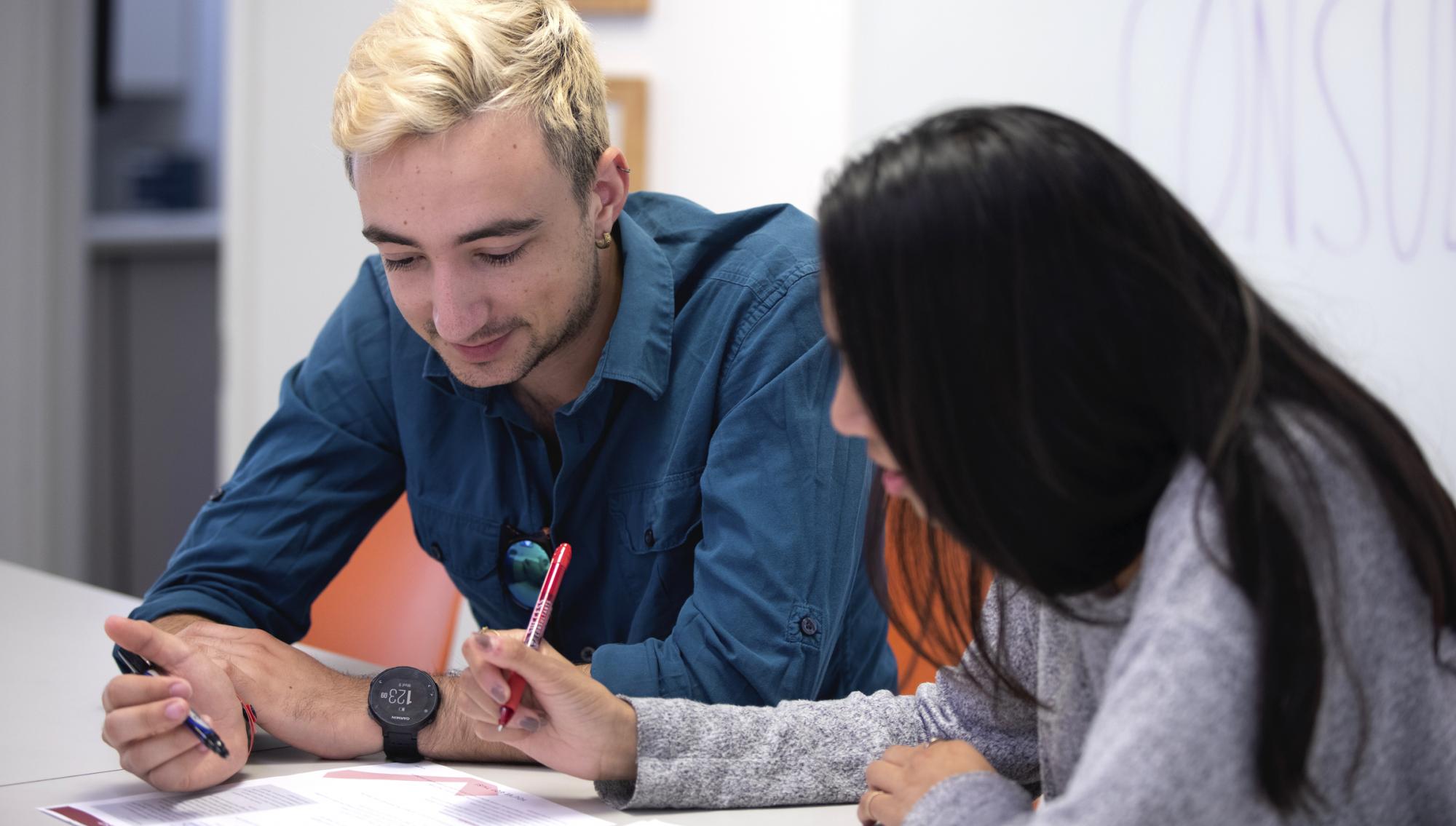 Creating Your Path to Success
Resources
Guidance
We've put together some resources to help support you, and we plan on staying connected as often as we are able to, taking into consideration everyone's comfortability surrounding in-person meetings. We see these resources as evolving, and it is our deepest hope that you will add and contribute to a growing body of resources we can all use to manage these challenging times. Please share your best practices and ideas with us by emailing academicsuccess@cmc.edu.
Please keep in mind a few important things:
Your professors are your number one resource in as we shift back to in-person and on-campus learning; use this opportunity to connect (or re-connect) with our amazing faculty. Reaching out to faculty is your best, first step.
Learning is the goal: Some of the how has changed, but not the what or why of your education and learning. We will always emphasize: engage with your professor, course materials, and classmates; dedicate time to learning with your classmates; use your resources such as Success Coaches, the

CWPD

, the

QCL

, and peer tutoring; and reach out to the Academic Success staff in the DOS to schedule some academic coaching.
We're all in this together. This means what becomes a glitch for you is likely a glitch for others. Reach out to others so that you can solve these problems.
You are at CMC because you belong at CMC—and CMC is more than the space it occupies in Claremont. CMC is you; CMC is all of us. Help one another. Be there for one another. And, remember, that we are here for you!
Your Space: What works for you?
Pick a space with a flat surface and a chair that allows you to sit up straight
Clear it of anything that is not relevant (placemats, coloring books, items from high school, etc.)
Choose a space that is the quietest or least used area in your environment

Consider facing a window or wall if that helps limit distractions
Talk to those in your household about your "work hours" and what level of noise you need to be successful

Set up your technology to ensure you have everything you need

Computer, printer, headphones, lamp, etc.

Ensure you have a stable internet connection
Gather your necessary supplies

Textbooks, novels, binders, folders, academic planner, scratch paper, pens, post-its, calculator, etc.

Pick a couple items that bring you joy

Picture of family/friends, diffuser, crystals, meaningful token, etc.

Put everything in a small box/bin if you need to move your workspace each day
Your courses: Many students have found it helpful to use a chart or other organizer to track potential changes, class engagement options, and updates for their courses. You can try this one—or design your own.
Preparation and Expectations: Remember, your professors are the most valuable resources for your success. Make sure you are clear on their expectations before setting up a system to maintain motivation and accountability.
Engage yourself in the material prior to the lecture/recording

Actively participate in discussions or forums

Take notes with pen and paper

This helps with staying focused and information retention

Take 5 minutes to write a summary of the lecture, highlighting 3-5 major takeaways
Make the most of your CMC network and ask for help!
Importance of Routines: Structured time works best. Work will become more manageable and less overwhelming when your mind is focused and attentive.
Plan out your week day-by-day

This includes times to be social with other CMCers online
Write a to-do list for each class/project

Set goals that are realistic and make sense with your workspace

Focus on one task at a time

Use distraction blockers that limit access to a website or app

Make time for regular breaks

Prioritize your work using a coded system

Red (immediate attention), yellow (on the radar), green (good shape)​
Importance of Flexibility: Any new experience feels challenging at first. Everyone is adjusting, including your faculty members. Patience will be the key virtue during this time.
Expect a turnaround time of 24-48 hours for responses to your email(s)
Be prepared for possible delays in connectivity, communication, and the general pace of the semester
When things get overwhelming, don't hesitate to email DOS
Well-Being Tips: Staying nourished—in all ways—should be a top priority!
Maintain a consistent and healthy sleeping schedule

Success Consultants would be more than happy to talk through a plan for you!

Listen to your body and give it what it needs (and more)

Drink a glass of water in between meals
Find ways to be engage and activate your body throughout the day

Take breaks away from the screen

Blue-light blocking glasses may help with eye strain, headaches, and getting to bed

Commit to a meditation practice—first thing in the morning or last thing at night
The Basics:
Check your CMC email account twice every day

Don't miss important information by skimming your inbox
In addition to those from your faculty, prioritize emails from CMC officials and departments (Registrar, DOS, Financial Aid, etc.)

Stay informed on local and global news

Be mindful of what and how much news you consume; set a specific time of day to check for updates
Many updates are shared during the lunch hour
Community Matters: Remember, we are in this together. As we continue to adapt to the ever-changing research, guidelines, and regulations around the pandemic, please be mindful of how you are connecting with your peers and how your actions impact others:
The relationships you made with faculty, staff, mentors, coaches, classmates are no longer limited to Zoom! Take advantage of the myriad of spaces and moments at CMC: Ath Tea, the Hub, Poppa Lab, the list goes on.
Share your ideas with others, and be inclusive. Our community will be as strong and connected as we make it. Reach out and invite a roommate, hallmate, classmate, etc. to something and somewhere new to you both. Add to your groups.
Practice care for your fellow CMCers—how will you offer support and how will you feel better supported?

Make sure you have an open channel of communication with at least one other CMCer
This could even look like a "You've got this" or "How are you, for real?" daily text
---
Our Mission
We believe student success is holistic and extends beyond the classroom. Our mission is to support students in their individual development through mentorship, programming, accessibility, and resources that expand their understanding and practice of well-being and success. Our area includes academic success, health and well-being, and accessibility and international student services.
Our Services
Success Coaches (SC) are here to help develop strategies and approaches with you to achieve your goals at CMC. Meet with us to talk through time management and organization, overcoming procrastination and test anxiety, efficient reading and note-taking, and exam prep. We can also help with goal-setting and habit-building, streamlining workflow, sleep management, stress-tolerance and coping skills, and healthy living. Visit our website to see SC bios and make an appointment.
Peer Tutoring offered through DOS is a peer-based one-on-one or small group service that begins the fourth week of the semester and ends on the last day of classes. Tutoring for the Fall 2021 Semester will begin the week of September 20 and end December 10. More information can be found on our website.
If you are a student with a disability, we welcome and encourage you to connect with our office. We provide a variety of accommodations that are specific to students' disabilities. These include academic, testing, housing and physical accommodations, among others. Each accommodation is designed to provide equal access for you during your time as a student here at CMC. Accommodations are paired with ongoing Academic Success work so that you have a comprehensive support system during your time here.

Please use our website and contact information to get you started on the process.
If you have questions about Financial Aid, please email FinAid@cmc.edu. If you are seeking funding for technology, books, or other necessities during the academic year, please visit the Financial Aid website to complete their CMC Academic Year Funding Request Form.