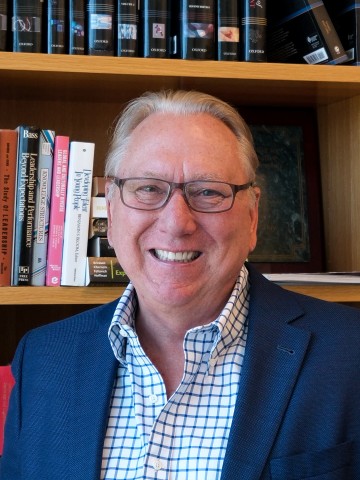 David Day, Ph.D.
Professor of Psychological Science & Leadership, Academic Director of the Kravis Leadership Institute, Steven L. Eggert '82 P '15 Professor of Leadership and George R. Roberts Fellow
CV
Education
B.A. Baldwin-Wallace College; M.A., Ph.D. University of Akron
Awards and Affiliations
Walter F. Ulmer Jr., Applied Research Award, Center for Creative Leadership (2010), for outstanding career contributions and achievements in the field of leadership.
Fellow:
American Psychological Association
Association for Psychological Science
International Association of Applied Psychology
Society for Industrial and Organizational Psychology
Research and Publications
Antonakis, J., & Day, D. V. (Eds.) (2017, in press). The nature of leadership (3rd ed.). Los Angeles, CA: SAGE.
Miscenko, D., Guenter, H., & Day, D.V. (2017, in press). Am I a leader? Examining leader identity development over time. The Leadership Quarterly. Advance online publication.
Lord, R. G., Day, D. V., Zacarro, S. J., Avolio, B. J., & Eagly, A. H. (2017, January 26). Leadership in applied psychology: Three waves of theory and research. Journal of Applied Psychology (Centennial issue). Advance online publication.
Miscenko, D., & Day, D. V. (2016). Identity and identification at work. Organizational Psychology Review, 6, 215-247.
Day, D. V., & Dragoni, L. (2015). Leadership development: An outcome-oriented review based on time and levels of analyses. Annual Review of Organizational Psychology and Organizational Behavior, 2, 133-156.
Day, D.V. (Ed.). (2014). The Oxford handbook of leadership and organizations. New York: Oxford University Press.
Day, D. V., Fleenor, J. W., Atwater, L. E., Sturm, R. E., & McKee, R. A. (2014). Advances in leader and leadership development: A review of 25 years of research and theory. The Leadership Quarterly, 25, 63-82.
Day, D. V., Gordon, S., & Fink, C. (2012). The sporting life: Exploring organizations through the lens of sport. Academy of Management Annals, 6, 397-433.
Day, D. V., & Sin, H.-P. (2011). Longitudinal tests of an integrative model of leader development: Charting and understanding developmental trajectories. The Leadership Quarterly, 22, 545-560. (Best Paper Award, 2011).