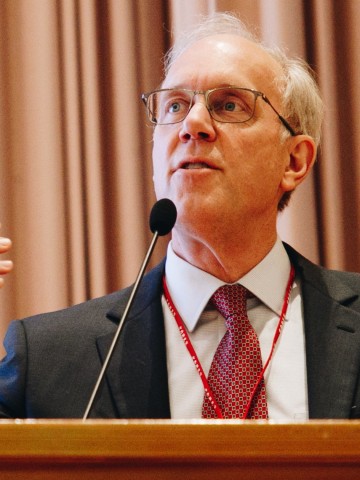 Eric Helland, Ph.D.
William F. Podlich Professor of Economics and George R. Roberts Fellow
Department
Robert Day School of Economics and Finance
CV
Education
B.A., University of Missouri; M.A., Ph.D., Washington University
Research and Publications
"Legal Outcomes and Home Court Advantage: Evidence from the SEC's Shift to Administrative Courts" with George Vojta, forthcoming Journal of Law and Economics.
"Physician use of homestead laws to shield assets from medical malpractice liability: evidence from physician home values" with Anupam B. Jena, Dan Ly, and Seth A. Seabury, forthcoming Journal of Legal Studies.
"What Can DNA Exonerations Tell Us about Racial Differences in Wrongful-Conviction Rates?," with David Bjerk, Journal of Law and Economics, 63(2): 341-366. 2020
"Unintended Consequences of Products Liability: Evidence from the Pharmaceutical Market," with Darius Lakdawalla, Anup Malani, and Seth Seabury, Journal of Law, Economics and Organization, ewaa017, https://doi.org/10.1093/jleo/ewaa017. 2020.
"The Role of Ideology in Judicial Evaluations of Experts," Journal of Law and Economics, 62:4, 579-611, 2019.
"Does It Matter Who Pays for Auto Injuries?" with Paul Heaton, Journal of Risk and Insurance, 86(4): 947-972, 2019
"Medicare Secondary Payer and Settlement Delay," with Jon Klick, Journal of Empirical Legal Studies, 15(2):356-377, 2018.
"Multi-Level Selection in Litigation Data: A Bounds Approach," with Jungmo Yoon, Journal of Institutional and Theoretical Economics. (JITE), 174(1), 115–130, 2018.
"Maybe There's No Selection of Disputes for Litigation," with Daniel Klerman and Yoon-Ho Alex Lee, Journal of Institutional and Theoretical Economics (JITE), 174(1), 143-170, 2018
"Contingent Fee Litigation in New York City," with Daniel Klerman, Brendan Dowling, and Alexander Kappner, Vanderbilt Law Review, 70(6): 1971-1992, 2017
"Estimating Effects of English Rule on Litigation Outcomes," with Jungmo Yoon, Review of Economics and Statistics, 99(4): 678-682, 2017
"The Impact of Fetal Alcohol Exposure: Evidence from the End of Prohibition," with Mary Evans and Jon Klick, Economic Inquiry 54(2): 762-777, 2016.