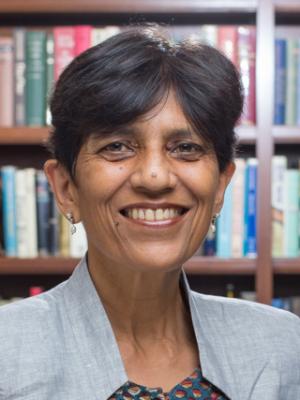 Brown Family Professor of South Asian History
Education
B.A., University of Lucknow, India; M.A., University of Bridgeport; M.Phil., Jawaharial Nehru University, India; Ph.D., University of Chicago; Lecturer, University of Chicago; Mellon Fellow and Assistant Professor, Brown University; Associate Professor, Centre for Studies in Social Sciences, Calcutta, India; Fulbright Fellow, Yale University; Professor, Brandeis University; Reed College; University of Michigan. (On leave, second semester.)
Department(s)
History
Office Hours
Monday, 11-12 p.m., Wednesday, 11-12 p.m., Thursday, 2-4 p.m.
Contact
(909) 607-0490
Kravis Center 214
Curriculum Vitae
Areas of Expertise
India, South Asia
Selected Research and Publications
The Politics of Gender, Community, and Modernity: Essays on Education. Oxford, Delhi, 2007

Lessons from Schools: A History of Education in Banaras. Sage, Thousand Oaks, CA, 2000

Mai: a novel by Geetanjali Shree. Translated with an afterword. Delhi: Kali for Women, 2000

Women as Subjects: South Asian Histories. Edited. Charlottesville: University Press of Virginia, 1994

Friends, Brothers and Informants: Fieldwork Memoirs of Banaras. Berkeley: University of California Press, 1992

The Artisans of Banaras: Popular Culture and Identity, 1880-1986. Princeton: Princeton University Press, 1988.
Selected Awards and Affiliations
2007, India Foundation for the Arts

2003-2006, Research grant from IDPAD (Indo-Dutch Programme in Alternative Development)

2001, American Institute of Indian Studies Senior Fellowship

1999-2000, Spencer Foundation Short-term Research Grant

1998-99, Fulbright Senior Research Fellowship