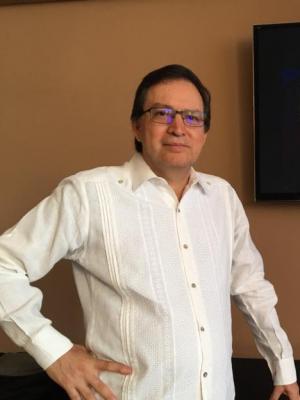 Associate Professor of Latin American Cinema and Literature
Education
B.A., University of Guadalajara, Mexico; M.A., University of California, Los Angeles; Ph.D., University of Michigan
Department(s)
Modern Languages and Literatures
Office Hours
Tuesday, 4:30 -5:30 p.m., Thursday, 4:30 -5:30 p.m.
Contact
(909) 607-7984
(909) 621-8419
Roberts North 220
Curriculum Vitae
VelazcoSFall2012.pdf
Areas of Expertise
Film and Literature, Latin American Literature, Spanish Language
Selected Research and Publications
"Raymundo Gleyzer en México: la revolución congelada." Actas del III Congreso Internacional de ASAECA-Córdoba, 2012. Editor responsable: Silvia Romano- Trabajo preliminar de edición: Matías Zanotto/ 1ª ed. Córdoba, Argentina/ASAECA- Asociación Argentina de Estudios de Cine y Audiovisual, 2012. ISBN: 978-987-25871-3-0

"La línea paterna, palimpsesto fílmico." www.elojoquepiensa.net Revista de cine iberoamericano. Nueva época. Año 3, número 5, Enero-Junio de 2012. n. pág.

"Cineastas mexicanos en Hollywood: la (im)posible integración." In Tendencias del cine iberoamericano del nuevo milenio: Argentina, Brasil, España y México. Juan Carlos Vargas, ed. México: Universidad de Guadalajara / Patronato Internacional del Festival Internacional de Cine en Guadalajara, 2011, pp. 189-205.

"Eros y Tanatos en Japón de Carlos Reygadas." www.elojoquepiensa.net. Revista de cine iberoamericano. Nueva época. Año 2, número 4, Julio-Diciembre de 2011. n. pag.

"Documental y crímenes de Estado en México: 1968, 1971." En Canal 6 de julio: la guerrilla fílmica. Coordinador Carlos Mendoza. México: Heródoto, 2008, pp. 109-119.