Mid Quad- A Collaborative Project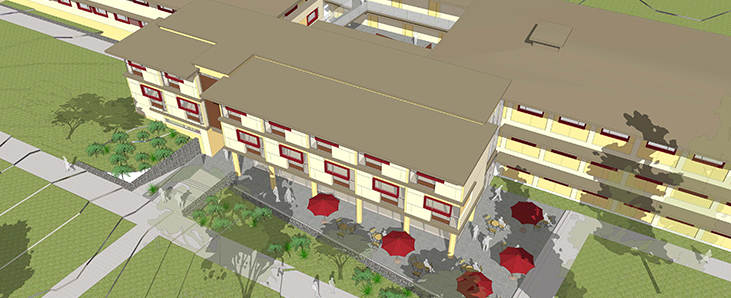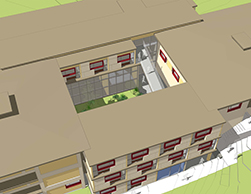 The Mid Quad consists of seven dormitories: Phillips, Beckett, Berger, Benson, Crown, and Marks Halls, and the new Claremont Hall. The award winning Crown Hall was completed in 2009, but the oldest five were constructed in 1950s and 1960s and were due for their first major renovations.
CMC students worked closely with Pfeiffer Partners to come up with plans that would appeal to their peers. That student input came as a result of a focus group called "The Mid Quad Renovation Committee," comprising CMC students (including Resident Assistants) who have lived in the residence halls and ASCMC representatives. The group convened several meetings to gather input and then met with the architects, as well as with some deans and other facilities managers. Topics that the students discussed included the need for increased study and social spaces, and interior design schemes that feature a different theme color in each dorm.
Consisting of a three phase project completed over three years, approximately $42 million was spent on the renovation of and additions to these dorms. In the first phase, Phillips, Beckett, and Berger Halls were renovated in Summer 2013, with a Beckett addition completed in early 2014. For the second phase, renovation of Benson and Marks Halls occurred in 2014, with a Marks addition and a Berger/Benson Annex completed in 2015. A final third phase was completed during Summer 2015 and focused on landscape, hardscape, and exterior lighting within and around the Mid Quad.
The interior renovation includes the addition of air conditioning and a complete overhaul of the interiors, with a redesign of the bathrooms and laundry rooms, and new flooring, window coverings, wall coverings, hydration stations, doors, and lighting. Study and social lounges have been added and/or upgraded in each dorm, including new furniture and AV equipment. In addition, building exteriors were upgraded with new windows, trellises, entry and exterior treatments, lighting and signage. The Ryal Residential Computer Lab located in Phillips Hall and finished in 2008 continues to be available to all students 24/7, music practices/rehearsal space were added to Marks Hall, and a demonstration kitchen was added to the Berger/Benson Annex. The final step was the redesign of the Mid Quad landscape and hardscape, with the architectural and planning firm Moore Ruble Yudell hired for this work after successfully completing the North Mall and Flamson Plaza renovation Summer 2012 and creating the CMC Master Plan in 2011.
All of the dormitories were updated to meet ADA requirements, including the installation of elevators. True to the Campus Master Plan focus on sustainability, the renovated dormitories have been designed to receive a LEED Silver designation and include multiple environmentally friendly features, including new insulation, water saving plumbing fixtures, low VOC interior finishes, and LED light fixtures. Finally, the radiant HVAC system is supplied by the new energy efficient South Campus Central plant, which also serves the new Roberts Pavilion.