---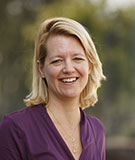 Wendy Lower, Director
Professor Wendy Lower is the John K. Roth Professor of History and George R. Roberts Fellow at Claremont McKenna College. She is the author of Hitler's Furies: German Women in the Nazi Killing Fields, a 2013 finalist for the National Book Award. A few of her other books are The Diary of Samuel Golfard and the Holocaust in Eastern Galicia, Lanham MD: Altamira/Rowman and Littlefield and USHMM, 2011, The Shoah in Ukraine: History, Testimony, Memorialization, Bloomington: Indiana University Press, 2008 (co-edited with Ray Brandon) and Nazi Empire-Building and the Holocaust in Ukraine, Chapel Hill: University of North Carolina Press and USHMM, 2005 (paperback, 2007, audio version 2010).
---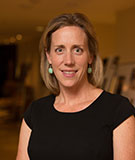 Kirsti Zitar, Assistant Director
Kirsti graduated from CMC in 1997 with a dual degree in Human Biology and Anthropology. Following graduation, Kirsti worked in the biotech industry in Seattle before returning to Claremont in 2000 to join the inaugural class at Keck Graduate Institute. She finished her MBS degree in 2002 and joined a local start-up biotech company where she worked in business development, marketing, product development, and human relations. In 2009, Kirsti returned to her alma mater to work with the Berger Institute for Work, Family, and Children and transitioned to the Mgrublian Center for Human Rights in 2011.
---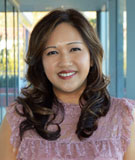 Geraldine Han, Administrative Assistant
Prior to arriving at Claremont McKenna College, Geraldine worked in the modeling industry as well as with an auto company assisting with day-to-day business operations in budgeting and bookkeeping. Her work experience as an analyst and contract administrator in the civil engineering and financial services industries helped her to better enhance quality assurance projects, improve accuracy of program scope, timelines, and increase productivity with measurable outcomes. As a former pageant contender and title holder in Southern California Counties, Geraldine has also spent several years in the industry as a Pageant Director involved with business development in the San Diego area. Geraldine earned her Bachelor of Science degree at California State Polytechnic University, Pomona and is a California Notary Public.
---
Student Assistants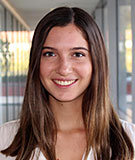 Hannah Abouchar '21
Having grown up in Puerto Rico and Arizona with Argentine parents, Hannah's diverse upbringing fostered a desire to engage in the international community. She is pursuing a major in International Relations with hopes of battling human rights violations worldwide. Her interests lie on social injustices throughout the Middle East and Latin America, both regions where her family is from.
---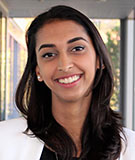 Laleh Ahmad '20
Laleh is a sophomore from Karachi, Pakistan who's planning to major in History. Laleh also works as a member of the Diversity and Inclusion Board, a First Year Guide and an Outdoor Initiative leader. She's interested in German history and is trying to learn the language after travelling through Germany this summer and freaking out over historical sites. In her free time, you can find her mourning the (disappointing) end of the Rick and Morty season and laughing at horrible jokes.
---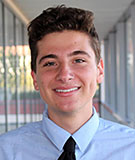 William Carter '21
Will is a freshman from Oak Park, California planning to major in Philosophy and Public Affairs with a possible Human Rights and Genocide Sequence. Will's interest in human rights bloomed when he started his high school's first Gay Straight Alliance. Will is currently the Santa Barbara Tri-County Student Fundraising Chair for the Anti-Defamation League, and plans to continue to work with the ADL throughout college. Will hopes to use his position as a Student Assistant at the Mgrublian Center to find his niche within the human rights field and instigate tangible change at the 5Cs.
---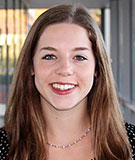 Jennifer Gurev '20
Jenny is a Sophomore from Sacramento, California, planning to be a Government major with a Sequence in Genocide, Human Rights, and Holocaust Studies. Her interest for human rights was sparked after taking a trip to Poland to tour concentration camps in high school. During her senior year, she decided to create an initiative called Walk Beside Me to educate teens about current genocides and mass atrocities in Africa, and give them the opportunity to take action. Jenny spent last summer as an intern at Ashoka for the Start Empathy Initiative.
---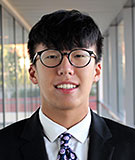 Min Hyung Lee '21
Min is a freshman from South Korea, planning to major in philosophy and computer science. He has been interested in human rights and genocide since he was young especially because his grandparents were survivors of the genocides during the Japanese colonization of Korea and the Korean War. He has participated in projects led by various organizations that help victims of forced labor, sexual slavery, and massacres, such as the Ministry of Gender Equality and Family. After moving to New York, he helped improve the plight of homeless people, troubled teenagers, and immigrants through his work with the city youth council and local charities. Min hopes to utilize his education and experience at CMC to alleviate the suffering of those who are underprivileged and oppressed.
---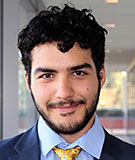 Mohamad Moslimani '21
Mohamad is a first-year from New York City, New York, planning to major in Politics, Philosophy, and Economics, or International Relations. His interest in human rights is maintained by his belief in a set of universal human rights for all, and the necessity of an endless effort to realizing those rights. Mohamad seeks to learn more about international and domestic efforts to define the rights of the world's citizens at CMC. With that knowledge he hopes to one day go into International Law.
---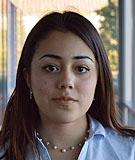 Brianna Munoz '18
Brianna (Bri) Muñoz is a senior from Placentia, California majoring in international relations with a focus on conflict intervention and human rights. She has been working for the Mgrublian Center since she was a sophomore where she supports the human rights task forces sponsored by the center. Her academic and professional interests were strongly reinforced by her semester studying in Belgrade, Serbia and Banja Luka, Bosnia-Herzegovina. During this time in the Western Balkans, she became passionate about exploring the consequences of international intervention and the challenges of postwar societies. Inspired by her research-based internship at the U.S. Holocaust Memorial Museum, she decided to focus her senior thesis on the influence of racism in American foreign policy. Her long-term goals include pursuing a military career in the United States Army where she hopes to be a voice for the responsibility-to-protect doctrine.
---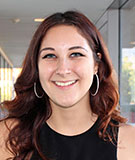 Larissa Peltola '18
Larissa is a senior studying IR and History with a sequence in Genocide, Human Rights, and Holocaust Studies. She has had a passion for human rights work since the age of 5 when she was exposed to the work of Amnesty International. She has since interned for Amnesty International, Remote Control Charitable Foundation, and Participant Media. She was also a Youth Ambassador for TheCommunity.com where she interviewed Nobel laureates and wrote blog posts, attended the World Summit of Nobel Peace Prize winners, and helped activate other young people to support the causes endorsed by the Nobel laureates. Larissa's work with the Center includes developing and supporting human rights programming and creating the monthly newsletter. Larissa is currently writing her thesis on Rape as a Tool of War, focusing on the history of rape as a calculated tactic of genocidal and ethnic cleansing campaigns.
---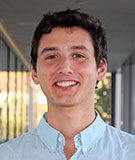 Eli Zucker '21
Eli is a freshman from Los Angeles, California. His interests in human rights began at a young age after hearing the stories of his grandparents who are Holocaust survivors. Coupled with his passion for film, he plans on creating a human rights film series on the CMC campus. Outside of school, his interests include movies, traveling, and cooking.
---