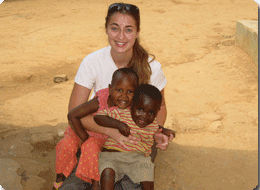 Jennifer Ambrose '09: Washington, D.C.
Jennifer worked as an intern for the Bureau of African Affairs at the Department of State, which is one of the Department's few bureaus that focuses on foreign aid. Her main tasks were in research and conference planning. She conducted research for several projects, studying mainly U.S. foreign aid and trade agreements in Africa and public health issues there. She also assisted with her office's preparations for the 2007 African Growth and Opportunity Act Forum held in Accra, Ghana, which is the annual conference allows government officials and civil sector representatives from the U.S. and all parts of Africa to discuss issues related to trade and development. Finally, she had the opportunity to attend an HIV/AIDS workshop at the Foreign Service Institute, offered for Foreign Service Officers working in countries severely afflicted by AIDS.
---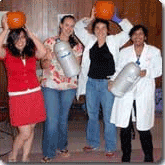 Ice Cream for Poverty: Claremont, California
Laura Ackerman '09 and Janae Hockensmith '09, two members of the SAC, along with a couple of friends, decided to raise money for Fonkoze, a microfinance NGO in Haiti by selling liquid nitrogen ice cream at a CMC Halloween event. Using liquid nitrogen (-196 oC) courtesy of the Joint Science Department to freeze a mixture of heavy whipping cream, half and half, sugar, vanilla, and orange food coloring, a sum of $100 was raised.
"Two years ago, as a sophomore at CMC I wrote to Professor Petropoulos, the head of the Center for Human Rights Leadership at that time, to tell him that I was interested in becoming involved in the Center's activities. "It has taken me over a year here to realize the wealth of opportunities I am offered everyday at CMC," I wrote, "and the Center for Human Rights Leadership is one of them." In my letter, I informed him that the previous semester I had written my final term paper on the Holocaust and that I had been studying the events that occurred at Auschwitz since then on my own. In addition, I told him that I had listened to Francis Bok speak about his experience as a slave at the athenaeum, and that after that, I could no longer remain passive about human rights' issues. I recognized that I had to take initiative; I had to not only care-but act. I had to be willing to stop what I was doing in my everyday life to reach out to others, to ensure that someone else in the world, perhaps even someone in my own country, could have an "everyday life". It is two years later and I still feel just as convinced of those words as I am today. I became involved with the Center two years ago because I believed that I could make a difference. I believed that small actions could vastly improve and in some cases-save lives. It is precisely that desire to make a difference for others that motivated me to hold a fundraiser for Fonkoze. Certainly, my friends and I raised only a small sum of money, but our small sum of money combined with other small sums of money has the potential to do great things for Haiti. Everyone has the ability to give something, and for me, someone who is majoring in chemistry, I had the opportunity to combine my passion for chemistry with my passion for service, to give to Haiti in an unconventional way, and to support an institution at CMC which I firmly believe will continue to do great work in the future."
---
Monica Brazelton '10: Minneapolis, Minnesota
Monica spent her summer as an intern for the University of Minnesota's Human Rights Center. The Center distributes human rights educational materials through a variety of mediums, including an education program that has been implemented in many Twin-Cities area public schools. It also is responsible for the world's largest human rights library. Her primary job was a grant writer for the center, and her work was rather significant. During her eight weeks, she applied for more than $250,000 worth of grants for the Center. Her secondary role was to research and prepare reports on the status of human rights issues throughout the world. These reports were very important for the Center's employees as well as donors to the Center.
---
Anna Kheyfets '11: New York City, New York
During the summer of 2008, Anna was an intern for Orphans International Worldwide (OIWW). OIWW has established a network of locally incorporated homes to house and educate children orphaned and abandoned after the Tsunami in Sri Lanka and Indonesia, and the 2004 hurricane in Haiti. Over the course of her time there, she was assigned several different projects. Firstly, she worked to facilitate the grant writing process by researching pertinent issues needed to make the grant a success. She also conducted research on the different types of companies that would help provide job training for the kids in Sri Lanka. Finally, she spent a large amount of time working on a fundraising event for an orphanage in Haiti, where she needed to secure donations for every part of the fundraiser.
---
Joanna Repsold '07: Hollywood, California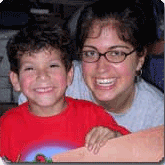 My first introduction to the Center was through a trip to Washington DC where we had the privilege to meet with leading experts, members of Congress and researchers at the Holocaust Museum on human rights issues around the world. What an eye opener to what is happening in every corner of the world, from child soldiers in the jungles of Uganda to young women in the Middle East. I would later go on to travel again with the Center to Germany to study one of histories darkest periods and then down to Louisiana to lend our hand to Hurricane Katrina refugees.
Shortly after that first DC trip, I became involved with the Center as part of their Student Advisory Committee, helping to bring speakers to CMC to expand the students' knowledge of human rights issues around the globe and partnering with other campus efforts on the issue of genocide. In the Winter of 2005, four of us from the Center headed back to Washington DC to lobby members of Congress towards action on the issue of genocide in Darfur, as well as expand our education on the issue by meeting with the Holocaust Museum and members of the State Department.
Working and traveling with the Center took my experience with human rights issues from cursory knowledge to active involvement. It gave me the opportunity to meld my love of politics with my desire to impact the world. My eyes were opened to the breath and depth of need and injustice around the world while providing me with resources and connection to be proactive in helping find and implement solutions, raise awareness and educate others. I graduated CMC with a broadened world-view and a desire to continue my involvement in human rights issues.
Since CMC, I have been working in Hollywood at a production company dedicated to making issue-advocacy films that take on controversial topics relevant to today's culture in an effort to raise awareness and bring about change. My time at the Center has given me a unique perspective and level of expertise not often found in this industry, as well as an overall awareness of the most pressing human rights issues facing our world today. I am forever grateful for my time at the Center for the experiences it gave me and how it impacted my life, both then and now.
---
Olivia Kuhlman '11: Atlanta, Georgia
As a recipient of the Human Rights Fellowship, Olivia will intern at the International Rescue Committee (IRC) regional office in Atlanta, Georgia. She will assist international refugees during their transition into U.S. society. IRC provides emergency relief, rehabilitation, protection of human rights, resettlement services, and advocacy for refugees who have been displaced by violent conflict and oppression. Olivia will work primarily with refugees from Burma, Iraq, and Sudan. She will work with the IRC's "First Things First Woman's Literacy" program, an intensive vocational English program. Olivia's responsibilities include developing and organizing materials for the curriculum, leading small group conversational practices, and providing one-on-one tutoring. In addition, she will assist with running and maintaining IRC's education program.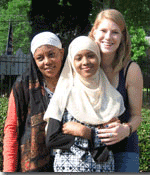 Update from Olivia
Every single experience I have had with the clients has been incredible. They are amazing people who are full of life. Despite the fact that they have lost everything, that they are away from their home country, and in a new place where they don't speak the language, they are the most positive, friendly, and caring individuals I have ever met. My experiences, during my internship, have included seeing women in the women's literacy class develop into empowered individuals with confidence to speak up in class and voice their opinions. In VESL, I have seen women obtain a job for the first time in their lives and I have seen men and women from various countries (where women would never work alongside men) working together and encouraging one another to complete a common goal.
---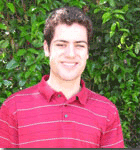 Brendan Sasso '10: Washington, D.C.
This summer, Brendan will participate in the Investigative Internship Program at the Criminal Justice Clinic at Georgetown University Law Center. Selected as a recipient of the Human Rights Fellowship, he will assist attorneys in preparing defense strategies. Brendan will investigate scenes of alleged crimes, gather evidence, and prepare demonstratives and documents for trail. The goal of the Criminal Justice Clinic is to ensure that individuals have access to high quality legal representation regardless of their financial situation. An adequate legal defense is a basic human right, and Brendan anticipates the opportunity to personally work to ensure that defendants receive the right of a fair trial.
Update from Brendan, July 2009
We start each case by reviewing the police report and other official documents. But the government's version of events is not always the whole (or the true) story. So we dig deeper by interviewing witnesses and collecting any other records or evidence we can. When we talk to people who will probably be prosecution witnesses, we try to get a signed statement from them detailing everything they know so they can't change their stories when they get on the stand.
---

Allison Scott '11: Berkeley, California
Allison is passionate about criminal justice, specifically her opposition to capital punishment. This summer, she will intern at the Death Penalty Clinic at the Berkeley School of Law. Her internship is funded by The Center's Human Rights Fellowship Program, and will provide Allison with the opportunity to partner with prominent law professionals and work on death penalty cases that are in the post-conviction appeals stages. Allison will maintain case files and work with the investigative aspects of the cases. Her internship also will allow Allison to learn and practice the procedural and practical skills necessary for a career in law as well as participate in a case that is significant from a human rights point.
Update from Allison
Working at the Death Penalty Clinic at Berkeley Law School has truly been an exciting and fulfilling experience. I had the opportunity to work on a breadth of issues, including the current California debate over lethal injection. The California Department of Corrections is working to create new protocol for the lethal injection process, and there is currently a moratorium on executions in California until the provisions are finished and approved. I worked with lawyers at the DPC on a specific case. In this specific case, the DPC is co-counsel and our client was granted a retrial for the penalty phase. My responsibility was to help compile information from the client's time spent in prison, which has been nearly 20 years. This information will be used as mitigation for the retrial. This required sifting through 20 years of documentation, including physical and mental health records, disciplinary records or any information that could help convince a jury that the client deserves life without parole.
---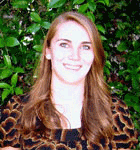 Katrina Weeks '11: New York City
Through CMC's Center for Human Rights Leadership, I had the amazing opportunity to intern at Human Rights Watch in New York City over the summer of 2009. Human Rights Watch is an international non-profit organization devoted to exposing emerging or overlooked injustices and defending human rights throughout the globe. Human Rights Watch works in over 80 countries, is featured in news headlines daily, and is one of the most influential human rights organizations in the world.
Working for Human Rights Watch profoundly inspired me. Throughout my three-month internship I witnessed the impact Human Rights Watch had on governments, policymakers, and perpetrators of human rights crimes. Human Rights Watch continues to make palpable differences in many different arenas of international human rights by focusing on the facts, investigating with determination, and using creativity to address complex issues. Some of the world's most crucial humanitarian crises only entered the public consciousness through Human Rights Watch's documentation.
As for my specific role within Human Rights Watch, this summer I interned in the communications department. Since Human Rights Watch is an organization devoted to revealing, documenting, and challenging human rights violations, our communications team works to raise global awareness about these human rights issues. As a member of the communications team, most of my time was spent focusing on journalists and media markets around the world. This included assessing Human Rights Watch's media coverage, contacting prominent journalists, targeting the media outlets policymakers read, researching news sources, and other press related work. Throughout my internship I worked to maximize media coverage of Human Rights Watch reports to advance respect for human rights and hold human rights violators accountable. Some releases I worked on that received significant international attention and important reactions by policymakers include: human rights abuses in the Marange diamond fields of Zimbabwe, rampant abuse by police forces in India, and horrific corruption in Equatorial Guinea.