2022 CMC Commencement: A brilliant day to celebrate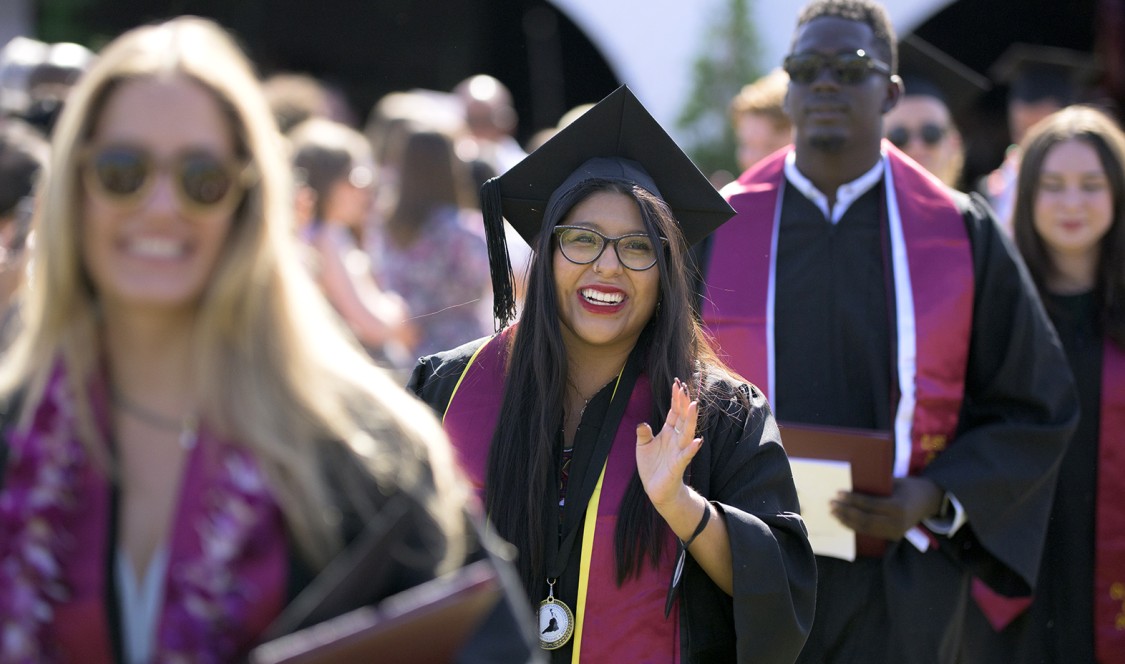 Graduate Spotlights
As members of the Class of 2022 celebrated with their families and friends, some of them took a moment to share with us how it felt to be graduating in-person, and on campus. Read their stories here.
Hugs, tears, and expressions of joy emanated from Claremont McKenna College's Commencement ceremony, which radiated with inspiring moments. Families and friends who flocked to campus—some from across the globe—all gathered to celebrate the significant accomplishments of the Class of 2022, and to celebrate simply being together again.
The 73rd Commencement at CMC on May 14 unified CMC's vast community for the first in-person, on-campus celebration for graduates and their loved ones in three years. On a brilliantly sunny Saturday afternoon, more than 300 graduates earned bachelor of arts degrees and master of arts in finance degrees as their families, faculty, and staff cheered for them, gathered under a massive tent on Parents Field.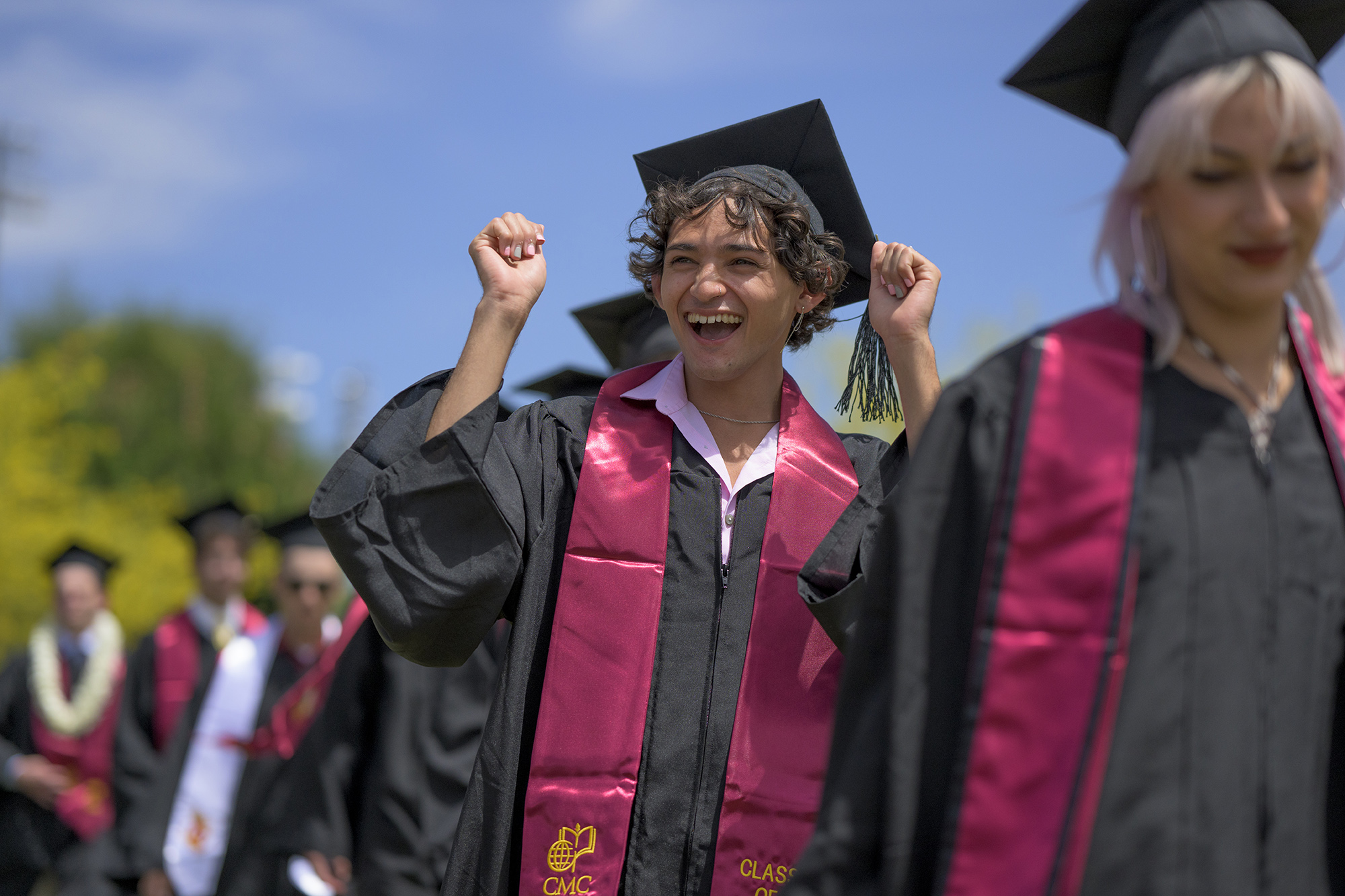 CMC President Hiram E. Chodosh captured the collective moment, saying, "Just to be together today, in person, in three dimensions would be enough." While acknowledging the pandemic's year-and-a-half-long interruption of the graduates' typical college experience, he expressed pride in the "soaring excellence, the creative adaptability, the iron-forge resilience and downright goodness" of the Class of 2022.
Class-elected speaker Jayson David Yasukochi, Senior Class President Sobechukwu Tanitoluwa Minna-Masala Oreoluwa Uwajeh, and Commencement keynote speaker Danielle Wood, MIT faculty member and director of the Space Enabled research group, shared inspiring and invigorating messages about innovative thinking, strength through community, and designing the future.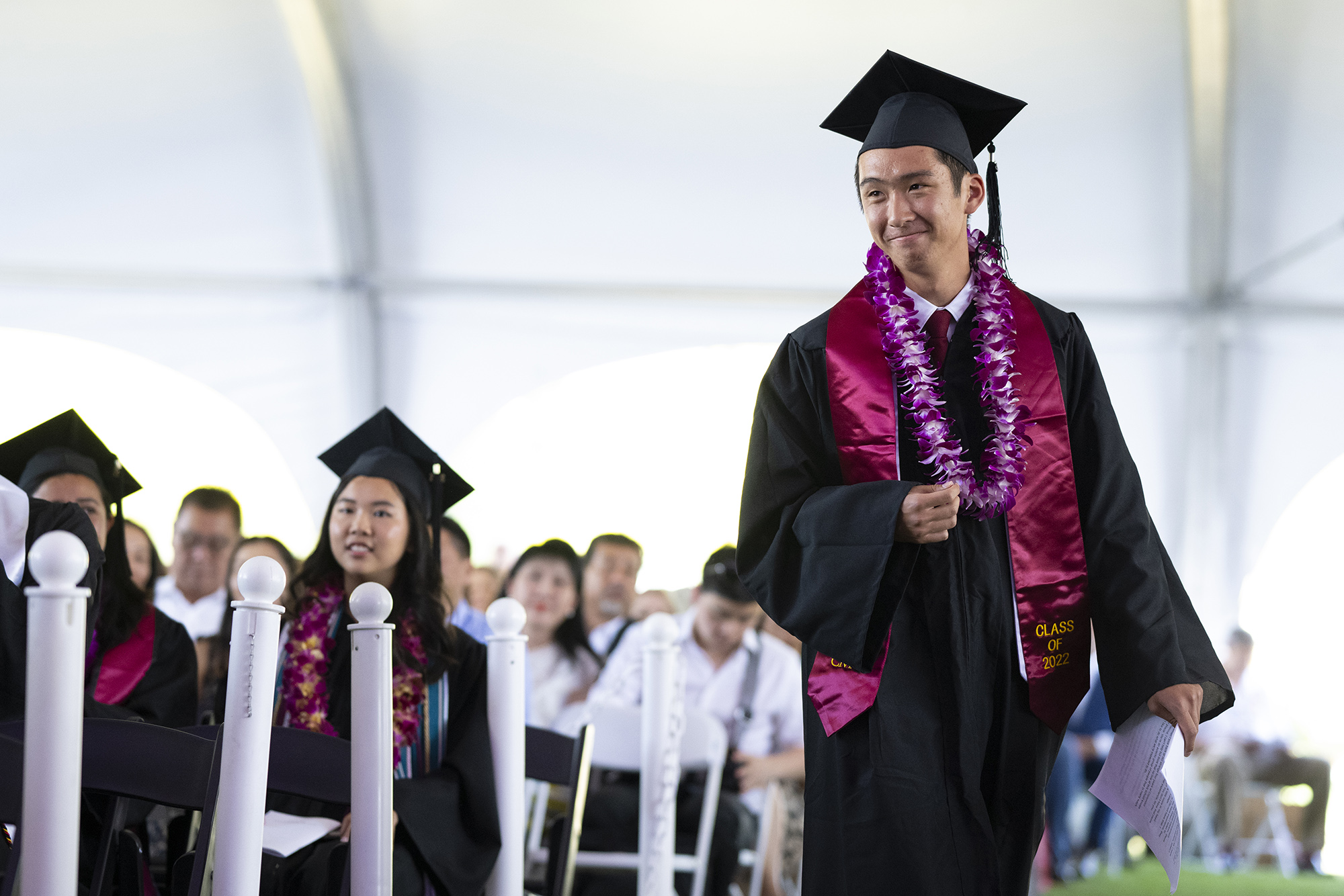 Rabbi Hannah Elkin of the interfaith Chaplaincy at The Claremont Colleges led the invocation for the Class of 2022, while Dianna "DT" Graves '98, introduced the Commencement program to enthusiastic cheers from the audience.
"As I look at your many faces today, I am reminded of any trepidation I felt when I graduated, and I can assure you, you are ready. This class is something special—enduring the loss and chaos wrought by the pandemic…and you chose to stay anchored to one another, despite the physical distance," Graves said. "You modeled kindness and grace along the way and you have emerged stronger for it."
"As you launch into the next phase of your lives, know that there is always a tether guiding you back to CMC, the life lessons you've learned at CMC," Graves added.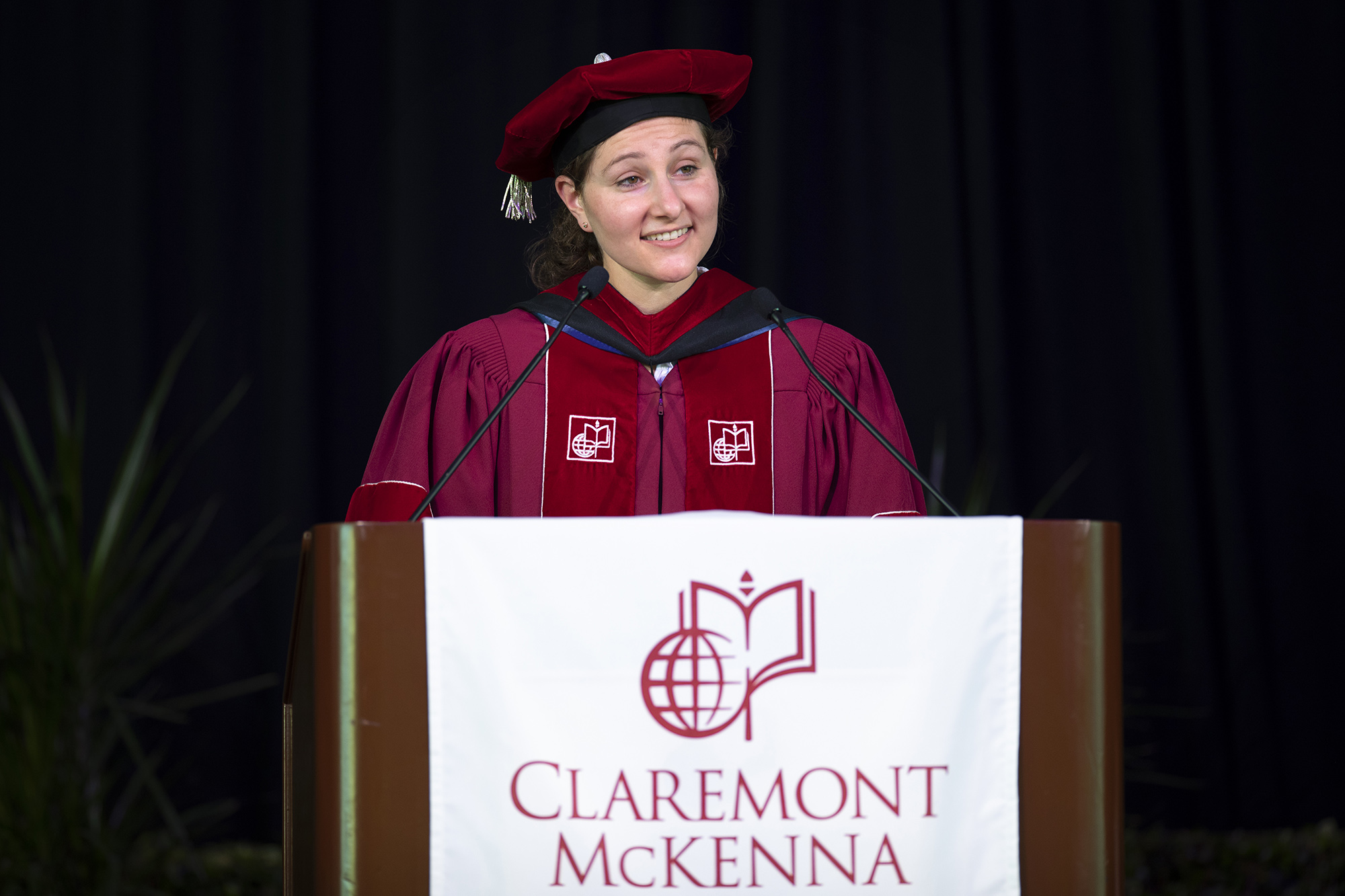 Elected by his classmates to give the presentation for the Class of 2022 at Commencement, Yasukochi earned rave reviews for his self-deprecating and humorous, yet inspiring speech. Yasukochi, who now heads to a job at the Federal Reserve in Chicago, defined what it means to be a CMCer "as someone who defies expectations."
"We've got personality," he said. "You don't go scootering across campus in a suit at 9 a.m. for your Accounting Zoom, unless you have personality. "I jest because you guys are regularly brilliant."
He asked his classmates to sustain these qualities in their post-CMC lives.
"We're at our best not when we move when the tide tells us to, but when we're contradictory and outside of the box. So please, let's go out and be our unpredictable, complex, and, most importantly, brilliant selves."
Having navigated the many uncertainties and adversities of the pandemic, the Class of 2022 will be uniquely prepared for life's future challenges, Uwajeh, told her classmates.
"We were the perfect class to be here at this time. We were the ones who were chosen because we were strong enough, because our bonds were loving enough, and because we cared enough about each other."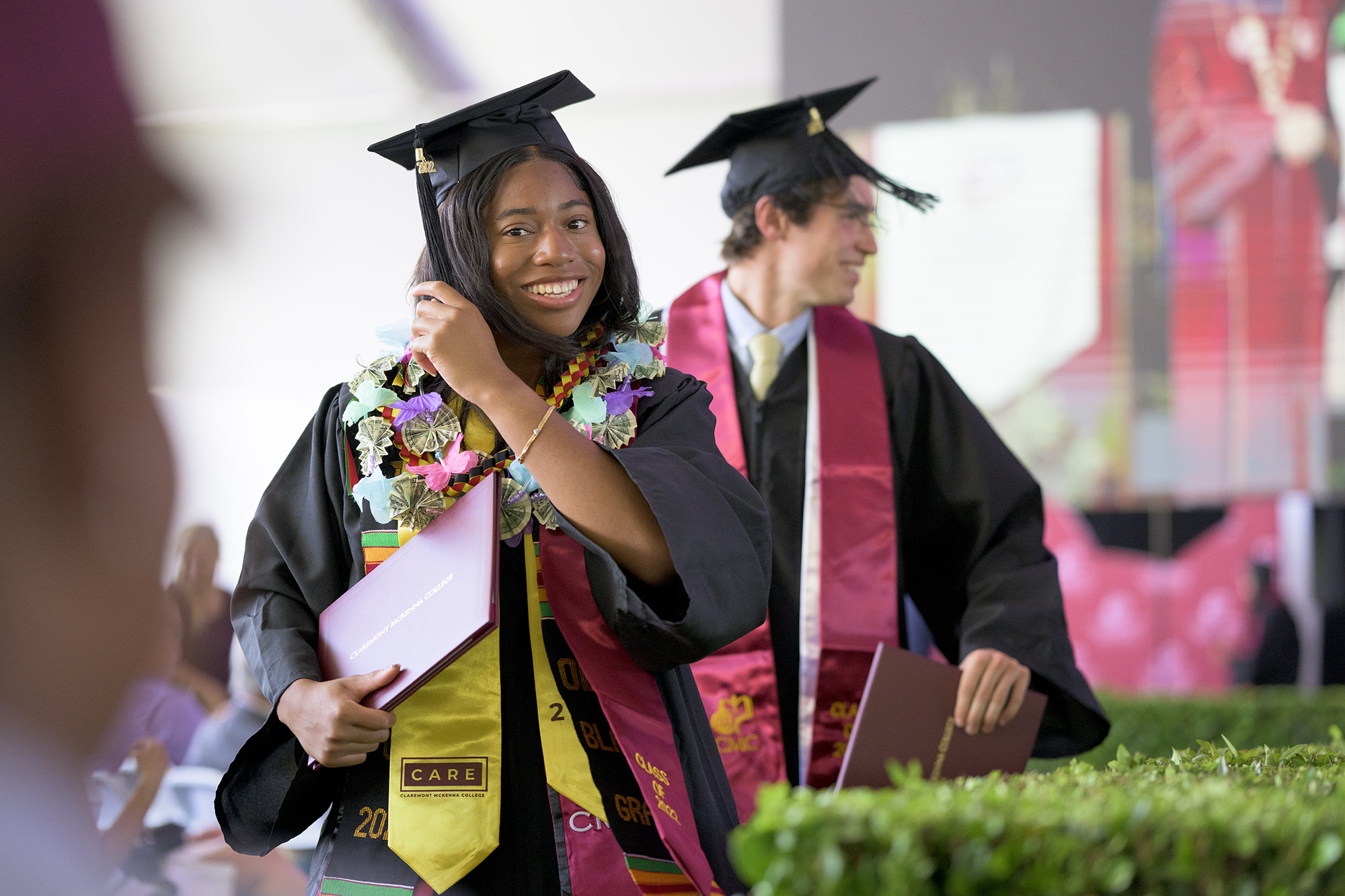 Uwajeh, senior class president and Berger Prize winner for Outstanding Senior, who will attend Columbia Law School, expressed gratitude for those bonds.
"Class of 2022, I am so grateful for each and every one of you. I've learned so much from you, and I've grown so much with you. I feel like I've changed a lot over these four years, and you all have consistently pushed me on, asked probing questions, loved me, and were willing to have those tough conversations."
Learn From History, Design the Future
Throughout her Commencement address, Wood, whose work at MIT's Space Enabled Research Lab applies space technology to the improvement of human conditions on earth, asked the Class of 2022 to repeat a refrain: "We learn from history. We design the future."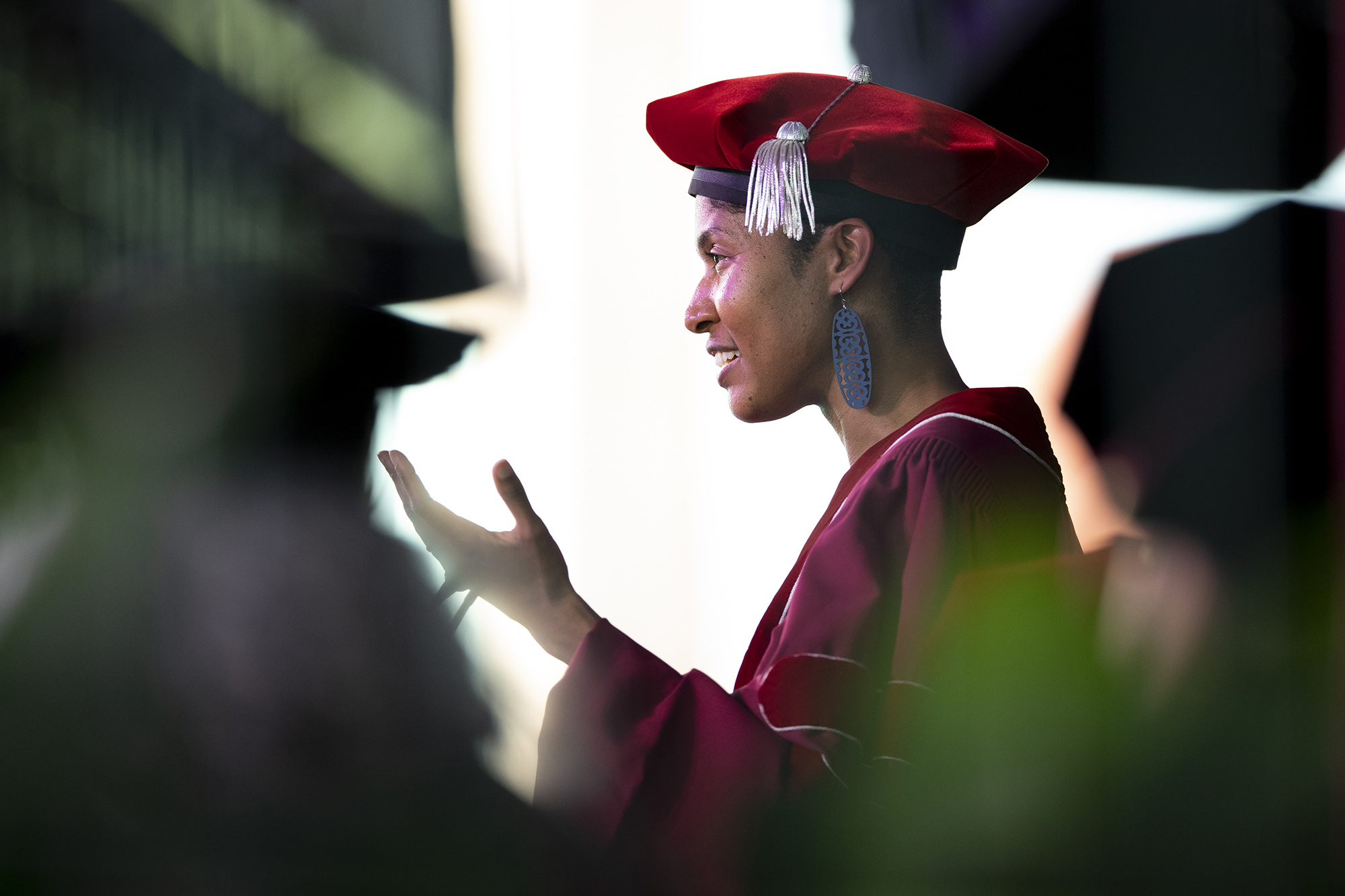 "Graduates, in your time at CMC, all of you have been preparing to make life more abundant for yourselves, for your families, for your communities, and for people around the world," Wood said. "The work each of you has done is preparing you to contribute in all the ways that we have to as society grapples with complex challenges. … Your senior thesis topics are a great example of the ways you have sharpened skills that the world needs right now."
Wood shared what some of the students had written about in their senior theses, from the past and future of migration, poverty, and small-scale agriculture in Mexico, to the potential for digital technology to promote democratic practice.
"The work you've already done is impressive," Wood said. "But even more important is the foundation that you have laid as people who are ready to learn, ready to form new opinions when you're confronted with new data, ready to collaborate with people across disciplines, and across borders, and across identities because… get ready: We learn from history. We design the future."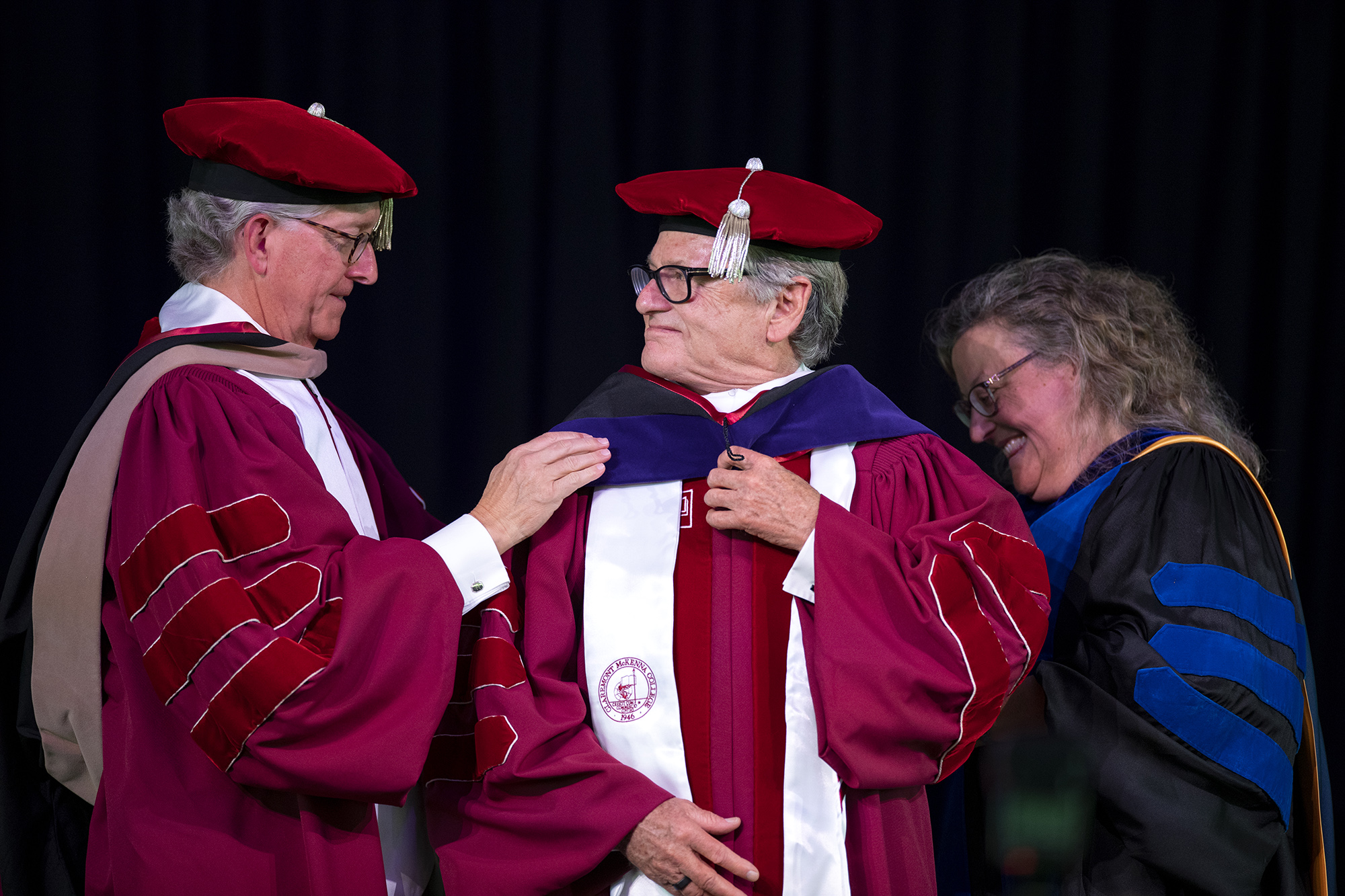 Honorary Doctor of Laws degrees were presented to Wood and Christopher V. Walker '69. Walker currently serves on CMC's Board of Trustees, and as the inaugural chair of the College's Public Art Subcommittee. He has personally supported several significant pieces of artwork and facilitated the loan of notable pieces to enhance the Kravis Center and Marian Miner Cook Athenaeum.
Then the CMC graduates were called to the stage for the conferring of degrees.
We Belong Here
The event concluded with President Chodosh's charge to the graduates, inspired by the story of Margaux Arntson '18, an All-American senior on the women's volleyball team in 2017, who helped the Athenas win their first of three national championships.
"During the hard-fought tournament, Margaux composed a mantra," Chodosh said. "She whispered it to herself whenever she entered a big cold gym—white walls, metal bleachers, quaking with shouting, screaming fans from other teams. To remind herself that she had no reason to be intimidated, Margaux would whisper to herself: 'I belong here.'"
"Margaux did not mean: I fit in, I conform, I play my role…I do what I'm expected. She meant: I earned the right to compete. I own the opportunity to realize my fullest potential to succeed. No one can deny me a place on the court. I lead my team, and we are not afraid of failing, and we are not afraid of succeeding."
Chodosh hoped the graduates would take a powerful lesson from that story.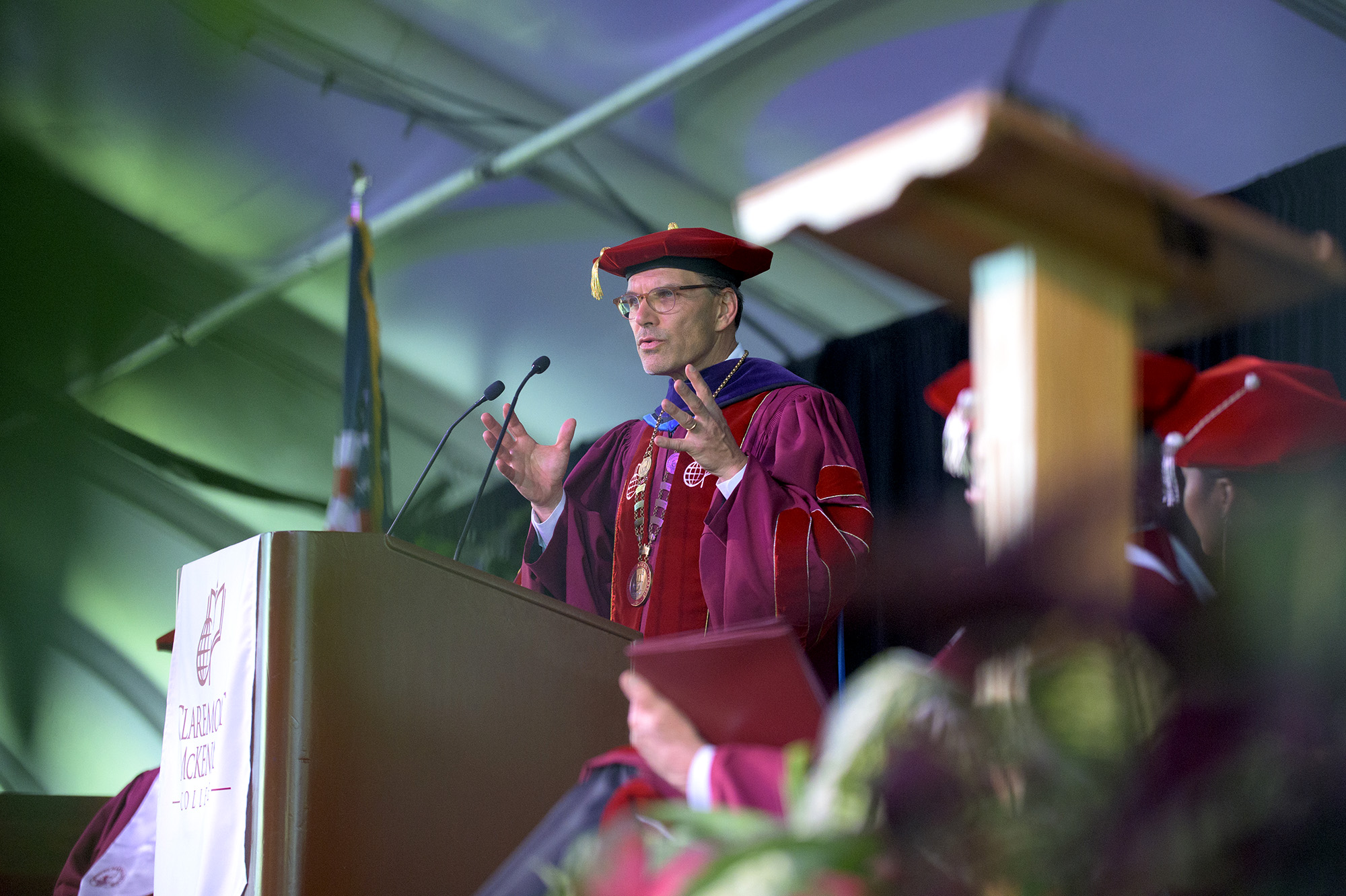 "You will enter many new frosty, intimidating places … with people who may not believe in you, at least not at first, not yet. You will also have that feeling of doubt. Embrace it. It means you're in the right place, a place to challenge yourself, expand your opportunity, grow your confidence.
"Wherever you have that feeling, I want you to whisper to yourself: 'I belong here too.' I've been around a similar block—not this one but one like it. I conquered that one, so I can conquer this one too. I only have to bring CMC with me."
Before congratulating the Class of 2022, Chodosh invited everyone in attendance to stand and repeat: "We belong here. We belong anywhere. Anywhere we want to be. Anywhere we want to grow. That is where we belong."
To view a photo gallery from the 2022 Commencement ceremony, click here. You can also watch a replay of the livestream here.
Contact
Office of Strategic Communications & Marketing
400 N. Claremont Blvd.
Claremont, CA 91711
Phone: (909) 621-8099
Email: communications@cmc.edu

Media inquiries: Gilien Silsby
Phone: (213) 500-8673
Email: gsilsby@cmc.edu