High school students converged on CMC this spring to debate an issue of central diplomatic and military importance for the world. What was it?
The Trojan War.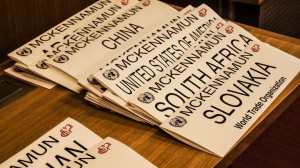 The College's Model United Nations team, known as McKennaMUN, welcomed some 350 Southern California  high school students to campus in April for a Model U.N. Conference highlighting a number of debates and discussions on key global issues.
Students took opposing sides on more than just a 3,000-year-old conflict waged on account of Helen of Troy. Other topics—terrorism in Northwest Africa, for instance, and the black market arms trade—provided participants with a greater understanding of urgent, contemporary issues as well as what CMC can offer them if they choose to attend the College in the future.
"We wanted to inspire these teens with an interest in both Model U.N. and in our school," explained Neil Malani '13. "By bringing all these students to CMC, we increase name recognition for the school and show them how truly awesome CMC is."
Students from 11 Southland high schools—ranging from Huntington Beach, Mira Costa, Tustin, and Los Alamitos to Flintridge, Walnut, Edison, and Palos Verdes—spent two days engaged in committee simulations that challenged their abilities to negotiate, collaborate, and speak effectively in a public forum.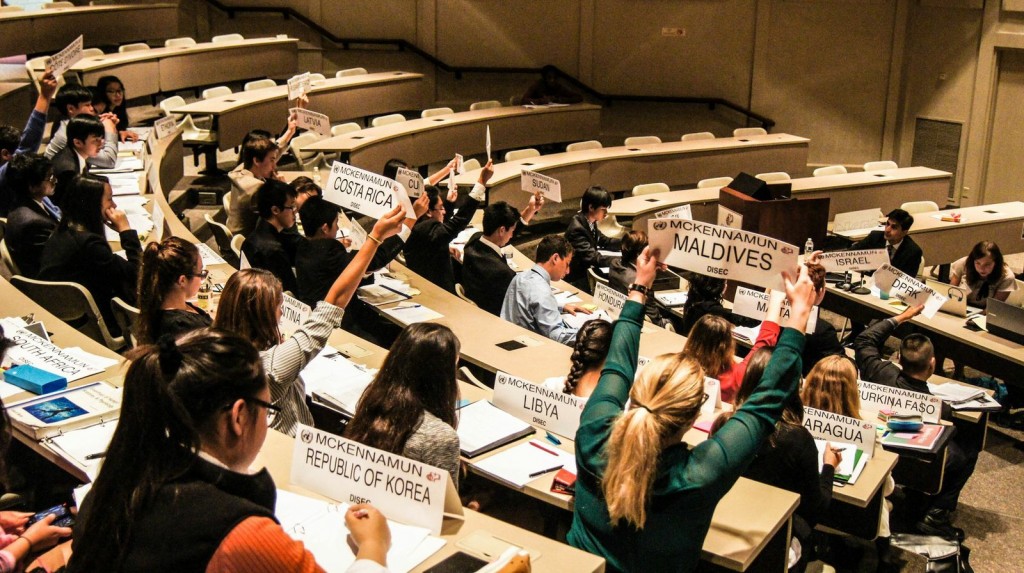 Credits for all photos: Tom Daham Lee
The two-day conference also included a keynote speech by former Czech Ambassador Karel Kovanda, a visiting professor at Scripps College who is the former Deputy-Director for Foreign Relations for the European Commission; a "Monte Carlo"-themed social event; a taste of chocolate-covered strawberries and tea from the Athenaeum; and a happy coincidence provided by the International Festival, which was also staged on the same weekend. MUN and IFest organizers coordinated so that the students could roam the festival and enjoy its offerings.
"Considering the overlap between the international nature of MUN and the cultures highlighted at the festival, it seemed the perfect opportunity to demonstrate the strong international presence at CMC," explained Rita Gilles '15.
The creative vision behind the successful event—which also produced financial support for CMC's top-tier team (it ranks ahead of UC Berkeley, UCLA, and Stanford University)—belongs to the club's president, Daniel Shane '13. Shane's classmates praised him for conceiving of the conference as an excellent means of outreach to highschoolers as well as a showcase for the CMC educational experience.
"It was extremely inspiring for the entire team to see Daniel's commitment to the conference, and the endless hours he put in to ensure that every aspect ran smoothly," said Kanupriya Rungta '14.
Shane himself was equally grateful for the immense support and positive response of the CMC community.
"This conference was only made possible by student volunteers—non-members of the Model UN team filling in the holes that even a club as large as Model UN cannot fill," he said. "The response was incredible. It was truly an act of CMC stepping up to help its own."
For Jennifer Taw, the club's faculty representative and an associate professor in the Government department, the success of the conference demonstrated the superb management and leadership of its student organizers.
"It's hard to have any such win-win-win outcome and they managed it successfully on the first go," she said. "Everything was run like clockwork…. I'm so impressed by these MUN students and by what they were able to do."
RELATED
Read more about McKennaMUN at the club's home page
Read more about the MUN Conference at CMC Forum
Contact
Office of Strategic Communications & Marketing
400 N. Claremont Blvd.
Claremont, CA 91711
Phone: (909) 621-8099
Email: communications@cmc.edu

Media inquiries: David Eastburn
Phone (O): (909) 607-7377
Phone (C): (808) 312-8554
Email: deastburn@cmc.edu