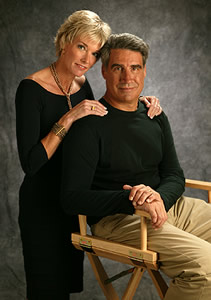 On Saturday, Nov. 16, join the Claremont McKenna College Alumni Association (CMCAA) for A Conversation with Augie Nieto '80 P'08. The founder of Life Fitness, Inc., a Claremont-Mudd-Scripps Athletics Hall of Famer and former Stag football player, Nieto will recount his remarkable journey and the progress of the Augie's Quest initiative which has raised millions of dollars for the Muscular Dystrophy Association's ALS Division.
The event is scheduled to take place at 10:00 a.m. in Founders Room in Bauer Center on Claremont McKenna College's campus. Register for the event here.
Augustine (Augie) Nieto, a prominent leader in the nation's fitness industry for nearly three decades, received a diagnosis of amyotrophic lateral sclerosis (ALS, or Lou Gehrig's disease) in March 2005. Since then, Nieto, 55, has approached his role as co-chair of MDA's ALS Division with the same ironclad will and determination that catapulted him to entrepreneurial heights in the fitness world.
On Wednesday, Nov. 13, NBC's Today Show featured Nieto and Augie's Quest. Anchor Natalie Morales picked Nieto as her inspiration for a piece entitled, "Inspired By." The segment can be watched here.
For more information on Augie's Quest, visit the website at http://augiesquest.org/
*Image along with excerpts used above were taken from his bio on augiesquest.org