Alumni Weekend 2023: A celebration for and about the CMC community

From nostalgic experiences like tea at the Ath and Monte Carlo Night, to intellectual engagement with faculty, to the pure joy of socializing at class dinners, Claremont McKenna's Alumni Weekend is a time to celebrate the good life as only the CMC community knows how.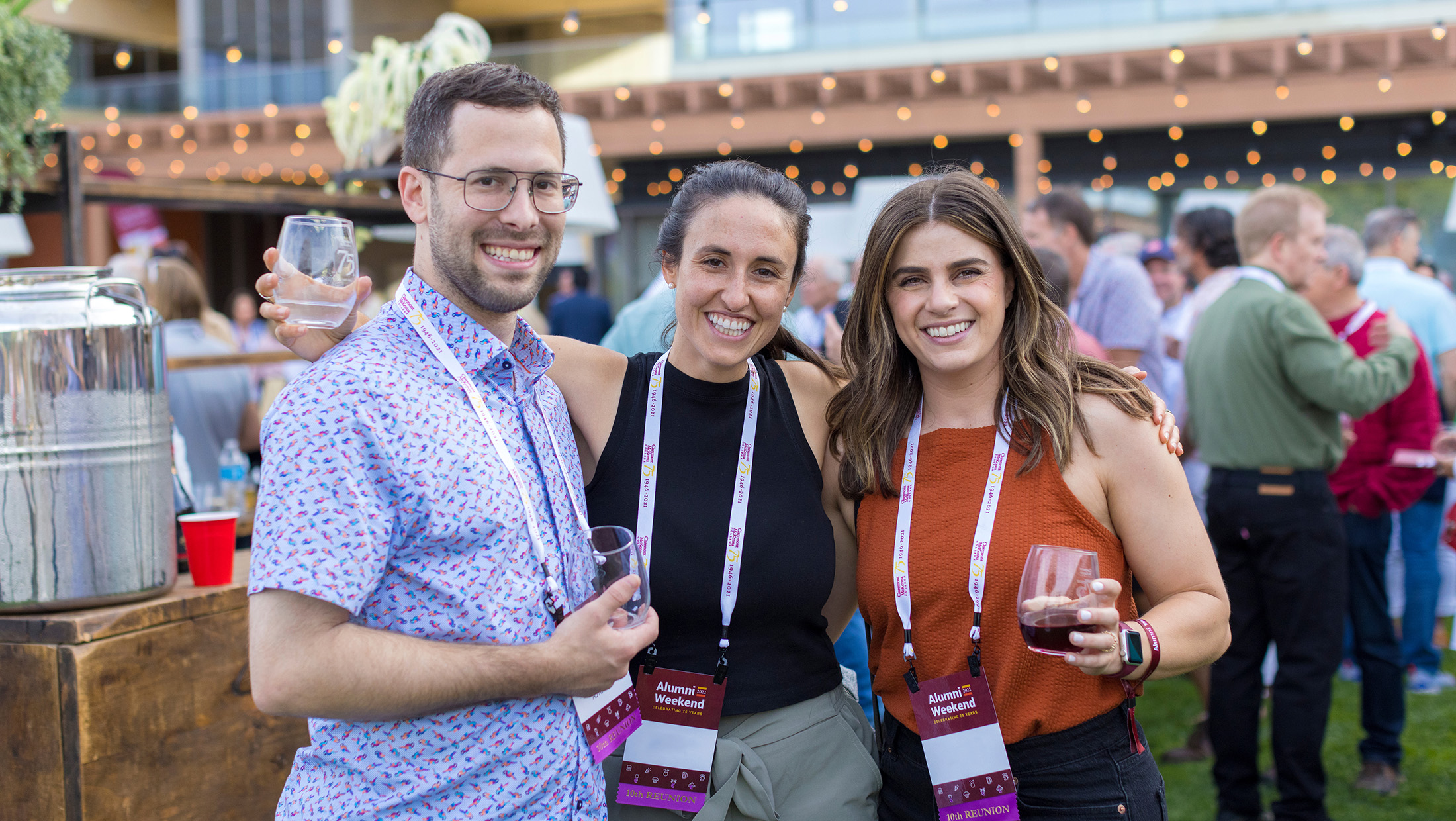 Held Thursday-Sunday, June 1-4, Alumni Weekend honors all classes, including those with seminal celebrations for graduation years ending in 3 and 8.
The Class of 1973 celebrates its 50th anniversary with a special reception on Thursday, June 1, at the President's House.
Throughout the weekend, the doors will be open for guests at the Alumni Club at Kravis Center, the Nakasone Family Fitness Center in Roberts Pavilion, and many resident halls around campus.
"There will be an array of opportunities for learning, discussion, and engagement, along with pickleball, pickup basketball, a public art tour, a family Stag-a-Palooza! lunch, and more," said Evan Rutter '06, Assistant Vice President for Alumni and Parent Engagement. "This is a weekend not to be missed!"
Feed your appetite for lifelong learning with ContinuED Sessions, featuring talks and panels such as:
"The Conflict in Ukraine"
WWII author and Air Force historian Craig Luther '73 discusses the origin of the war in Ukraine and its course over the past year.
"Law and Order: The 2024 Campaign"
Join John "Jack" Pitney, Roy P. Crocker Professor of Politics, in a discussion of the upcoming 2024 campaign in light of the former president's mounting legal troubles.
50th Anniversary of the Rose Institute Session: "Red vs. Blue States: The Rivalry Deepens"
Sponsored by the Rose Institute as part of its 50th Anniversary celebration, this panel will feature Rose Institute Director Ken Miller and several alumni in a discussion of the nation's deepening division and the findings of the Rose Institute's 2022 national poll measuring differences between the most populous red and blue states.
On Saturday, alumni are invited to join President Hiram E. Chodosh in an interactive forum on the state of the College, looking at CMC's core strategies in response to the major challenges and opportunities of our time.
In addition, information sessions will include an overview of academics then and now, as well as student services and extracurricular activities, and these highlights:
The Open Academy
At this Lunch & Learn event at the Ath, Professor Jon Shields, inaugural faculty co-director of The Open Academy, will discuss the impact of CMC's celebrated program committed to freedom of expression, viewpoint diversity, and constructive dialogue.
The (very near) future of science education at CMC
In this ContinuED Session, Founding Chair Ran Libeskind-Hadas will describe the vision for the new Kravis Department of Integrated Sciences.
Sunday, June 4, wraps up with a morning hike, yoga, Athena and Friends Brunch, a tour of the Sam Maloof workshop, and a trip to Walt Disney Concert Hall to hear Gustavo Dudamel conduct the Los Angeles Philharmonic and pianist Mitsuko Uchida in a program featuring some of Mozart's most popular pieces.
"Whether your class year ends in a 3 or 8, are celebrating a five-year milestone, or you just received your degree on Parents Field last year, Alumni Weekend is the perfect time to connect with the CMC community," said Rutter. "Always a highlight for our alumni, our faculty and staff, and our students, the weekend is a celebration for and about our engaged, enthusiastic, and close-knit community. We look forward to sharing it with you."
Register by Monday, May 29 by clicking here.
Contact
Office of Strategic Communications & Marketing
400 N. Claremont Blvd.
Claremont, CA 91711
Phone: (909) 621-8099
Email: communications@cmc.edu

Media inquiries: Gilien Silsby
Phone: (213) 500-8673
Email: gsilsby@cmc.edu