Ambassador André '83 realized his calling at CMC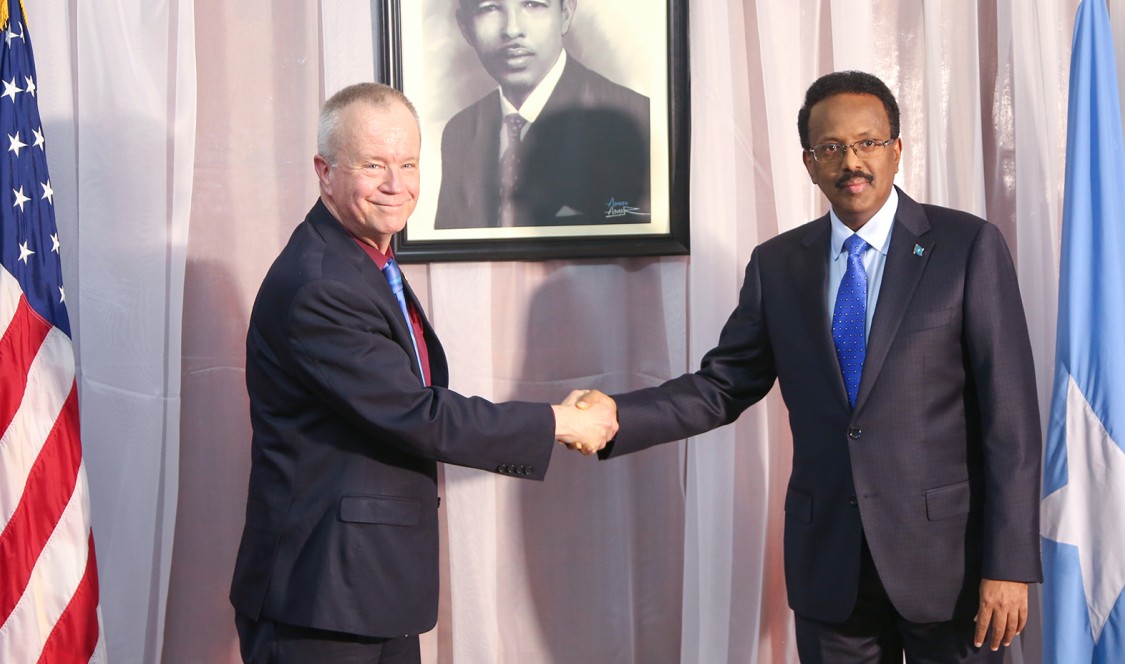 Larry "Chip" André '83 currently represents the United States on the world stage as the Ambassador to Somalia, having developed his interest in foreign affairs as a CMC student.
At CMC, André forged friendships with classmates from Ghana and Singapore, and followed his budding interest in foreign affairs to study in Denmark and the former Yugoslavia. But it was during his service as a Peace Corps volunteer in Senegal, West Africa, that André truly realized his calling.
"I quickly fell in love with the continent," recalled André, who is approaching his 33rd year as a diplomat. Based in Mogadishu, Ambassador André leads a team of approximately 150 U.S. government employees and contractors to advance U.S. interests and goals, working closely with Somalia's state and federal government authorities, with the U.S. military's Africa Command, and with international partners.
André's wife, Ouroukou, is from Niger, West Africa. Together they have a son, Isidore ("Izzy"), who was born in October 2019. "Ouroukou speaks to him in French. I speak to him in English. He is learning both languages at once," André said. His daughter, Ruhiyyih, worked for six years in Kenya after her graduation from the University of Virginia. "I am very proud of her," André said.
Before beginning his diplomatic career in 1990, André was a political science major at CMC, taking a number of international relations classes. He cites Professor Harold Rood as an influence. "His emphasis on specific, detailed facts over ideological considerations in determining foreign and security policies has stuck with me throughout my career," André said.
His best memories, he added, emerge from his first year at CMC, when he resided in Beckett Hall. He and his classmates "elected leaders, adopted a budget, assigned housekeeping duties, and funded an annual jazz fusion concert on 'Beckett Beach,' the lawn next to Beckett Hall."
"The CMC community is characterized by a lively intellectual curiosity, in my experience," André said. "Most students I knew were enthralled with learning, open to considering the merits of new ideas, and allergic to dogmatism. That attitude has stayed with me."
In September 2021, André was invited to speak to students in CMC's Washington D.C. program Public Policy class. "Meeting them took me back a few decades to my time at CMC," he said. "They were courteous, well-prepared, and ready with challenging questions. I loved it. The CMC tradition of lively intellectual curiosity clearly remains strong."
Contact
Office of Strategic Communications & Marketing
400 N. Claremont Blvd.
Claremont, CA 91711
Phone: (909) 621-8099
Email: communications@cmc.edu

Media inquiries: Gilien Silsby
Phone: (213) 500-8673
Email: gsilsby@cmc.edu