Anita Hill discusses America's "wake up call"

Anita Hill, a prominent advocate for equality and civil rights, was the featured speaker recently at the Athenaeum dinner, co-sponsored by The Open Academy.
Hill's wide-ranging presentation revolved around themes raised in her recent book, Believing: Our Thirty-Year Journey to End Gender Violence (2021). Part memoir, legal history, social analysis and call to action, the book—Hill's third—is a manifesto on the origins and course of gender violence in America.
Hill began by noting that she was the youngest of 13 children raised on a farm in rural Oklahoma. In tracing the evolution of her thinking about civil rights and equality, she recounted how "omissions of Oklahoma racial history" in her own primary education had kept her unaware of the fact that her family farm stood on Tribal land taken from the Muskogee Creek Nation. And how she didn't know a race massacre that claimed up to 1,000 lives in 1921 had occurred just 60 miles down the road in Tulsa.
"These things went largely unnoticed during my childhood," she said. "None of our history books covered how many people had lost their land or how Black people were massacred. If they had, we might have been better neighbors to those who lost their land. Maybe we would have made some amends."
She continued: "And if we'd known about Tulsa, if it had appeared anywhere in our educational system, maybe those neighborhoods could have been rebuilt, maybe families could have been reunited."
Hill also touched on seminal moments in her later education: a high school adviser who discouraged her from studying science because it was "too hard." (Hill was class of 1973 valedictorian in her desegregated high school); and a college counselor at Oklahoma State University—"the first Black person I ever met with a PhD"—who emboldened her to aim high.
Hill attended Yale Law School and began her legal career at the Washington, D.C., firm of Wald, Harkrader & Ross. But it was Hill's job as attorney-adviser to Clarence Thomas at the U.S. Department of Education and the U.S. Equal Employment Opportunity Commission and her testimony at Thomas's Supreme Court confirmation hearings that made her a cause-célèbre.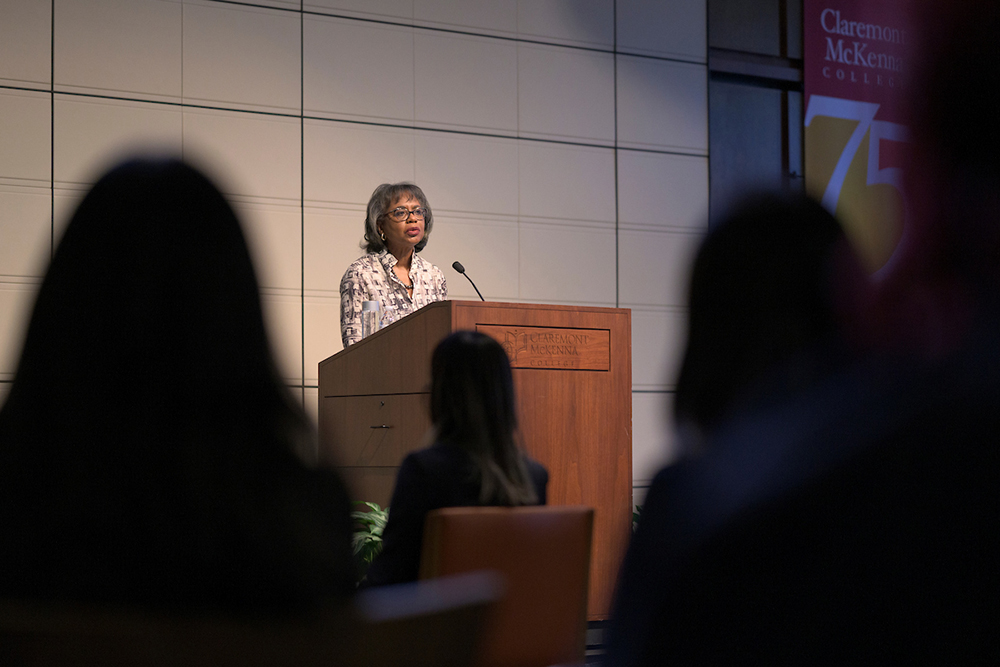 Hill thereafter pursued a career in legal academics, becoming the first tenured African-American professor at University of Oklahoma in 1989. An authority on anti-discrimination law and gender and race policy, she is currently a University Professor at Brandeis, with joint appointments in law, public policy, African-American studies and women's studies.
In her talk, Hill focused on two maverick jurists whose opinions in sexual harassment cases had changed the status quo.
Spottswood William Robinson III, a Black federal appeals judge on the D.C. Circuit, extended Title VII protections under the 1964 Civil Rights Act to include sexual harassment. His opinion in the 1977 Barnes v. Costle case—involving a Black federal employee, Paulette Barnes, whose job was abolished in retaliation for repulsing her Black male supervisor's sexual advances—broke with a string of earlier harassment decisions.
"The prevailing thinking went: men 'naturally' demanded sex, and women had to either comply or move on to other jobs," Hill explained. "It was so routine that surely the law was never intended to address it. In writing this monumental decision in favor of Paulette Barnes, Judge Robinson did something that, I think, was really far ahead of his time."
The second maverick Hill focused on was Supreme Court Justice Ruth Bader Ginsburg, whose dissent from the 2013 U.S. Supreme Court ruling in Vance v. Ball State University set in motion a rethinking of the meaning of a hostile workplace environment. Although the 5-4 decision rejected a Black cafeteria worker's Title VII claim, linking employer liability to the harasser's status as a co-worker rather than a supervisor, Ginsburg's dissent "called out the majority for not understanding how everyday harassment can turn an employee's workplace into living hell," Hill said. "Justice Ginsburg also called on Congress to correct the Court's weakening of Title VII and restore the robust protections the law was intended to offer."
Hill tied these legal milestones to the recent Senate confirmation hearing of Supreme Court nominee Judge Ketanji Brown Jackson, which Hill views as "… as a spectacular failure of our confirmation process." She had voiced similar concerns in recent interviews with CNN, the New Yorker and other major outlets.
Hill called the Jackson hearings "a wake-up call for us to demand that the Senate judiciary committee revise its policies and procedures."
In a follow-up question after the talk, a first-year student probed for specific reforms that could make judicial confirmation hearings less "dysfunctional."
Hill responded: "I think we need a process that, at the very least, governs the kind of questioning that can happen. The badgering of witnesses is not allowed in our federal courts. Why should it be allowed in the judicial confirmation process?"
A sophomore student asked how Hill proposed to effect societal change given the average American's reluctance to learn about critical race theory, structural inequality or sexual harassment in the workplace.
"Elementary school is a primary place to start," Hill said. "The messages that we give children when they experience or exhibit violent behavior is: 'boys will be boys.' When we tell girls that they should accept or be flattered by bad behavior because it means the boy likes them, that's teaching all kinds of bad things. It also teaches the boys that this is an acceptable way to show affection. We can stop that messaging."
Contact
Office of Strategic Communications & Marketing
400 N. Claremont Blvd.
Claremont, CA 91711
Phone: (909) 621-8099
Email: communications@cmc.edu

Media inquiries: Gilien Silsby
Phone: (213) 500-8673
Email: gsilsby@cmc.edu