Anna Deavere Smith channels grace, forgiveness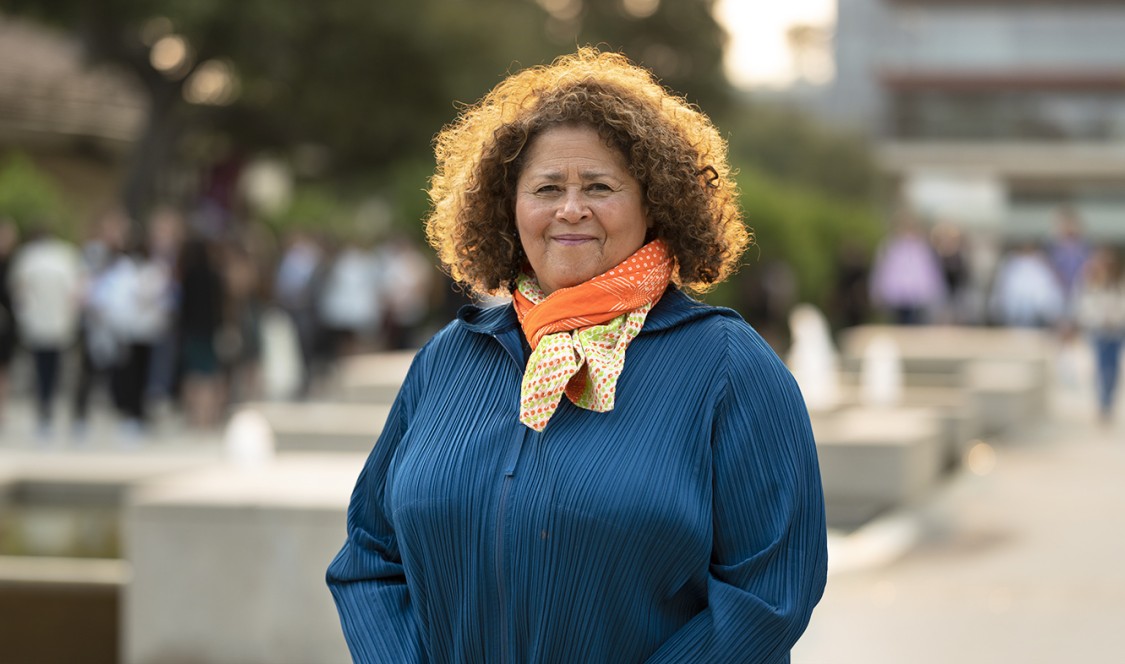 Anna Deavere Smith promised she would "disrupt passive spectatorship." And in an electric, emotionally powerful appearance at the Marian Miner Cook Athenaeum, she delivered.
During the program, the actress and playwright asked for feedback on her work, challenged the audience to shift their opinions "a quarter of an inch from where they started," and encouraged everyone to sing the hymn "Amazing Grace" together.
"My heart is beating really hard right now," a CMC student told Smith afterwards during the Q&A.
Smith appeared at the Ath this semester as part of CMC's 75th Anniversary Distinguished Speakers series, highlighting "Unity and Division," one of the three academic collaboration themes for the year.
Her intention, Smith said, is to energize her audience to think deeply about what's happening in their communities, especially in the current moment. Smith shared that while she grew up in Baltimore during segregation, she has never seen "a time that is this opinionated, and as divided as this one."
Reflecting on what she learned about CMC's culture of civility, Smith said, "I hope that this college is a utopia. Part of your school's history is about creating leadership. And, from your experience here, you will consider that leadership requires your ability to move —at least a bit— in order to understand who's in front of you, even if it's your enemy. I just really hope this generation has a greater aptitude to tolerate that which you don't understand or agree with, and even to go towards forgiveness."
Credited with creating a new form of theater, Smith has received numerous accolades, including the MacArthur Foundation's "genius" fellowship and the National Endowment for the Humanities Medal. Smith's theatrical career broke through in 1992 with Fires in the Mirror: Crown Heights, Brooklyn and Other Identities, which she followed up with another one-woman play, Twilight: Los Angeles 1992, an exploration of the uprising that followed the Rodney King beating and LAPD verdict.
At the Ath, she performed excerpts from her most recent original work, Notes from The Field: The Pipeline Project. Drawing from interviews she conducted with more than 250 people, Smith depicted personal stories of youth, teachers, judges, and activists to highlight America's juvenile justice system.
During her performance, Smith embodied each of her subjects to offer multiple points-of-view, which on this evening culminated with her portrayal of civil rights leader and congressman John Lewis. Smith poignantly took on Lewis' voice and persona—as well as those of an Alabama police chief—to share a story of forgiveness.
Students asked questions afterwards about Smith's creative process, legislative changes to help improve the prison system, and ways that CMC students could create change in their community while making a difference.
"What I say to young people now is that this is it, this is the moment. As heavy as it feels, there is a privilege in it. Because in this moment, this is the space where change can happen," Smith said.
"This is your moment."

Contact
Office of Public Affairs and Communications
400 N. Claremont Blvd.
Claremont, CA 91711
Phone: (909) 621-8099
Email: publicaffairs@cmc.edu

Media inquiries: Gilien Silsby
Phone: (213) 500-8673
Email: gsilsby@cmc.edu