Athenaeum fellows approach role with open minds and hearts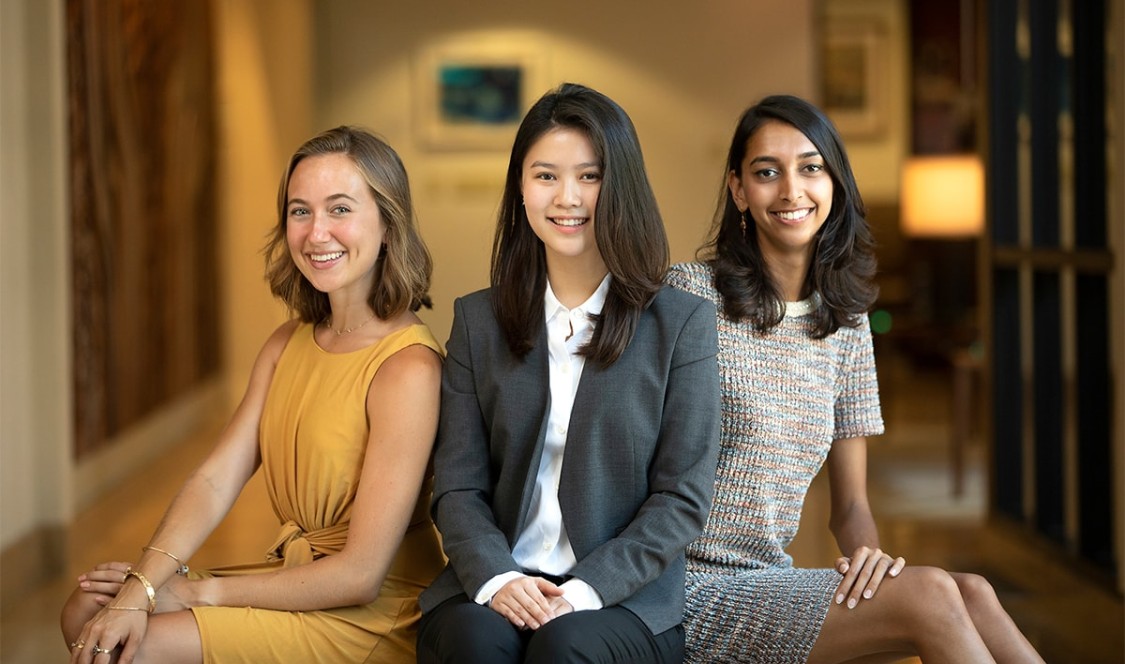 Transformative. Challenging. An embodiment of the CMC spirit.
This year's Woolley Fellows—Laleh Ahmad '20, Sabrina Hartono '21, and Sophia Krivatsy '20—are grateful for how the Marian Miner Cook Athenaeum has shaped their growth and education at CMC. No longer just visitors, the trio will serve as student faces for the Ath by introducing speakers, initiating head-table discussions, and facilitating the Q&A period during the 2019-20 academic year.
Ahmad, of Karachi, Pakistan, is a history major with a human rights sequence. She is also senior class president, a legal research assistant with the Mgrublian Center for Human Rights, and a first-year guide.
Krivatsy, of Honolulu, is a psychology and sociology dual major and a member of CMC Advocates for Survivors of Sexual Assault. After a rewarding summer internship with Sony Pictures in Los Angeles, she is joining the studio in a part-time role during the school year.
Hartono, of Jakarta, Indonesia, is a dual major in economics and PPE (philosophy, politics, and economics), a member of the student-led Free Food for Thought podcast, and co-founding president of the Claremont Creative Coterie, a CMC writing group.
As a new season of speakers begins, the three fellows talked about the marks they'd like to make on a cherished CMC tradition. This year's Ath lineup kicks off with Educated author Tara Westover on Sept. 16.
Why did you want to get involved in Athenaeum programming?
Ahmad: I've had many "a-ha!" moments at the Ath. I'd be struggling with a difficult decision for weeks, and then the perfect speaker happens to come along and solve it. Also, as a first year, I felt welcome at the Athenaeum, and I wanted to be in a position where I could make it a welcome space for others.
Hartono: The Ath was one of the main reasons I ultimately chose CMC. Aside from intellectual stimulation and enrichment, talks at the Ath—both those by the speakers and ones at the dinner table—remind me to continue developing emotional intelligence and growing together with the community.
Krivatsy: I want to help further diversify the programming and encourage even more perspectives. I think it is very important that we listen to as many voices as possible. The more we can learn about each other and the cultures we all come from, the more we can grow as CMC students—and as humans, in general.
What values should the Ath and its speakers express, and perhaps demonstrate, for CMC and its students to use in the world?
Ahmad: The room needs to be diverse in terms of race, gender, sexuality, nationality, political orientation, and academic interest. The Ath, at its best, is a space of learning and growth, and we can't achieve that without different ideas and life experiences—both from speakers and students. Ideally, students would see the Ath as a space for conversation, not just to listen to speakers but to talk about big ideas. I also want students and speakers to value respect and empathy over argument. There's a difference between dialogue and debate: dialogue comes from a desire to understand, whereas debate comes from a desire to win.
Hartono: There is a Chinese saying: "Though you keep learning until you are old, there will still be more than half the things in the world that you do not know." We should be reminded of our need for humility. As scholars, no matter how much we think we know, we are still works-in-progress. When we come to the Ath, we should put aside our pride and preconceptions and want to listen and learn as if for the first time.
Krivatsy: My goal for the Ath, and college in general, is to always keep an open mind and an open heart. I try to keep an open mind by learning as much about the world—through as many different types of people and their thoughts, opinions, and experiences—as possible. I try to keep an open heart by approaching perspectives with empathy and understanding, regardless of whether or not I agree with them.
CMC promotes engagement with a diversity of opinions as one of its core tenets. How will you try to build on that principle with the fellowship?
Ahmad: I'm excited the three of us have very diverse academic interests and majors, ones often not represented in Ath fellows. I'm especially excited that three women were chosen. This is, in part, because I think more women should be in leadership positions, but also because I'm aware of the gender dynamics that can play out at the Ath. I think having three women as fellows means that we are cognizant of those gender dynamics, and can work to combat them.
I would also love for more students to feel welcome at the Ath, and more importantly, to feel ownership of the space and responsibility for helping to shape its positive culture. For the students reading this, please reach out if you're ever confused about anything to do with the Ath, and especially if you have any criticisms. I'd love to use my position to make sure people feel heard and to work toward a more accessible space.
Hartono: Growing up in Indonesia in a Chinese family, with parents who were educated in the U.S., there was no such thing as an "off-limits" discussion. As someone who simply loves to learn and talk, I hope that being a fellow allows me to build on my background and encourage others to explore outside of their comfort zone.
Krivatsy: The Ath was the place, during my freshman year, where I felt confident enough to stray away from the safety bubble of my friend group to connect with students I didn't know. It has always felt like a space where I could comfortably get to know my peers and learn from students I may not have interacted with otherwise. I think this has helped me grow immensely. It not only helped give me the confidence to approach strangers and get to know new people, but it has also helped me broaden my perspectives by learning about everyone that makes up the CMC community.
How do you feel about your experience at CMC?
Ahmad: I feel incredibly lucky to have found passions that bring me joy and a community that supports me. I'm grateful that my CMC experience has empowered me to try and create positive change, both here and after I graduate. CMC does a lot of things well and has a lot to improve on. But it is lucky to have students that are passionate about growth and change.
Hartono: CMC is so special because of the people. Choosing a college was a huge life decision for me, a gamble. But I've met lifelong friends here and have had the wonderful opportunity to learn from brilliant mentors. I also believe in the philosophy of the liberal arts. CMC's emphasis on a balance between academia and the professional, practical application of theory echoes my beliefs about a quality education.
Krivatsy: My early experience at CMC was not easy. I was from a small island with a very different lifestyle, and I felt like a fish-out-of-water in the competitive CMC environment. I didn't know what business casual versus professional versus formal was. I wasn't used to greeting people with a handshake. I wasn't as polished as many of my peers.
The Ath was a constant source of joy and learning as I struggled to find my way here. I was not the most plugged-in or involved student, and my guess is that many people didn't really know who I was until the announcement was made that I would be a fellow. Yet through all of that, I still managed to find my "thing" at CMC and pursue it. I hope seeing me in this role will serve as a reminder that you don't have to feel overwhelmed by what others are doing, but instead, can pursue what is most important to you.
—Thomas Rozwadowski​
Contact
Office of Strategic Communications & Marketing
400 N. Claremont Blvd.
Claremont, CA 91711
Phone: (909) 621-8099
Email: communications@cmc.edu

Media inquiries: Gilien Silsby
Phone: (213) 500-8673
Email: gsilsby@cmc.edu