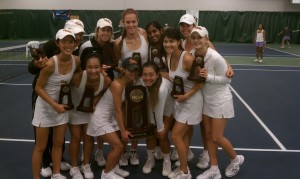 The No. 2 Claremont-Mudd-Scripps women's tennis team capped off a program-best 31-win season with a fourth place finish at the 2013 NCAA Division III Tennis Championships after a 5-0 loss to Amherst on Wednesday morning.
Amherst jumped out to a 3-0 lead after doubles play. Safy Aly and Caroline Richman got Amherst its first point with an 8-1 win over junior Chloe Dobbert and freshman Yvonne Likomanova. Jordan Brewer and Gabby Devlin defeated senior Kristin Lim and freshman Caroline Ward 8-6 in No. 1 doubles. Jen Newman and Zoe Pangalos closed out the doubles sweep with an 8-5 win over sophomore Sarah Kukino and junior Crystal Lim.
In No. 1 singles, Brewer handed Kristin Lim her first loss of the season, 6-1, 6-2 to give Amherst a 4-0 lead. Sue Ghosh sealed the win for Amherst with a 6-1, 6-3 win over Crystal Lim. The Athenas end the season at 31-2 overall. Kristin Lim and Caroline Ward now head into the NCAA Singles and Doubles Championships which begin on Thursday.