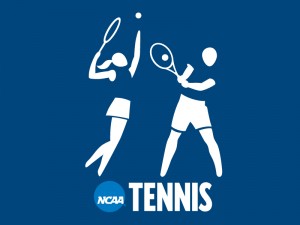 After getting wins in the second and third rounds of the NCAA Division III Tennis Championships, May 11-12, at the Biszantz Family Tennis Center, both the Claremont-Mudd-Scripps women's and men's tennis teams are heading to the NCAA Division III Tennis Quarterfinals Monday, May 20, in Kalamazoo, Mich. The No. 2 ranked Athenas defeated UC Santa Cruz (5-1) and Pomona-Pitzer (5-3) to advance while the top-ranked men's squad cruised to wins over Redlands (5-0) and Cal Lutheran (5-1).
The Athenas who are a program-best 30-0 this season, take on the University of Chicago in the quarterfinals matchup, May 20 at 11 a.m. EST. The University of Chicago is 18-5 this season and won the University Athletic Association Championships. The Maroons finished runner-up as a team at last year's NCAA Division III Tournament and captured a fourth place the previous three years.
The Stags are 28-3 this season and ranked No. 1 in Division III for the first time in program history. In the quarterfinals on May 20, the Stags take on Middlebury at 1:30 p.m. EST. At the end of March, the Stags faced Middlebury at the Biszantz Family Tennis Center, winning 8-1. Middlebury is 20-4 this season.
You can watch both tennis teams at the NCAA Championships on the NCAA's website here.
Become a fan of CMS Athletics on Facebook: AthleticsCMS Follows CMS Athletics on Twitter: @AthleticsCMS