About a decade ago, Chelina Odbert '99 received a surprise letter from a friend and fellow CMC classmate. The letter contained an admission: when both were students together, he had been skeptical of her motivation to care so much about helping others.
"He said that in the past, it was not something he could appreciate—almost like an apology for doubting my sincerity, " Odbert said. "Then he wrote, 'I know that was only due to my own cynicism and shortcomings.' It was an incredibly heartfelt, touching sentiment."
Odbert wasn't shy about owning her do-good distinctiveness at CMC. She cared about causes. A lot.
Her passion for community outreach and conversations about race, inequality, and social justice started in her Sacramento hometown, blossomed at CMC, and has continued to shape a winding, liberal arts-inspired career that has taken her to several countries, Harvard Graduate School of Design, and ultimately, the intersection of Skid Row and the Fashion District in downtown Los Angeles. For the past decade, she's been executive director of Kounkuey Design Initiative, a design and community development nonprofit that partners with people from under-resourced communities to build healthier, more connected neighborhoods.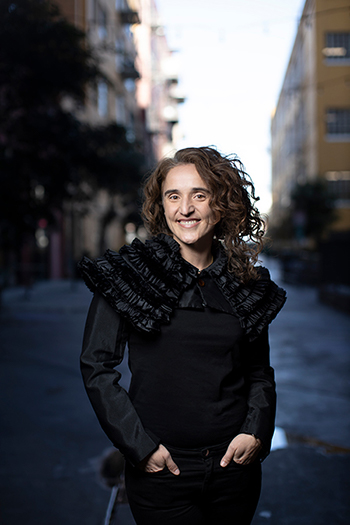 "What's driving the inequity here? It is policy based? That could be a zoning code making it possible to build a landfill in one community and not in another—which affects the health and quality of life for certain residents. Or sometimes what's really driving inequity is the lack of good data. In that case, we begin working with local residents to collect data and share it, with the intention that it will lead to more equitable decision-making and resource allocation.
"Really, this work is about helping underserved communities access the same system that other people benefit from," Odbert said.
CREATING CHANGE
Raised in a Mexican-Serbian-American family and guided by the influence of a grandmother who worked as an informal activist for immigrant workers, Odbert's original motivation at CMC was to "empower others through education."
The intimate, interconnected liberal arts experience at CMC allowed her to explore a range of academic and social interests, all of which contributed to who and where she is today. A senior class president and ardent "people connector" on campus, Odbert started the Welcome Orientation Adventure (WOA) program for first-years. She worked on research at the Claremont Autism Center at a time when the issue wasn't prevalent in the mainstream. Her senior thesis as a Spanish and psychology double major was on alternative education programs for low-income elementary school students in Pasadena.
Odbert didn't just want to talk about change. She wanted to create it.
"One thing I loved about CMC was the drive and commitment of all the students there, and I definitely think that rubbed off on me," Odbert said. "My career goals were not in investment banking or politics, so that made me a little different. I knew I wasn't the kind of person who would thrive in a corporate job—and I even took an internship at Bank of America to prove it to myself (laughs). Ultimately, the way I chose to use my version of CMC passion, drive, and education was to change social and economic outcomes in high-need communities around the world."
After CMC, Odbert lived in Honduras, teaching 6th grade and helping locals in the aftermath of Hurricane Mitch—the first time she saw "how communities got built." Once back in L.A., she decided to scratch an artistic itch, a design bug that always felt more like a hobby than a career to her. Working as an interior designer of luxury homes and boutique hotels showed her the power of design, but she thought that power could be more mission-driven; a tool for social justice.
Through CMC connections, she landed a yearlong Rotary International Ambassadorial Scholarship to study architecture and urban planning in Mexico. She moved on to Harvard and a Master of Urban Planning: the marriage of design and policy work she had been craving. Kounkuey Design originally started as a project with five Harvard classmates working in the informal settlements of Nairobi, Kenya.
"Residents told us they needed clean water, decent sanitation, income generation, a place to grow healthy food, and a place for their kids to play. We kept asking ourselves, 'How can we do all of this in a single project?'" Odbert said. "The answer became what we called a Productive Public Space. A park that works harder for the community." Upon returning to L.A., she continued developing various projects under the Kounkuey (Thai for "to know intimately") banner. In 2010, she made a commitment to pursue the mission full-time. She's now executive director of a staff of about 50 (in four locations: L.A., Coachella Valley, Nairobi, and Stockholm).
BUILDING CONNECTIONS
Odbert credits CMC with giving her the tools and confidence to pursue a career calling that didn't exist on paper. Design? To alleviate problems? For the public good? It has opened up opportunities for research and engagement she couldn't have imagined, including a prestigious Knight Foundation Public Spaces Fellowship last year. Odbert is one of seven nationwide fellows who received $150,000 to "unleash creativity" on a project of their choice. With the money, she plans to investigate how U.S. public spaces can be more gender-inclusive—an idea influenced by a project she worked on with her students while teaching at Harvard.
After a decade at Kounkuey, Odbert is most proud of the connections she's helped build—idea to implementation, problem to solution, dissension to conversation. Turning vacant lots into weekend swap meets or play spaces in urban Los Angeles neighborhoods—while overhauling citywide policy along the way—has been immensely rewarding: tangible progress she can see and touch. But the mental and emotional hurdles to get a project started often are more daunting than the physical ones.
Odbert cited her work in an unnamed rural community where the divide between residents of color and those in political power led to a lack of trust. Instead of seeing that personal and political gap as unsolvable, Odbert worked with both sides to collaborate on economic, social, and cultural progress that not only would uplift the community, but lead to more money and resources. The project ultimately was a success—and credit was shared by officials and neighborhood residents for coming together to serve the greater good.
"My job is to get people access to things they need—but that also requires helping groups understand each other better. My approach to those conversations was formed during my time at CMC," Odbert said. "Not only did CMC help me better advocate for the things I care about, but it opened me up to the influence of ideas that, at face value, may not have fit perfectly into my social or political box. It is absolutely why I have confidence in my ability to be a bridge builder and a connector in so many different spaces."
This story can be found in the spring CMC Magazine. Read the full issue here.
—Thomas Rozwadowski