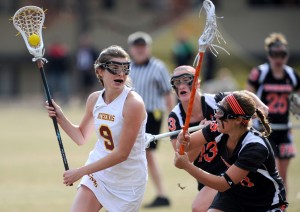 CLAREMONT, Calif. – The Claremont-Mudd-Scripps women's lacrosse team in partnership with Claremont McKenna College's Center for Civic Engagement (CCE) have paired up for the entire month of March to raise awareness for Lax-4-Life at several Athena lacrosse home games. Lax-4-Life is a national organization whose goal is to provide suicide prevention awareness in young adults and adolescents through the sport of lacrosse at all different levels.
The Athenas' home game on Sunday, March 3 at 1 p.m. on Parents Field vs. Susquehanna has been designated as the "Lax-4-Life Month" kickoff game, but all three of the Athenas' home games in March are in support of Lax-4-Life. Each team during the home games in March will be wearing Lax-4-Life t-shirts during warmups. In addition, t-shirts are being sold at each game to raise money for Lax-4-Life with all the proceeds going back to Lax-4-Life and then being split amongst three different foundations that support suicide prevention awareness.
"I thought it was a great cause," said Athena head coach Heather Semelmacher. "I have seen students go through so many stressful situations in college and how suicide has affected so many young men and women. The lacrosse community is so small and close knit which is why we wanted to support Lax-4-Life."
Since 2009, after individuals close to student-athletes at West Chester University and Lock Haven University committed suicide, teams in the Pennsylvania State Athletic Conference have hosted games dedicated to Lax-4-Life with rival teams warming up in matching shirts and coming together for pictures in support of a common cause. In recent years, schools at all levels have begun to participate. CMS is now the first West Coast team to join the Lax-4-Life cause.
"Our message is only going to become more and more important because suicide never goes away," said Lock Haven University head coach Kristen Selvage. "Even if the suicide rate goes down, that doesn't mean we have saved everyone, so until we have saved every last person, we want to keep our message going strong."
The Center for Civic Engagement is a resource for students who want to get involved, either on campus or off by offering a variety of programs and events focused on service, citizenship, and sustainability. In addition to women's lacrosse, several other CMS teams have participated in community engagement; the goal is to have every CMS team involved in these types of activities.
CMS has three home games in March. The Athenas host Susquehanna on Sunday, March 3 at 1 p.m. on Parents Field, Stevenson on Wednesday, March 13 at 7 p.m. on Zinda Field and Oberlin on Friday, March 29 at 7 p.m. on Zinda Field.
Click here to visit the Lax-4-Life home page Click here to visit the Center for Civic Engagement's home page