William Cullen '19 is the first CMC graduate to earn the honor, which sends some of the world's best students to one of China's top universities.
Claremont McKenna College's William Cullen '19 has been awarded the prestigious Schwarzman Scholarship, a fully funded one-year master's degree program at Tsinghua University in Beijing.
Cullen is the first CMC graduate to earn the scholarship, which brings together 145 students from across the globe to study at one of China's top universities. Inspired by the Rhodes Scholarship, the Schwarzman Scholars Program emphasizes leadership, global affairs, and an understanding of China.
"Will is an exemplar for us all: wonderfully thoughtful, indefatigable in his research, dedicated in his global commitments," said Hiram Chodosh, president of Claremont McKenna College. "His CMC education integrated environmental science, public policy, and economics, human rights, and regional studies in South Asia and the Middle East. He applied the power of our multi-disciplinary liberal arts program in search of solutions to our most difficult challenges. We are proud of him and his selection as CMC's first Schwarzman Scholar."
Cullen, a 22-year-old from Bethesda, Maryland, graduated cum laude with honors from Claremont McKenna College with a BA in Environment, Economics, and Politics.
Cullen's application highlighted his work at CMC's Roberts Environmental Center and experiences on a variety of rural electrification and renewable energy projects in India. He received a U.S. Department of State Critical Language Scholarship to study Hindi in Jaipur, India following his graduation in May 2019.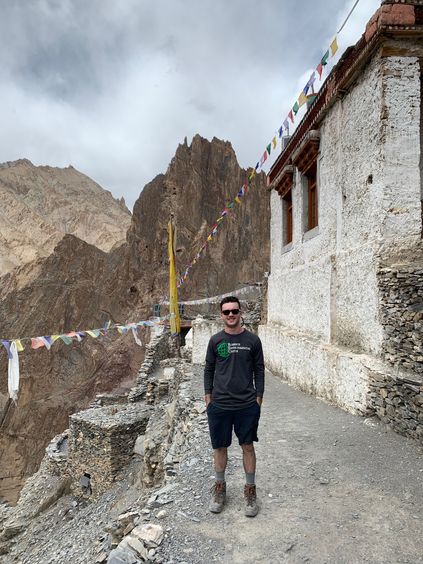 Cullen is currently working at the World Resources Institute in Bangalore, India with funding he received through the Mgrublian Center for Human Rights' Elbaz Post-Graduate Fellowship. He has also worked as an intern at a human rights advocacy organization and the U.S. Senate in Washington, DC, a technology startup in Silicon Valley, and a solar company in Delhi.
"I am deeply honored to be named a Schwarzman Scholar," Cullen said. "This is an amazing opportunity and I'm looking forward to learning from some of the world's most esteemed intellectuals and professionals."
As a Schwarzman Scholar, Cullen will work on sustainable development, with a goal of fostering cooperation between India, China, and the United States. "I am excited to study Mandarin Chinese and learn more about China's climate change mitigation policies," Cullen said. "With a deeper understanding of China's leadership on renewable energy development, I hope to lead multilateral climate change negotiations at the United Nations and facilitate a global clean energy transition to mitigate the effects of climate change."
Cullen joins students from 108 universities in 41 countries, who were selected from more than 4,700 applicants for the fifth class of the Schwarzman Scholars. The students will graduate in 2021 with a master's degree in Global Affairs. In addition to gaining exposure to China, the students are offered a range of internships, career development resources and professional development opportunities, which provide a first-hand understanding of China's changing role in the world.
Wyatt Bruton, associate director of Admissions for the Schwarzman Scholarship Program, praised the new group.
"The members of this new class of Schwarzman Scholars will be a vibrant part of the Tsinghua community and will play instrumental roles in deepening mutual understanding between China and the rest of the world throughout their careers," said Bruton.
Brian Davidson '08, director of Fellowships Advising at Claremont McKenna College, said the Schwarzman program is a perfect fit for Cullen because he is globally-minded and dedicated to public service and the environment.
"Because China and India will undoubtedly both play significant roles in grappling with the global struggle against climate change, this program is an ideal environment for Will to broaden his expertise in Asia and connect with a cohort of dedicated international leaders."
- Gilien Silsby