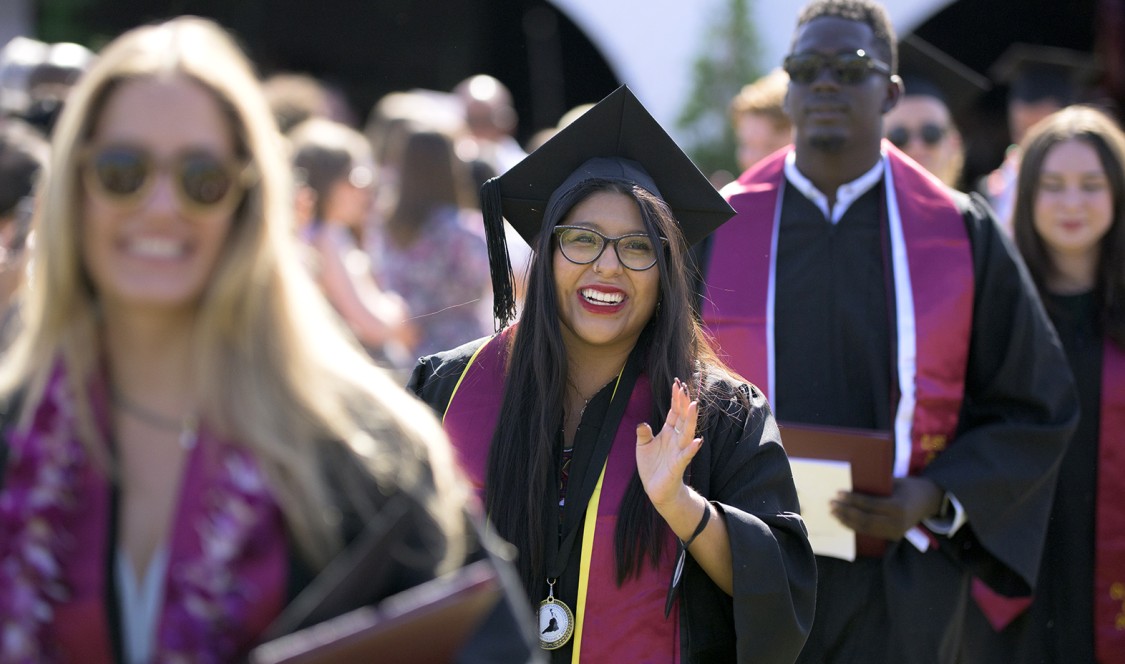 Wow, what a moment, what a tent! The largest on the entire west coast.
Just to be together would be enough today, but what a tremendous
program.
I close it today, with charge to the Class of 2022.
Before I do, I want to say how moved I am, how proud I am of the
Soaring excellence
Creative adaptability
Iron-forged resilience
and
Downright goodness
Of this class, our families who have sacrificed so much, and our entire
community in mutual support and common purpose.
In honor of your inspiration:
the cold gym
Theo in your diaspora
here is anywhere you want to grow
one, the cold gym
Nearly all of our spring scholar-leader-athletes are competing in the NCAA
tournament this week, including today, in Women's Lacrosse and
Women's Tennis. We will celebrate with the graduates from both teams in
Roberts Pavilion tomorrow.
Our Athenas won their first of three national championships 5 years ago in
2017.
During the hard-fought tournament, Margaux Arntson, an all-American
senior on women's volleyball team composed a mantra.
She whispered it to herself whenever she entered a big cold gym.
White walls, metal bleachers, quaking with shouting, screaming fans from
other teams.
To remind herself that she had no reason to be intimidated, Margaux
would whisper to herself:
"I belong here."
Margaux did not mean. I fit in. I conform. I play my role. I do what I'm
expected.
She meant.
I earned the right to compete.
No one can deny me a place on the court.
I own the opportunity to realize my fullest potential to succeed.
I lead my team.
We are not afraid of failing.
We are not afraid of winning.
After a long march to the finals, with the score 24-22 in the last and third
sweeping set, Margaux put down the historic kill to give our Athenas the
national championship trophy.
I belong here.
Why do I start with the story of Margaux and how she brought heat to the
cold gym?
Because today, you put down the final score.
You answer the fundamental question with which we began our long
journey together.
Sobe reminded us of it earlier. Why are we here?
This moment, in shared purpose, in this singular place, in our mission-
driven learning community.
Why are we here?
Because here we belong.
This is never easy. This has been especially hard for us the past few years.
In life, in school, in work, we can easily over-listen to the world telling us
every reason we don't belong.
the neat boxes that confine us.
the artificial boundaries that keep us separated and disconnected.
Telling us what we cannot do or are expected to achieve,
because of who we are,
where we come from,
our race or gender or any identity,
our native lands and cultures,
the gods we worship,
the people we love,
the way we talk or look,
the resources we lack or have,
the schools or places we come from,
That world can be harsh and cramped or artificially bloated and put us in
what it perceives to be our confining place. This is Jayson's main
observation earlier today.
A place of opaque ceilings we can't break through.
Windows so small—a narrow eye of the needle—that make us blind to the
horizon.
The spontaneous social assumptions people carry that we all too easily
internalize and project about ourselves or onto others.
Everything that keeps us from belonging, belonging to one another,
takes commitment, and risk, and work, and persistence, and love, and
grace to overcome it.
Belonging takes more than just presence or participation.
It means opening up to others, and helping others open up to us.
Bringing an outsider's perspective to our inner circles.
Turning our circles inside out to bring others in.
It means replacing the artificial barriers that we carry around with us in
our heads,
barriers that blind us,
with experiences that help us identify with one another,
experiences that bind us.
Belonging means finding yourself in unlikely, even unpopular friendships.
It means letting other voices enter your ears, and other minds enter your
heart.
Leading by example and in collaboration with others.
Just look at our speakers here today.
Think of DT as a first-gen athletic kid from Colorado, DT who earned a
place in the CMS hall of fame with 11 letters, earned a PhD in education
while working full time, and became the best dean of students in the
country.
Think of Sobe's journey of senior class president, winner of the prestigious
Berger award, and so many other honors, and already on her way to
Columbia law school.
Think of Jayson, through all of his self-deprecating humor, now so well
prepared to work for the Federal Reserve (and I might add not as a
consultant!).
Or our outstanding keynote speaker today, Dr. Danielle Wood, mastering
dance and policy and a whole range of sciences, and now looking at how
space can improve human conditions on earth and how we can best
prepare for an exciting decade of space exploration we've never even
imagined before.
As each of their voices soaks in to our moment, we can hear our own voices
and those of the Class of 2022 say:
We belong here.
two, Theo in your diaspora
How on earth did you do it?
When the pandemic disintegrated what here even meant.
This was tough. Even for our CMC campus-raised labradoodle, Theo.
When the campus was closed for 18 months, Priya and I would take Theo
for a walk around the campus.
He loved having the run of the place, but he knew, sadly, the world had
changed.
He would sniff all of the doors at North Quad looking for his friends.
He would go up to the entrance of the Soll Center, appearing to look for
advice or even, yes Jayson, an internship,
but really just remembering the delicious treats he gets there.
And our only connection with all of you was relegated to two dimensions.
Theo even attended a 2021 thesis surge on my lap in front of Zoom.
And you were all cast into some form of student exile.
We lost the last quarter of your sophomore year, your full junior year,
and had to endure the constraints of this past one:
the distancing, the restricted events, the masks, the push outdoors, the
hybrid adaptations, and the loss of the most treasured of all Claremont
privileges:
5C cross-dining!
During the time away, many of you had to cope with unconscionable time
distances
and tough circumstances at home, the loss of loved ones,
and somehow, someway, you persisted.
You studied and learned.
You served, and coached, and trained, and tutored, and worked, and led.
And found your way back to one another. You thrived.
And then you returned and started to rebuild the here that we took for
granted.
Look around not just at all of the outstanding accomplishments, but the
enduring relationships, the support of your families, your faculty, your
staff, especially one another.
You came together and huddled yourselves up, and then you turned out to
help the sophomores and juniors catch up, while trying to set new
foundations for our newest students.
In a year, our 75th anniversary, as DT mentioned, a year in which the
College has taken many major leaps forward, leaps that change our
trajectory for generations to come,
Your class has played a pivotal role, too.
You recommitted to the social warmth, the outward embrace of one
another, the grace and leadership we all needed to get back, the sheer
kindness, the pure goodness.
Early on in the pandemic, I challenged all of you with a single question:
what story will you tell in the future about how you responded to such
devastating challenges?
And you have provided the answer. You succeeded. Wildly.
In national and global competition, awards, recognition,
from CMS (missing national championships by a post here and a second
there) and Model UN to ROTC, Fulbright, and Rhodes;
the most outstanding undergraduate theses, many publishable, of any
college.
From constitutional courage to dead money, from memory politics to
liberation technology, and so many more.
Massive peer coaching, tutoring, mentoring.
The best questions at the best program ever at the Athenaeum.
Incalculable real-world impact on campus and off, to eliminate racism and
gender violence, lift learning, tackle climate change, build new social
enterprises, new businesses, new policies.
opportunities you have created for yourselves in the best fellowships and
graduate schools, post-graduate jobs, and
emerging leadership experience in business, government, and the
professions
You have authored your own remarkable stories, ones you will tell for
decades to come,
about how you persevered through the worst pandemic in a century,
the worst disruption your college ever faced.
The 75th year in the college's history that may become our most pivotal
ever.
And you gave Theo a way back too, literally,
into your dorms, into the Soll Center, even into Collins Dining Hall on a
few occasions this year,
(this is our little secret.)
You brought him and all of us back home here with you.
three, here is anywhere you want to grow
I'd now like you, the Class of 2022, to stand for your charge.
See no end to belonging today.
This is a commencement, a beginning, an opening.
Take one powerful lesson out of this big tent.
It is this.
You will enter many new, frosty, intimidating places, (some cities literally with
sub-zero temperatures)
with people who may not believe in you, at least not at first, not yet.
You will also have that feeling of doubt.
Embrace it. It means you're in the right place.
A place to challenge yourself, expand your opportunity, grow your confidence.
Whenever, wherever you have that feeling, whisper to yourself:
I belong here too.
I've been around a similar block.
Not this one, but one like it.
I conquered that one, so I can do this one too.
I only have to bring CMC with me.
I know how to earn my shot
make the most of my spot
how to reach out to others in this new place
this new here
lend an ear
before I give voice.
Class of 2022:
Bring your heat to the cold gym.
Turn it into your home court.
Make fear your source of courage.
Convert stress into your resilience.
Flatten the barriers to build the deck for your new bridges.
Traverse the deep rifts to bring us all together.
Make the me that others want you to be,
into the I you want to become.
Turn your inner circles inside out.
Create a home for the many diaspora.
Grow here into a place that is on the move, that moves you, that moves with you.
Now I'd like to ask all of you in the audience to stand and help the Class of 2022
internalize this charge through our collective voice.
Class of 2022, and each of you here today, repeat after me:
We belong here.
We belong anywhere.
Anywhere we want to be,
anywhere we want to grow,
That is where we belong.
Congratulations to the Class of 2022.
Congratulations to you all.
Contact
Office of Strategic Communications & Marketing
400 N. Claremont Blvd.
Claremont, CA 91711
Phone: (909) 621-8099
Email: communications@cmc.edu

Media inquiries: Gilien Silsby
Phone: (213) 500-8673
Email: gsilsby@cmc.edu