Classes of 2020 and 2021 honored for achievements, resilience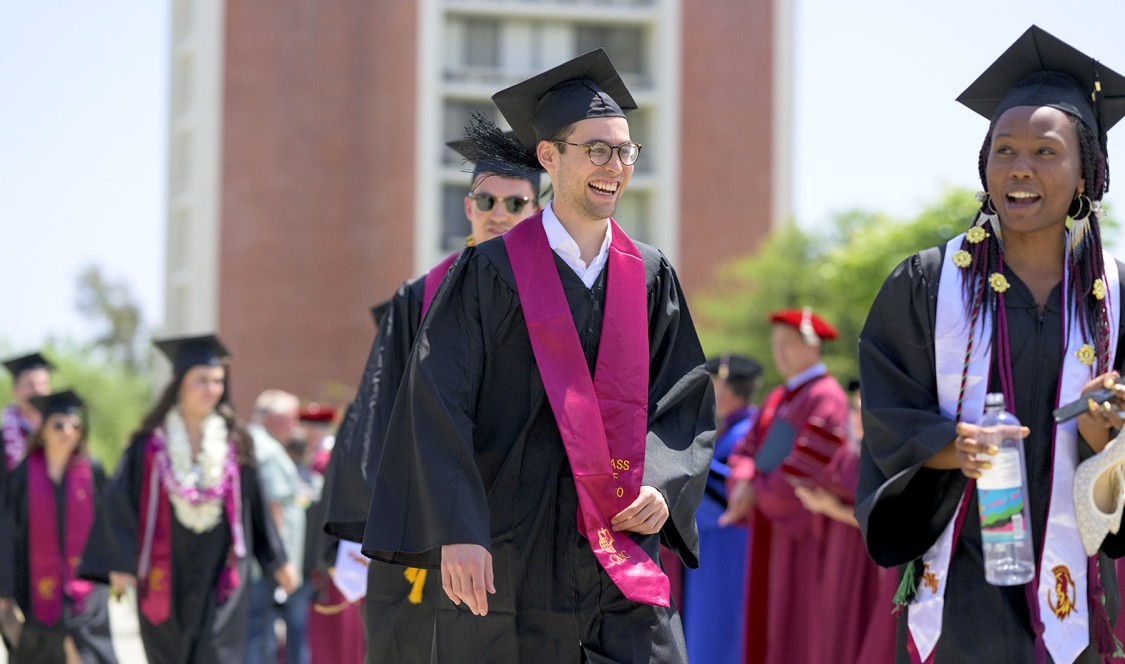 The cheers, laughter, and joy of Commencement were more than doubled as Claremont McKenna College's Classes of 2020 and 2021 returned to campus to celebrate the defining moment of their senior year, one or two years after earning their degrees.
The pandemic delayed the celebrations. Yet on June 4, more than 500 young alumni were finally able to gather with friends, family, faculty, and staff for an unprecedented joint ceremony as part of Commencement Celebration Weekend June 3–5.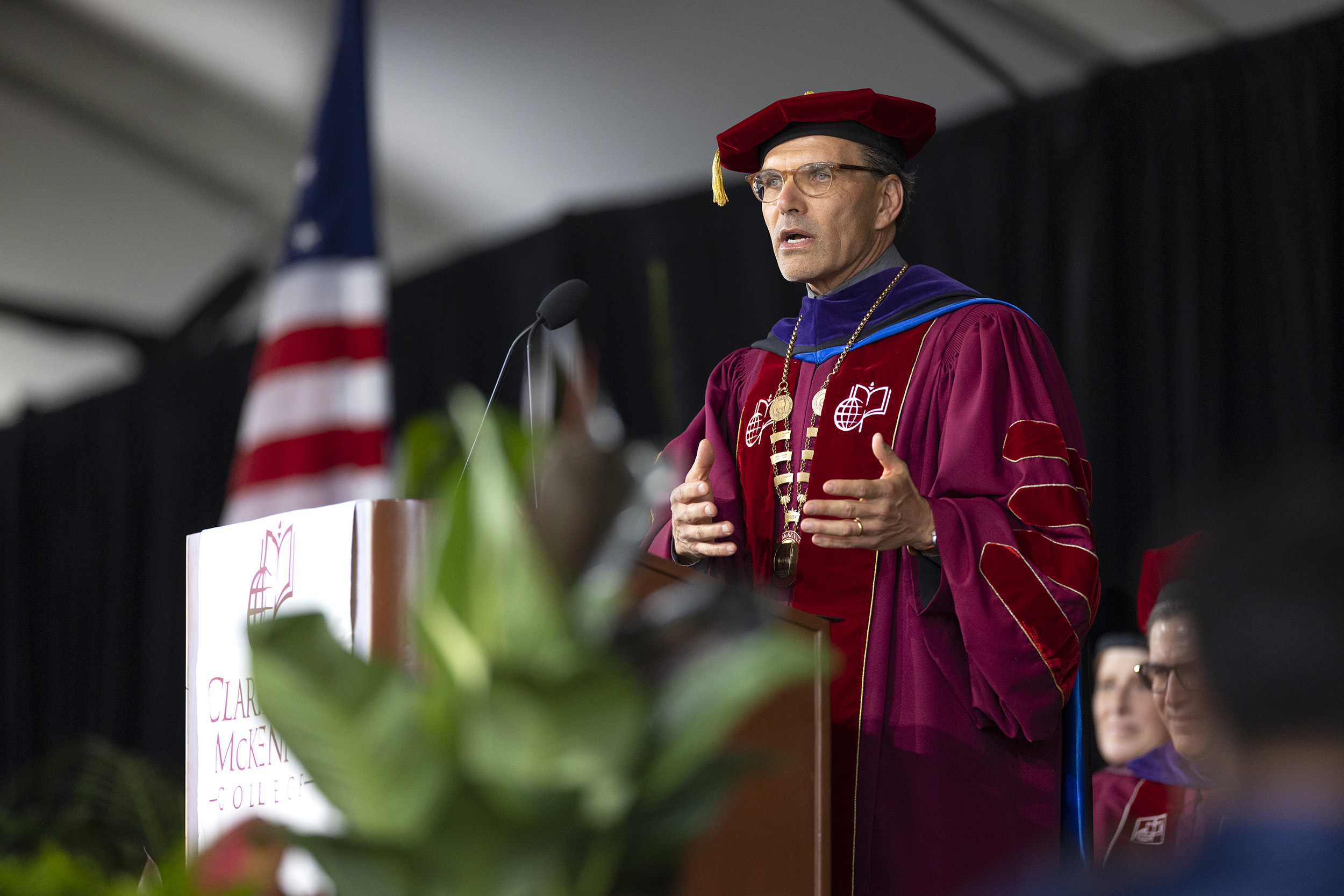 The occasion was a tribute to the students' "resilient optimism to embroider the silver linings in our clouds, to radiate the miracles we create back onto the world around us," President Hiram E. Chodosh said.
"We've missed you, more than you know," Chodosh told the alumni, noting the celebratory day's stark contrast with the empty campus that he and his wife, Priya Junnar, walked with their dog, Theo, during those 18 months of online instruction. "This is my happiest day ever on our campus."
Associate Vice President and Dean of Students Dianna "DT" Graves '98 introduced the Commencement program under a massive tent on Parents Field, where two weeks previously the Class of 2022 had been awarded their degrees.
"This day has been a long time coming," she said.
"This year, CMC celebrated its 75th anniversary. Our college was founded by veterans who survived the Great Depression and World War II. Eighty-six students enrolled in 1946, young men who had experienced hardship, global upheaval, instability. They emerged armed with skills and a perspective that they could not otherwise have obtained. They set the pace for CMC, and there is no college in the world that can boast the trajectory of this school. You are a piece of that proud story," Graves told the in-person audience, as well as those who livestreamed the event.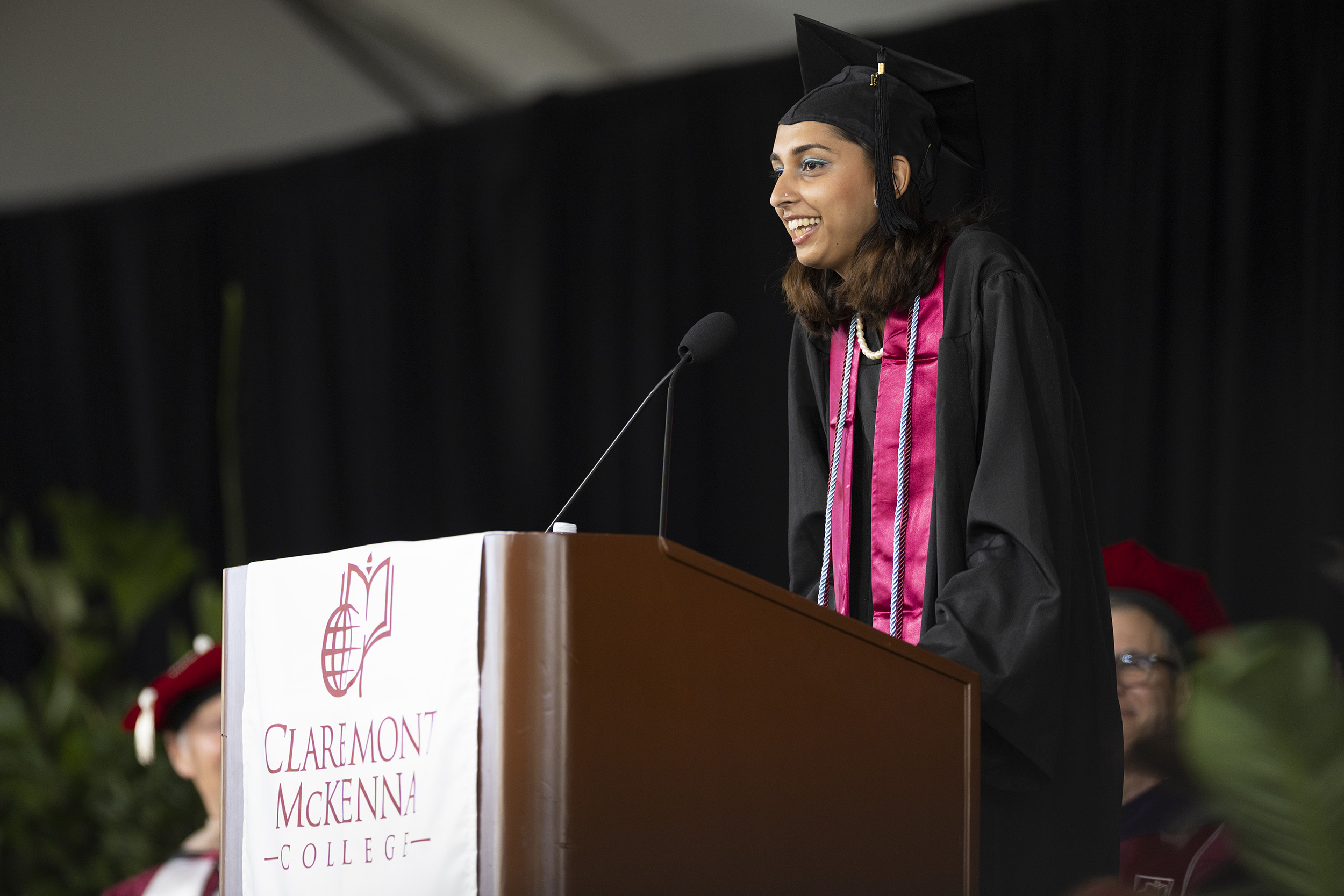 "The COVID-19 pandemic is a new kind of trial. Time will tell what special skills and capacities this generation will carry forward from this epic event," Graves said. "I hope as was true for the CMC Pacesetters that it includes a deep fervor for life, a commitment to this College, and a fierce overriding resolve to make a positive mark on the world."
Class of 2020 Senior Class President Laleh Ahmad '20 shared what she learned at CMC and over the past two years since graduating. "CMC taught me a lot of things … but, most importantly, how to think and how to find the meaning in my thoughts and my actions. And life after college has taught me that that's what adulthood is all about. It's about charting your own course and choosing what you're going to find meaning in and what your happiness will look like."
Forgiveness, Hope, and Love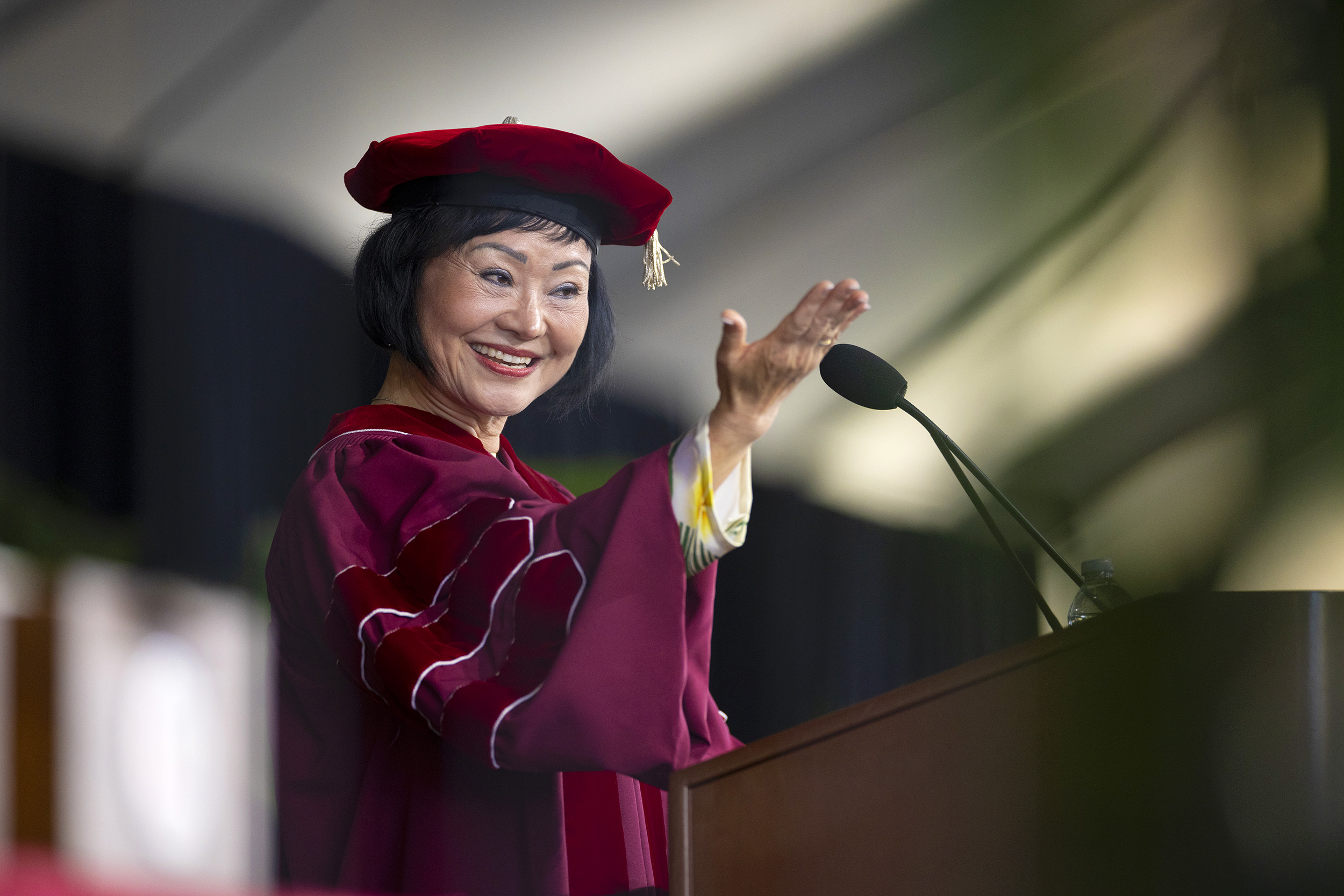 Ahmad introduced the invocation speaker, Dr. Phan Thi Kim Phuc, UNESCO goodwill ambassador and founder of KIM Foundation International, which provides medical and psychological assistance to children victimized by war. She gave a tender and moving speech about pain and forgiveness.
Phan Thi survived the napalm bombing of her small village in South Vietnam during the Vietnam War. As napalm clung to her, burning 65% of her body, the 9-year-old tore off her clothes and ran. That moment on June 8, 1972, was captured in an iconic, Pulitzer Prize-winning photo by Nick Ut—a photo credited with hastening the end of the war.
After taking the photo, the Associated Press photographer then drove Phan Thi and the other children to a hospital. Ut was in the audience at CMC, and Phan Thi asked him to stand, thanking him for saving her life. The audience applauded.
"I am forever thankful to you, Nick Ut," she said. "But I grew up also detesting that photo. I thought to myself, I am a little girl. I am naked. Why did you take that photo? I felt ugly and ashamed. Why did you print that photo? Why was I the only child naked, while my brothers and my cousin in the photo had their clothes on? Does everyone understand my pain?"
That traumatic day caused a lifetime of pain for Phan Thi, including anxiety, depression, and suicidal thoughts. "Growing up, I just wished to disappear," she said. "I am still dealing with emotional and physical scars that have left me permanently disfigured."
"Forgiveness didn't happen overnight," Phan Thi said. "In fact, it took years." (Phan Thi further described her journey to forgiveness in a guest essay for the New York Times, published Monday, June 6, 2022, two days after speaking at CMC.)
"This world needs forgiveness, hope, and love. Let us learn to forgive, both within ourselves and towards others. And as terrible as the past may be, you cannot change it, but you can shape your future."
Compassion, Mystery, and Courage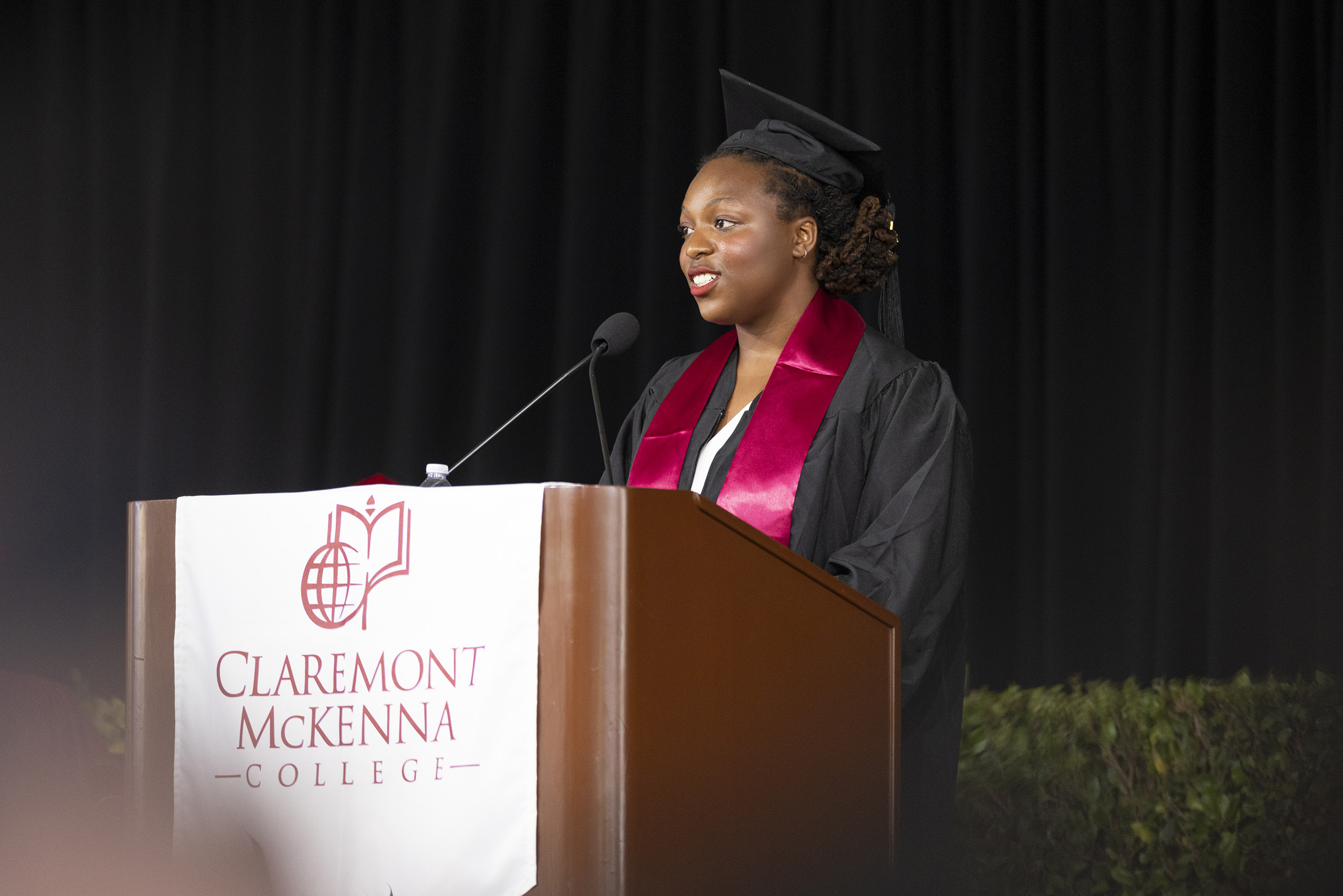 JaDa A. Johnson '21 introduced Class of 2020 class-elected speaker Maya Victoria-Rosetta Love '20, who took the podium to great applause. Since leaving CMC, Love, who was captain of the Athenas basketball team, ASCMC diversity and inclusion chair, and ASCMC president, has earned a master's degree from CGU in applied data science and international studies and been named a Coro Public Affairs Fellow.
Love shared "three lessons on character that can spark collaboration, discourse, and innovation," lessons that she learned from her peers at CMC: compassion, mystery, and courage.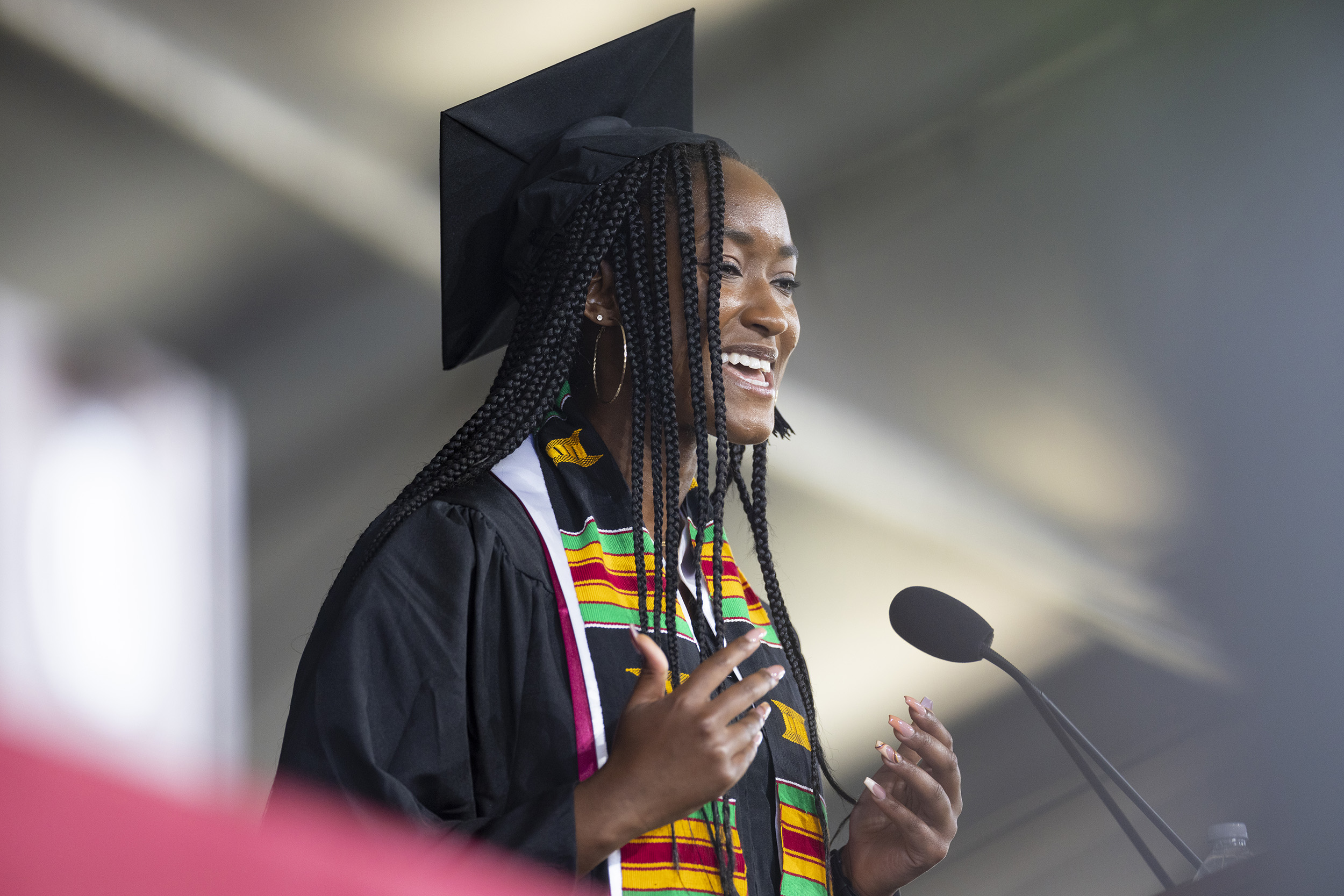 "When we first heard about our early departure two years ago, I saw my colleagues turn into compassionate adults. Clubmates, RAs, athletes turned into some of the best movers in SoCal with just a skateboard, duct tape, and a prayer. We did that. From moving, to consoling one another, or helping book last-minute flights, from that day on campus, we laid the foundation of tackling past pains and non-closure with the strong bones that we built with compassion."
"Know what you have conquered in the past will always let you know the strength you have for the mysteries of today," Love added. "It is important to remind yourself to not be narrowed in by the present solution, but inspired and confident in the mystery of the unknown. Whether it's determining to go back to school, switching careers, or starting a community food bank, leap into the untethered questions of today because the strength of your character will help you navigate through imperfect answers."
'Lead with the values you learned at CMC'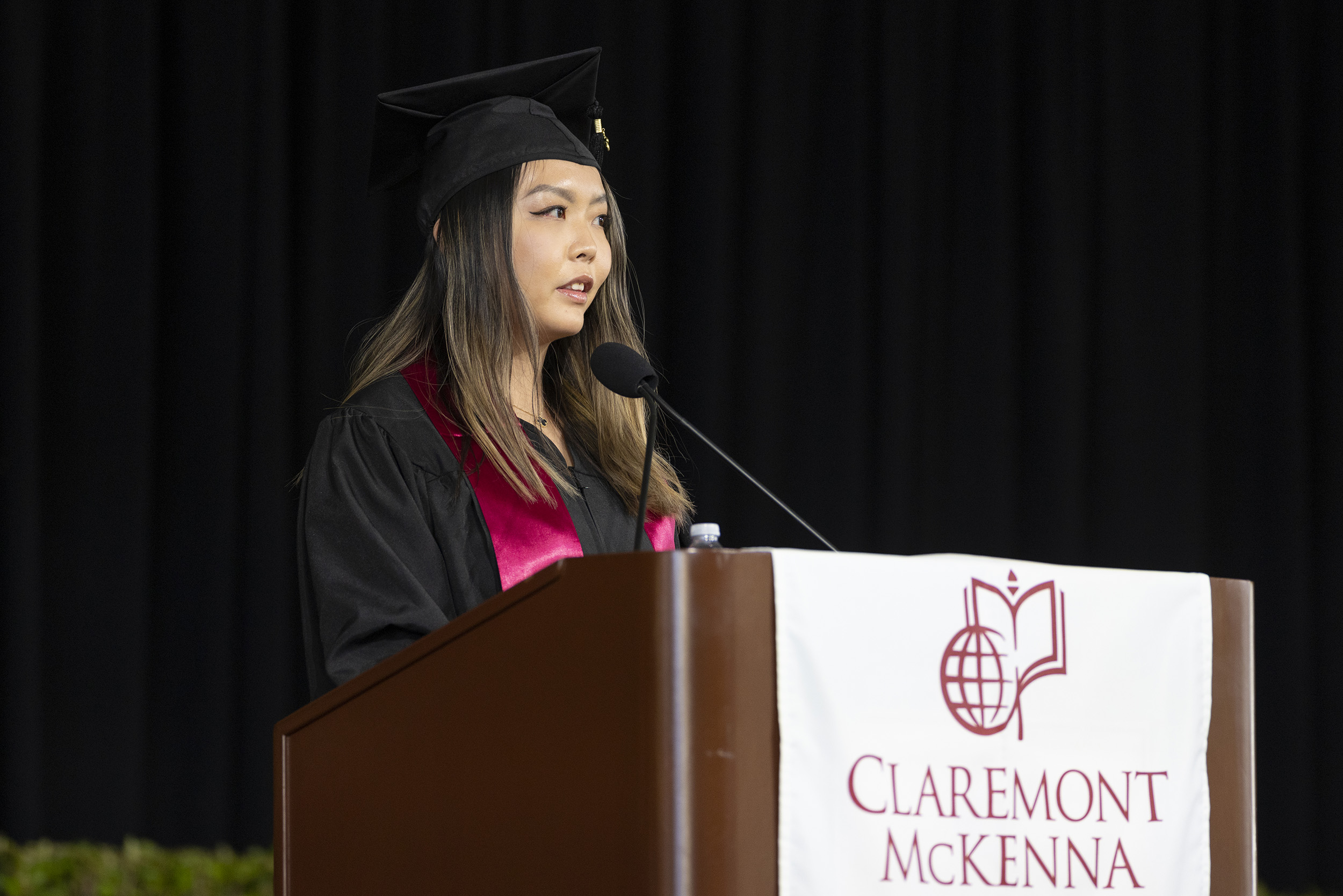 Class of 2021 Senior Class President Grace (Qingyang) Wang '21 expressed pride in "the spirit of leadership that CMC instilled in us." "CMC has taught us, and has taught us well, how to shape a better world for the future. And I cannot wait to see the impact we will make."
Wang introduced keynote speaker Stephen C. Bullock '88 P'24, former governor of Montana. During his tenure as governor, she said, "he worked to increase wages and bring better jobs to Montana, strengthened the education system, and made state government more effective and transparent. Steve is the perfect embodiment of responsible leadership by reaching beyond a party platform to build solutions that address the unique needs of his constituents."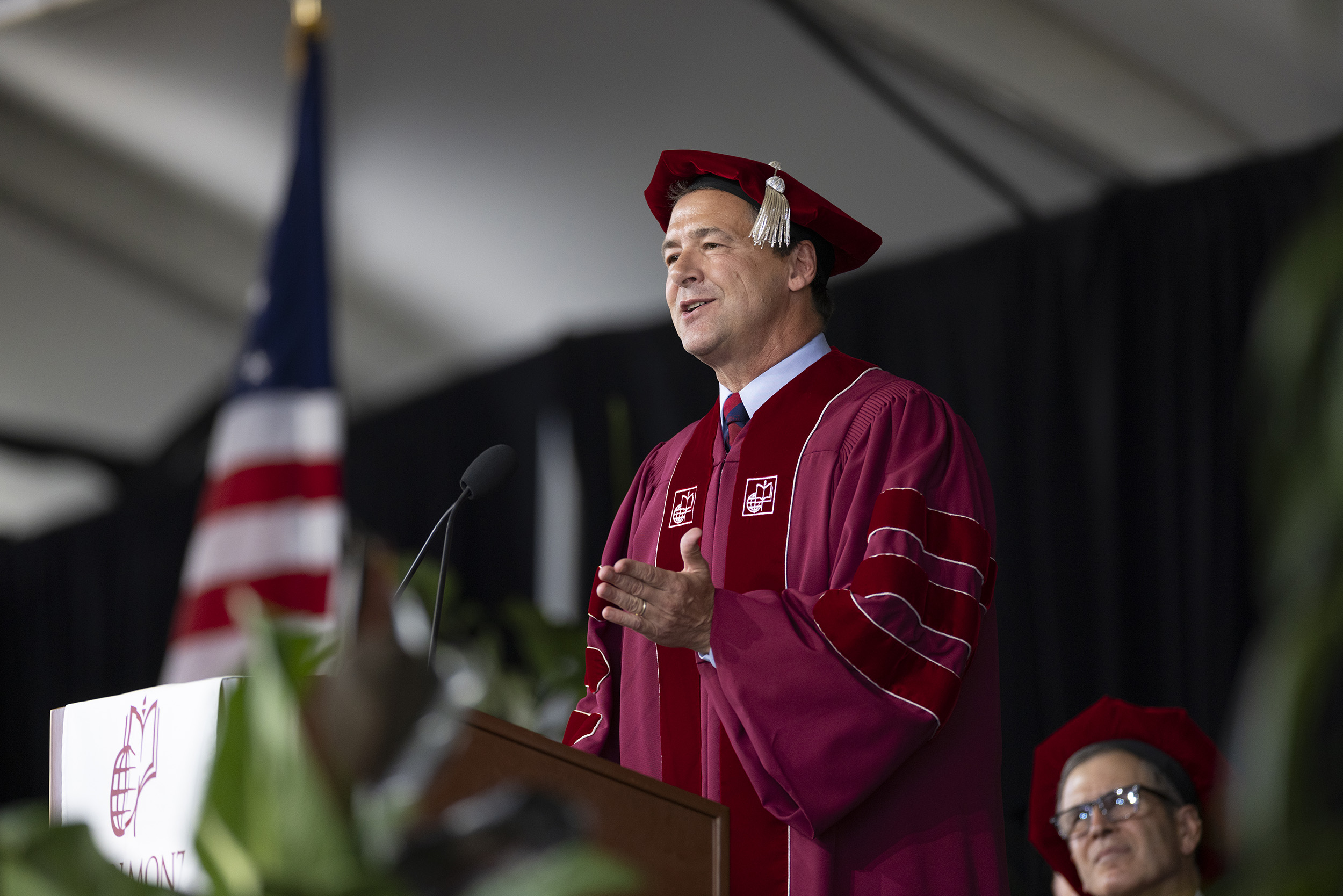 "I had no idea when stepping on this campus for freshman orientation what a privilege I was being granted and properly understood what an obligation that privilege might actually require of me in the future," Bullock began.
"We are living through the most turbulent and broken period I've experienced in my lifetime, a public health crisis and economic crisis four decades in the making, a crisis or subversion of the pillars of our democracy, and a crisis in what it actually means to share values in a community and a country.
"It's because of that privilege that you were granted by attending Claremont that you actually have an obligation to confront the brokenness head-on, to do all in your power to reject the premise that we can't be better as individuals and as a society, and then incorporate into your plans, not just individual success but societal improvement."
Bullock told the story of how he came to public service. Two years out of college, he resigned from a lucrative job in financial services, packed his bags, and drove his 1974 MGB convertible from Philadelphia to Key West. He had some drinks at Margaritaville, met Jimmy Buffet, and briefly considered a job as a bartender before hitting the road again to find his purpose.
"I spent the next three months in my MG traveling to places that I've never been and thinking about what I might want to do," he said. "Perhaps the most frightening place any of us will ever explore is that space between our two ears."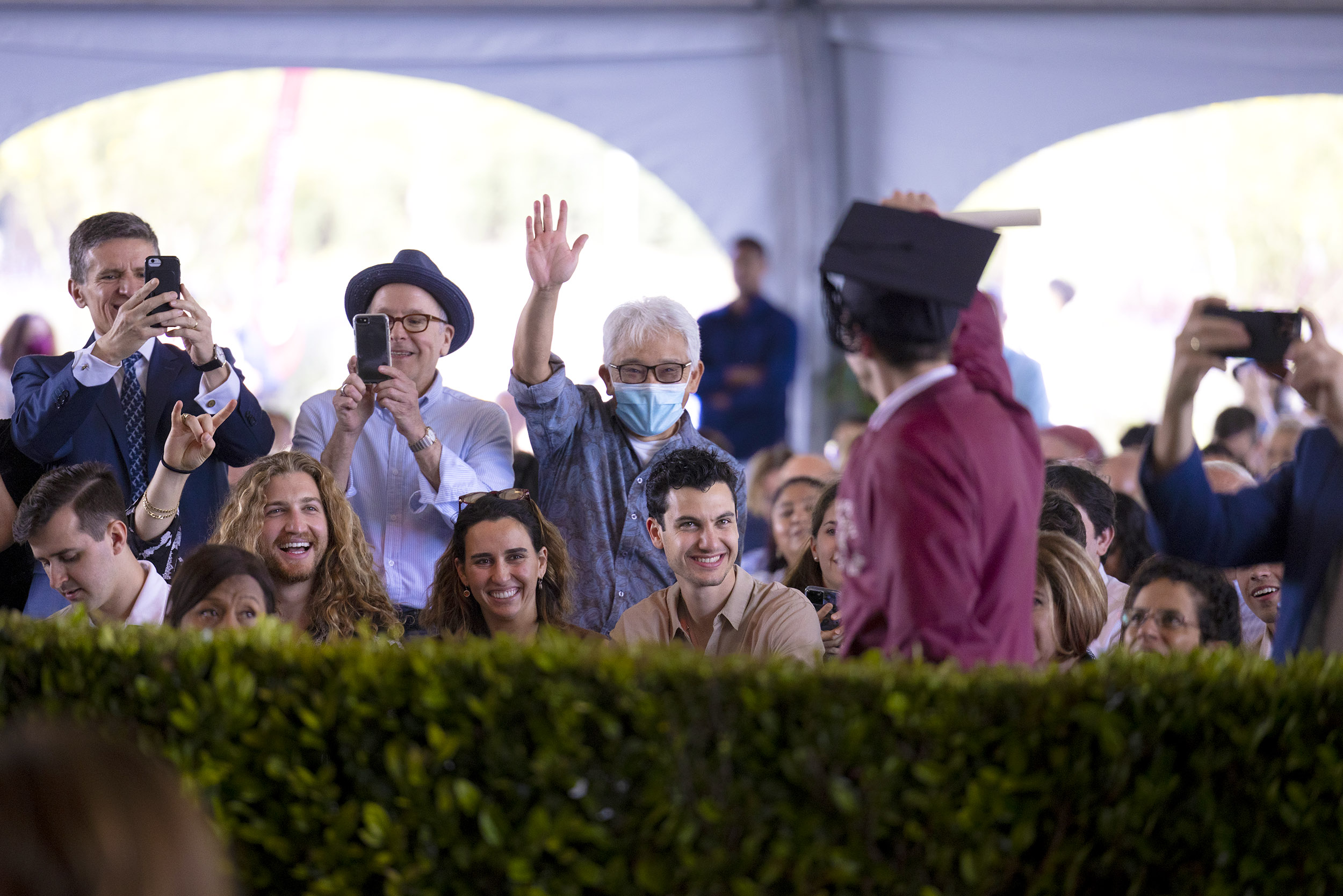 He asked the alumni to do the same. "[I ask] that you spend some time in that scary space between your ears, that you think about your personal transformation, … and as you leave campus today … you commit to thinking about how you'll fulfill obligations that are a little bit larger than just yourself."
"Our country needs your help and saving," Bullock said. "If the only thing we seem to agree on is that our country is at risk of failing, our country's in crisis, what are you going to do to help lead us back from that brink of failure?"
Bullock encouraged the alumni to get involved in public service and in politics. "It's not the job that you hold. It's the mindset that you adopt," he said. "And I challenge you to adopt and incorporate a mindset of service. This means whatever you do, think about how that single act or summation of those acts might prove beneficial or detrimental to the greater good…. If you each adopt this mindset, together, you will lift the collective tide and leave this country and world a better place."
"Whatever you choose to do going forward," he added, "lead with the values that you learned right here at CMC."
For his many contributions and achievements as a leader in government and public policy, Bullock was recognized with an honorary degree of Doctor of Laws.
After the bachelor of arts and master of arts in finance degrees were conferred for the two classes, the ceremony concluded with a charge from President Chodosh.
"In spring 2020, I asked: from some future moment looking back, what story will you be able to tell about how you responded? You crushed that big test. You pivoted quickly. Found places to live, learn virtually, play and grow alone, recreate community wherever you were," he said. "You pasted the shattered pieces of your CMC experience, Kintsugi style, with the golden glue of your social warmth. And now, you are back in our special place. You know the story. You already live the power of the CMC story."
Highlights from Celebration Weekend
As members of the Classes of 2020 and 2021 gathered for Celebration Weekend, some of them took a moment to share with us how it felt to return to campus. Read their stories here.
He asked the crowd to repeat vows to tell their story, take ownership, love and forgive, and create the change—and ended on a note of resilient optimism, a theme that had resonated throughout the day:
"We will sew the silver threads. Turn the lining inside-out. Reflect through the dreary clouds. Shed light on our miracle. Our CMC miracle."
For an early look at scenes from Celebration Weekend, click here. You can also watch a replay of the livestream here.
Contact
Office of Strategic Communications & Marketing
400 N. Claremont Blvd.
Claremont, CA 91711
Phone: (909) 621-8099
Email: communications@cmc.edu

Media inquiries: Gilien Silsby
Phone: (213) 500-8673
Email: gsilsby@cmc.edu