CMC alumni share leadership lessons from today's military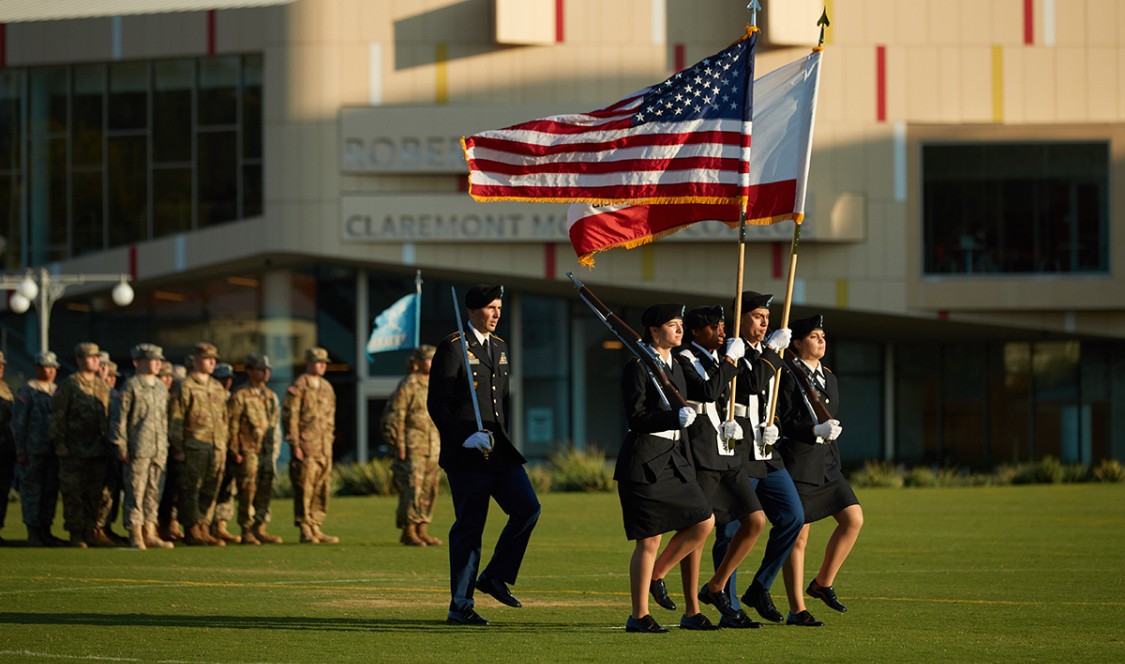 Upon graduating from CMC's Reserve Officers Training Corps (ROTC) program, Lindsay Burton '19, Hunter (Ash) Ashburn '17, and John Marshall '16 immediately launched their careers as officers in the U.S. Army.
On Veterans Day, Burton, Ashburn, and Marshall virtually returned to CMC to share how the rigorous training they received during their four years at the College readied them for their service. Via Zoom, they were able to come together from their stations in Hawaii, Germany, and Long Island, New York for a virtual discussion panel organized by CMC's Office of Alumni and Parent Engagement.
Lt. Col. Daniel Hayden, chair and professor of military science at CMC also joined the discussion, which was led by Evan Rutter '06, Assistant Vice President for Alumni and Parent Engagement.
Rutter shared a brief history of the ROTC program, which is one of the oldest in the country. It began at Pomona College in 1916. Claremont Men's College (now known as Claremont McKenna College) became a co-host in 1949. CMC assumed full support of the ROTC program in 1995 and now commissions dozens of officers each year.
While the leadership challenges posed by their deployments post-graduation are vastly different, they each credit their experiences as cadets in CMC's Golden Lions Battalion in preparing them to creatively and collaboratively come up with solutions while in the field.
"CMC taught me how to get involved in and create communities and that has greatly benefited me as an officer," said Marshall, who is a Captain, Engineers based in Long Island. "CMC is very good at putting people outside of their comfort zone, and requiring them to interact with each other…that creates an ability to communicate with people who think differently than you."
Marshall added that because students at CMC are encouraged to get involved "there are few bystanders at CMC, which is just like how it is when you're a leader in the military. There is no such thing as being a bystander when you're a leader in the military. You have to carry out your duties and responsibilities."
Their time in the military has also offered each of them an ongoing learning opportunity, as Marshall, Burton and Ashburn shared how they've recalibrated their leadership styles while serving in the U.S. Army.
"It's an integral lesson of the Army that you have to balance being a leader and remaining effective in the fight," said Ashburn, a First Lieutenant, Armor, currently posted in Germany. "As a leader in ROTC, you're going to be the last to go to sleep, and the first to wake up. That's just what you do. But when you're doing sustained operations in the U.S. Army over weeks and months, you need to find that down time to take care of yourself so that you can continue to make good decisions and be an effective leader. The biggest pivot for me has been to take care of myself on the weekend, not by doing more work, but by destressing."
For Burton, who is a First Lieutenant, Logistics, based in Wahiawa, Hawaii, the COVID-19 pandemic has posed the biggest challenge.
"I commissioned and showed up on island two or three months before the pandemic hit," she recalled. "No one knew how large and completely life-altering this event was about to be. I had to take a platoon of close to 60 individuals and split them in half to work in shifts. We had to maintain a fleet of equipment for an entire battalion and couldn't work remotely. As a leader, you're not just grappling with the changes in your own life. For me, I was also grappling with the nearly 60 lives for whom I am responsible, as well as for their families."
Hayden, who joined CMC this fall, advised future military leaders to seek perspectives from their soldiers and NCOs when making their decisions. "At Claremont McKenna, we do a good job of preparing you to lead," he said. "Hopefully we'll have given you the tools, now you'll need to listen to the people around you."
— Anne Bergman
Contact
Office of Strategic Communications & Marketing
400 N. Claremont Blvd.
Claremont, CA 91711
Phone: (909) 621-8099
Email: communications@cmc.edu

Media inquiries: Gilien Silsby
Phone: (213) 500-8673
Email: gsilsby@cmc.edu